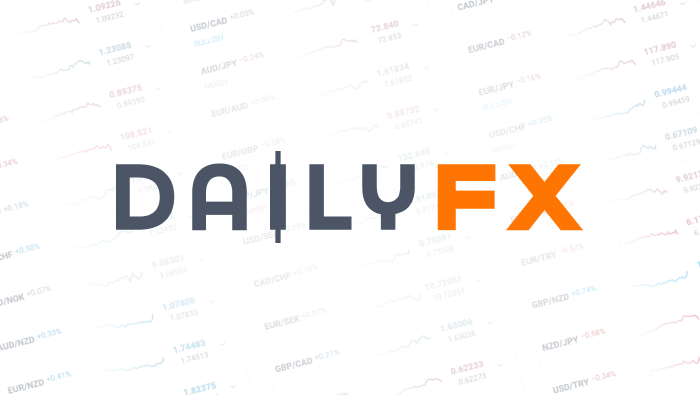 Finalized Elliott Wave Triangle Opens the Door for Bullish NZD/USD Run
NZD/USD Elliott Wave talking points:
NZDUSD finalized an Elliott wave triangle pattern March 7
Kiwi may be advancing in 'C' wave of zigzag pattern
Target of .7090 and .7298 while holding above .6744
NZDUSD Elliott wave triangle finalized
The Elliott wave pattern for NZD/USD implies a bullish bias while prices hold above the March 7 low of .6744. There is enough evidence to consider the three-month long Elliott wave triangle pattern complete. This is a bullish triangle with initial wave projections of .7090 and .7298.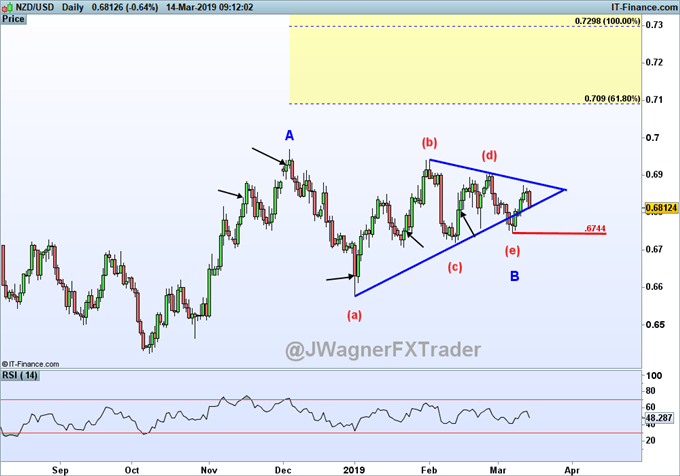 What is the current Elliott wave for NZDUSD?
We have been keeping a decent pulse on the NZDUSD pattern since November as that particular impulse wave appeared unfinished. In early January, the partial set back was nearing an end setting the stage for a rally. The smaller Elliott wave patterns in January made it troublesome for near term bulls and the sideways grind led to a triangle pattern taking shape.
Triangle patterns appear in only certain places of the Elliott wave sequence. Therefore, if this analysis holds, then the triangle is in the 'B' position of a bullish A-B-C zigzag pattern. We know from our Elliott wave studies that wave 'C' of a zigzag must subdivide in five waves taking the shape as an impulse wave or diagonal pattern.
The March 12 high appears to be the first of these five waves. The current setback is best counted as the second wave. Therefore, the current Elliott wave appears to be wave ii of C.
As wave 'i' appears to have an extended fifth wave in it, a retracement back to near .6800 would be normal.
NZDUSD bottom line
So long as NZDUSD holds above .6744, the Elliott wave pattern is bullish in anticipation of a multi-hundred pip move. Wave relationships appear near .7090 and .7298 with potentially higher levels available.
A drop below .6744 suggests the triangle is still in progress and would need more time to develop. The elongated triangle remains in play if NZDUSD prices drop below .6744 but holding above .6577.
---Written by Jeremy Wagner, CEWA-M
Jeremy Wagner is a Certified Elliott Wave Analyst with a Master's designation. These articles are designed to illustrate Elliott Wave applied to the current market environment. See Jeremy's bio page for recent Elliott Wave articles to see Elliott Wave Theory in action.
How can I learn more about Elliott wave?
We have a beginners and advanced Elliott wave trading guides. Print off those guides and study the patterns. The two most comment patterns are impulse waves and zigzags. By understanding their structure and common Fibonacci relationships, you'll have a great start to learning Elliott wave.
After reviewing the guides above, be sure to follow future Elliott Wave articles to see Elliott Wave Theory in action.
Not sure if Elliott wave is right for you? Believe it or not, when I first started trading I couldn't understand why technical analysis worked. Now, I'm 100% technical through Elliott wave. Learn more about how Jeremy got started into Elliott wave from this podcast interview with DailyFX's Global Markets Decoded.
Discuss this market with Jeremy in Monday's US Opening Bell webinar.
Follow on twitter @JWagnerFXTrader .
Recent Elliott Wave analysis you might be interested in…
WTI Crude Oil Reaches a Decision Point on Price Chart
Gold and Silver Trade on their Heels
USD/ZAR Has Biggest Monthly Gain Since August – More to Come?
8 scenarios after an Elliott wave impulse pattern completes
DailyFX provides forex news and technical analysis on the trends that influence the global currency markets.