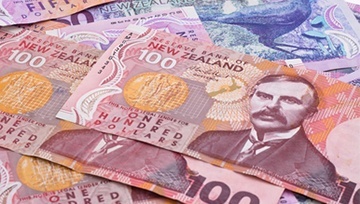 NZDUSD Elliott Wave Analysis: Triangle Takes Over
NZDUSD Elliott Wave Talking Points:
NZDUSD appears stuck in a sideways consolidation, possibly an Elliott wave triangle pattern
We anticipate the near-term wiggles to hold above .6585, otherwise different pattern is at play
The triangle pattern is longer term bullish with targets above .7100
The choppy sideways action in NZDUSD for 2019 certainly smells like a corrective move. We can identify smaller degree zigzags and impulse patterns as the price compresses between the recent extremes of .65 and .70.
It appears we may be in the middle of an Elliott wave triangle pattern with continued sideways grind. Medium term, this is a bullish pattern as we anticipate a break higher to above .7100.
The current Elliott Wave for NZDUSD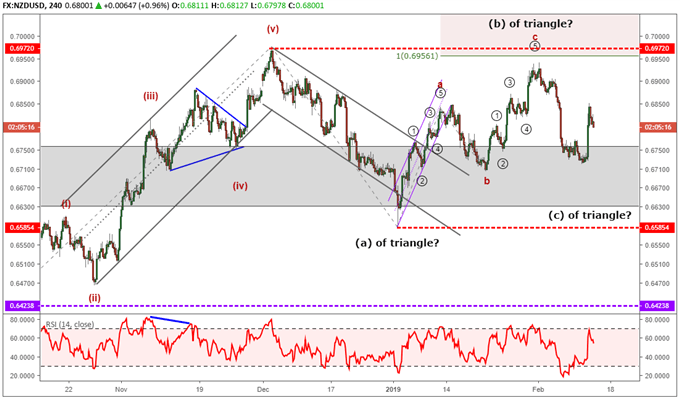 This sideways grind after the October-December impulse wave fits best as an Elliott wave triangle. Triangles begin to take shape as after the 'C' leg. It appears NZDUSD has been dipping in the (c) leg now. If correct, then continued sideways grind between .6585 and .6972 likely happens for the next couple weeks as waves 'D' and 'E' of the triangle unfold.
The current analysis is that this triangle is a bullish triangle and may lead to a breakout above .71 and possibly to .75. We can pinpoint those levels as the triangle pattern matures.
Therefore, it appears the current Elliott wave is wave 'c' of a bullish triangle.
Where is the key level?
The key level for the bullish triangle is .6585. A move below this level negates the bullish triangle analysis but not the overall bullish viewpoint. The October to December impulse wave still needs another bullish 'cousin' wave to match with it. A dip below .6585 would simply delay an anticipated bullish move. We are not expecting a dip below .6423 which is the key level to the medium-term bullish bias.
---Written by Jeremy Wagner, CEWA-M
Jeremy Wagner is a Certified Elliott Wave Analyst with a Master's designation. These articles are designed to illustrate Elliott Wave applied to the current market environment. See Jeremy's bio page for recent Elliott Wave articles to see Elliott Wave Theory in action.
Learn more about Jeremy's path to becoming 100% technical using Elliott wave with this podcast interview.
Learn more about Elliott wave with these beginner and advance EW guides.
Discuss this market with Jeremy in Monday's US Opening Bell webinar.
Follow on twitter @JWagnerFXTrader .
Recent Elliott wave articles you might be interested in…
8 scenarios after an Elliott wave impulse pattern completes
Top Trade Idea 2019: S&P 500 Takes a Back Seat with the US Dollar
DailyFX provides forex news and technical analysis on the trends that influence the global currency markets.