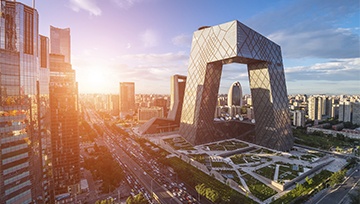 Yuan Looks to Resumed Trade Talks, Summer Davos Forum for Outlook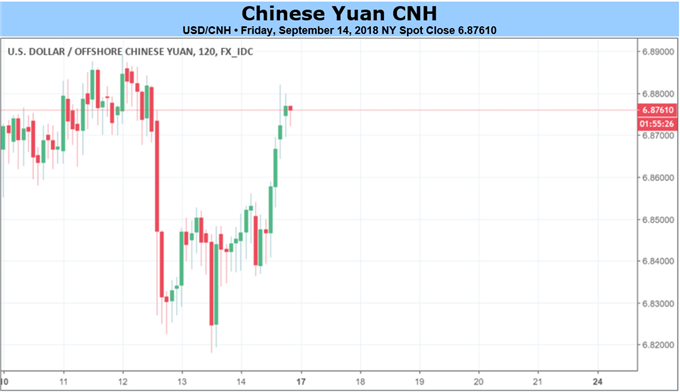 FUNDAMENTAL FORECAST FOR CNH: Bearish
CHINESE YUAN TALKING POINTS:
China seek to retaliate US through sanctions, amid resumed trade talks yet with uncertainties

.

Weak Fixed Assets Investment reveals concerns on the effectiveness of China's fiscal policy.

China's Premier Li will speak at Summer Davos Forum and may provide clues to the economic outlook.
How to trade news??Learn with DailyFX Free Trading Guides!
The Chinese Yuan extended losses against the U.S. Dollar for the third straight week, with the USD/CNH approaching 6.90 once again. The Yuan also lost to most of other major currencies, except the Japanese Yen. Looking forward, China has a light economic calendar; a major risk will be from the on-going US-China trade war. Also, amid the weak Chinese fundamentals, the Yuan may test the threshold again and look to the PBOC for guidance. In addition, China's Premier Li Keqiang will speak at the Summer Davos Forum, which could answer some heated questions, from the trade war to the economic growth.
US-CHINA TRADE WAR DEVELOPMENT
China told that it is seeking to impose $7 billion annually in sanctionson the U.S. through World Trade Organization (WTO). This is a retaliation against the U.S. as it failed to revoke its anti-dumping measures which was ruled in favour of China by WTO. This is the first time that China submitted such a kind of request against a losing party in a WTO dispute, since it became a member in 2001. The sanctions could make up for some losses from the tariffs on $267 billion Chinese goods that U.S. President Trump threatened to launch soon (assuming the tariff rate is 15%, then the absolute value will be $40 billion).
However, it will still not cover all the losses; the rest could continue to hurt the Chinese economy, with signs of damages already: Chinese August exports figure dropped to 9.8% verse 12.2% in July and 10.0% expected. In addition, the August manufacturing PMI print of Guangdong province, a major export province, dropped to 49.3, the contraction territory (below 50) for the first time since March 2016. In specific, new orders dropped 1.7 to 48.7, the first time in 30 months, hinting a bearish outlook over the following months.
At the same time, China welcomes an offer from the Trump administration to resume bilateral talks. Yet, whether any material progress will be achieved is still a question: Trump commented on the talks that "they (Chinese) are under pressure to make a deal with us", while China's Foreign Affair Ministry disagreed with this.
DOMESTIC FUNDAMENTAL ISSUES
China's Fixed Assets Investment Excluding Rural Areas set a new 18-year low in August, falling to 5.3%. Both government-led investment (a measure of fiscal policy) and private investment are weak. We discussed that China's monetary policy is mainly used to curb financial risks and thus will mostly likely stay prudent; the task to stimulus the economy is heavily relying on the proactive fiscal policy. There was an unusual public discussion on China's fiscal policy between regulators a month ago, hinting at a difficult condition that Chinese policymakers were facing to support the economic growth. The August figure indicates that no significant improvement has been seen yet.
SUMMER DAVOS FORUM
Chinese Premier Li Keqiang will attend the Summer Davos Forum on September 19 and 20 and deliver a speech at the opening ceremony. Industrial revolution and innovations will be a major focus at the Forum. This topic is not only relevant to many disputes in the US-China trade war but also may determine the faith of China's growth over the following years. The economy can no longer rely on cheap labors that it enjoyed for decades and has to find new momentum to drive growth. Thus, a detailed strategy or measure (if any) from the top policymaker could help to reveal the outlook of the economy, as well as the Chinese Yuan.
OTHER FUNDAMENTAL FORECAST:
New Zealand Dollar Forecast - NZD Rise to Gain if GDP Sinks RBNZ Rate Cut Bets, Trade War a Risk
Oil Forecast – Brent Up 10% Since August Low, Stubborn Supply Concerns Persist
British Pound Forecast – Sterling Continues to Benefit From a Lack of Bad News
Gold Forecast - Gold Price Hinges on US-China Trade War Developments
Australian Dollar Forecast – Australian Dollar Remains Pressured But May Get Some More Respite
-- Written by Renee Mu, Currency Analyst with DailyFX
DailyFX provides forex news and technical analysis on the trends that influence the global currency markets.