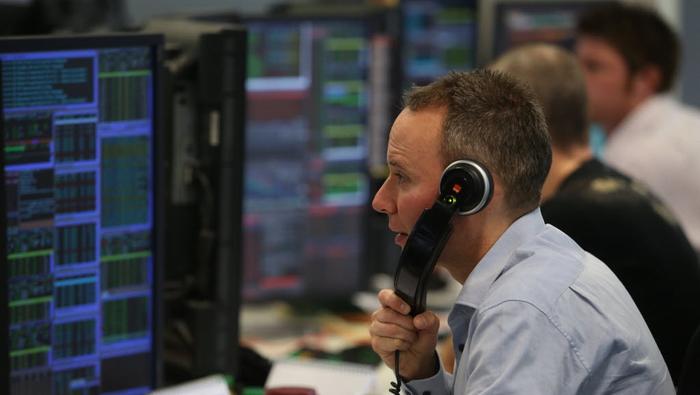 Gold and Silver Prices Fall Hard, EURUSD Touches New Low
The Elliott wave pattern for gold and silver suggest several weeks of consolidation or a new downtrend. EURUSD touched a new low, but this down trend is mature.
The video above is a recording of a US Opening Bell webinar from September 30, 2019. We focused on the Elliott wave patterns for key markets such as silver, gold, crude oil, USDCHF, EURUSD, and GBPUSD.
gold prices may consolidate to near 1400-1450
The Elliott wave gold price forecast suggests further corrections ahead. We can count an incomplete bullish trend still in play that is simply going through a corrective dip. We can also count a longer-term top in that points towards new lows below $1000. It is difficult to identify which pattern may have the upper hand.
If the bull trend takes over, the corrective dip may find support near $1450 and possibly as low as $1375. Gold prices do not need to fall that far in order for the bull pattern to kick in. That is what makes the Elliott wave pattern on gold tricky. The risk to reward ratios don't exist at this point on the charts. At lower levels, the behavior of gold will tips its hand.
Bottom line, wait for price action to develop further and see if bullish patterns emerge at $1375-$1450.
Read more: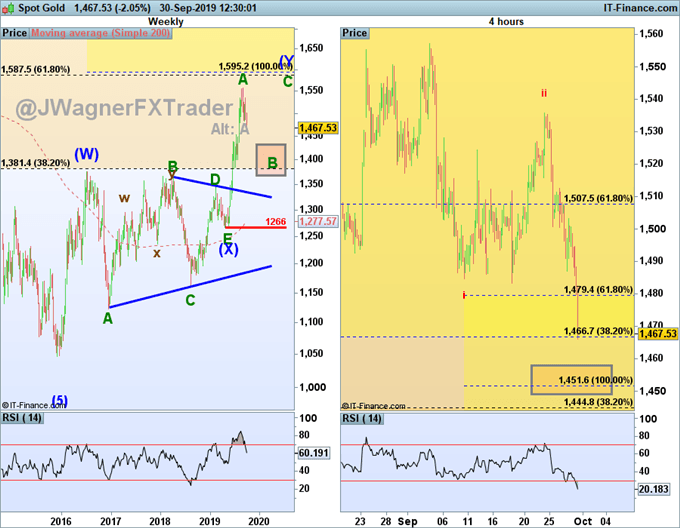 Silver prices move towards $16.60
Silver prices have fallen hard over the past week. If further bullish trends exist, they will need to emerge near $16.60-16.80. This area includes multiple wave relationships and the top of the grey trend channel. If this price range offers some support, watch the structure of any bounce. If the bounce remains smaller than the mid-September advance, then it indicates the trend is still pointed towards lower levels. If a bounce develops, then we will consider the potential for a wave 4 triangle.
Bottom line, the best days for silver's up trend are over as the bulk of the move appears behind us.
Read more…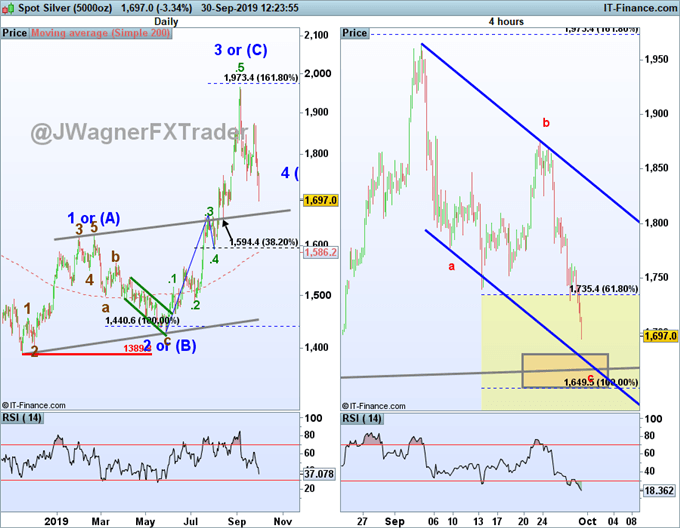 We were early to the USDCHF short party
Last week, we issued an analyst pick regarding short USD/CHF. The risk level to the short bias was met and so we have reassessed the waves. It appears the ending diagonal pattern for USD/CHF is still in play but merely shifted sideways one wave. Therefore, a turn lower may occur from nearby levels. Watch for support levels to break to confirm a high is in for a wave to possibly carry down to .9660.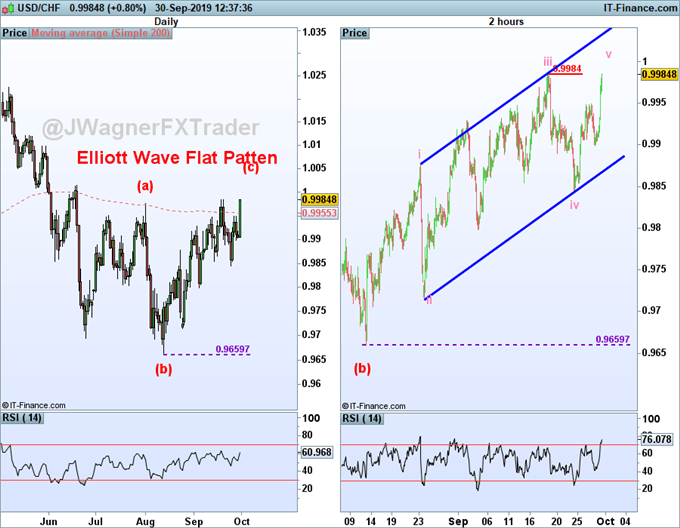 EURUSD Falls Hard and may be approaching a bullish reversal
EUR/USD continues its slow grind lower. The Elliott wave pattern to the downside is very mature and we are on the lookout for a reversal from nearby levels.
Any dip below 1.0885 is seen as a temporary move according to the Elliott Wave Principle. From not much further lower, a rally back to 1.18 and possibly higher levels (like 1.20 or 1.25) are not out of the question.
If EURUSD does break above 1.1110, then the chances improve that a low is in place.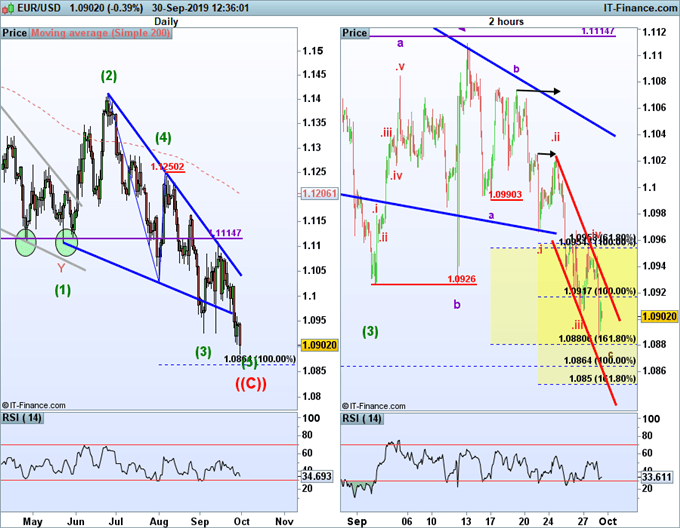 Learn more on Elliott wave including the rules and guidelines by grabbing thesebeginners and advanced Elliott Wave trading guides.
After reviewing the guides above, be sure to follow future Elliott Wave articles to see Elliott Wave Theory in action.
---Written by Jeremy Wagner, CEWA-M
Jeremy Wagner is a Certified Elliott Wave Analyst with a Master's designation. Jeremy provides Elliott Wave analysis on key markets as well as Elliott Wave educational resources. Read more of Jeremy's Elliott Wave reports via his bio page.
Join Jeremy in his live US Opening Bell webinar where these markets and more are discussed through Elliott wave theory.
Follow Jeremy on Twitter at @JWagnerFXTrader .
Recent Elliott Wave analysis you might be interested in…
S&P 500 Patterns Point to an Eventual December Low Retest
DailyFX provides forex news and technical analysis on the trends that influence the global currency markets.