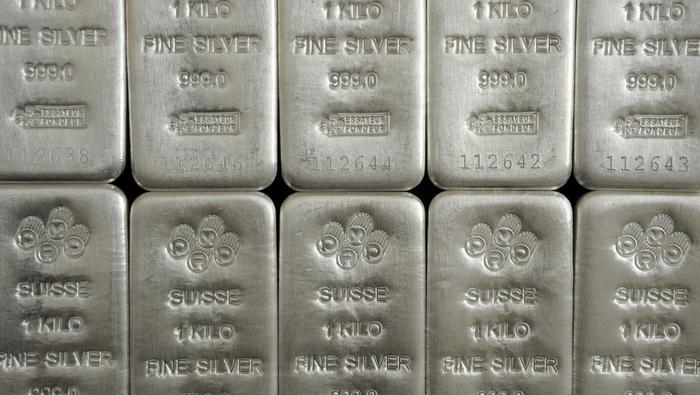 How to Trade Silver: Top Silver Trading Strategies
Silver trading strategy: the basics
Silver trading strategies vary, but Trend Trading and Range Trading tend to be the most popular.
More advanced silver traders can use technical analysis to look for signals to enter the silver trading market.
Why Trade Silver?
Silver is a highly tradeable asset because of its high trading volumes and tight spreads. Silver trades with clear chart patterns due to its high liquidity. Intraday traders enjoy the fact that silver has been more volatile than gold during the past due to it being a smaller market in comparison. This volatility allows them to take advantage of big intra-day market swings.
Silver also has a wide range of industrial uses, and is a core component of electronics, mirrors, dental alloys and more. Demand for silver derives from industrial entities and from investors as a safe-haven asset.
Silver trading hours offer further flexibility to traders. Silver can be traded Monday to Thursday 01.05 – 23.55 and Friday (01.50 – 23.50 (GMT).
Top Silver Trading Strategies
There are a number of silver trading strategies, but Trend Trading and Range Trading tend to be the most popular among traders of all levels.
Trend trading strategy
Trend trading is a simple three-step process that consists of:
Determining the trend
Filtering your signals in the direction of the trend
Setting stop-losses and take-profits
1) Determining the trend
A trending market is one that is consistently making new price extremes. For example, an up-trend can be seen by identifying a series of higher highs and higher lows. A down-trend market is identified with a series of lower highs and lower lows.
Trading silver can be made easier when you understand the benefits of trend trading. There are different techniques to determine the direction of a trend like drawing trend lines or using moving averages.
Below is an example of how the same trend was identified using three different methods. When you are determining trend direction of silver you can use any of these methods, but you don't have to use them all.
First notice how silver prices are making a series of higher highs and higher lows. Secondly, notice how prices have remained above a support trend line. Lastly, silver prices have remained above the 200-period simple moving average.
Now that we have determined the trend, we can move onto the next step…
2) Filtering your signal in the direction of the trend
There are a number of tools traders use to identify buy and sell signals in the market – when trading silver or any other asset. Trend lines is a popular tool that can be an effective indicator of buy or sell signals. Additionally, we have identified four trading indicators that every trader should be familiar with, including the Simple Moving Average, RSI (Relative Strength Index), Stochastic, and MACD (Moving Average Convergence Divergence).
Ideally, traders should pick an indicator they understand and are comfortable with, and then only trade those signals that generate in the direction of the trend.
Using the chart above as an example we see that silver is nearing the trendline. Additionally, silver is about to meet the 200-period moving average which is a clear buy signal to many traders. There are many different methods to determining signals, the key to trend trading is to filter those signals and only take trades in the direction of the trend.
3) Setting stop-losses and take profits
One of the most important habits of successful silver traders is their risk management. Using stop-losses and take profits is essential to manage risk. At DailyFX, we talk about risking no more than 5% on all open trades. Each individual trade may risk 1% or less of account capital and a good reward should reach for 1.5% or more.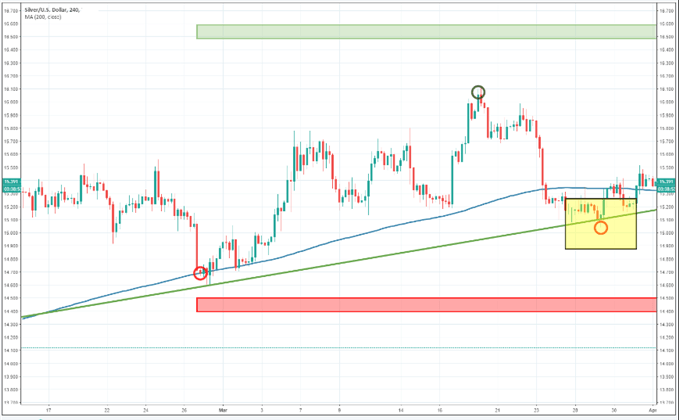 The chart above shows how a silver trader might:
a) Execute the trade at the yellow box using the trend line as the buy signal.
b) Set a stop-loss below the recent swing low (red rectangle).
c) Set a take profit at twice the distance of the stop loss (green rectangle).
Range-bound trading strategy:
A range trading strategy is used when a market is in consolidation - a time when markets tend to be range-bound.
The silver market does not always trend upwards or downwards, it often enters periods of consolidation when the prices move 'sideways'. This is not bad news for traders as there is a strategy to trade markets in consolidation.
The chart below shows silver in consolidation. Here are three steps traders could use to trade a range-bound silver market.
Determine the range
Filter your signal
Execute the trade and set stop-losses and take-profits
1) Determine the range
Finding the range involves establishing support and resistance zones. To establish a support zone, look for a series of lows that seem to connect horizontally. To establish a resistance zone, look for a series of highs that also seem to connect horizontally. We will look to sell when the price reaches for the resistance levels and we will look to buy when the price drops to the support levels.
The chart below shows a two-hourly silver chart, with the price ranging between 16.775 and 16.125. As described above, we have found a series of highs and lows and using a red and green horizontal line, we have denoted the resistance and support respectively.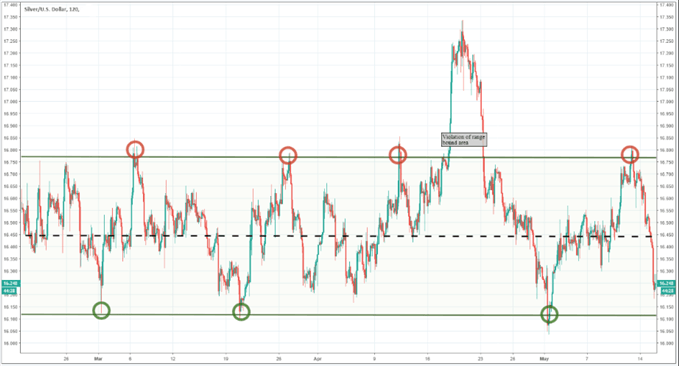 2) Filter your signal
If the silver price moves to the bottom of the range, traders would look to buy silver. If the price moves to the higher end of the range, traders would look to sell silver. An advantage of a range trading strategy is that a trader can use tight stop-losses. This means that a trader can risk less and generally have a higher risk-reward ratio on the trade.
3) Execute the trade and set stop-losses and take-profits
Any complete trading strategy will have strict risk-management principles. If the silver price breaks out of the support or resistance levels, which it eventually will, it is important that a trader is protected. Traders can use stop-losses and take-profits to predetermine the risk-reward ratio before entering a trade.
If a trader sells silver at a resistance level they would place their stop-loss above the resistance level, and likewise if a trader bought silver they would place their stop-loss below the support level.
Once the stop loss is identified, conservative traders will look to take a majority of the trend as a profit target. The important risk management technique is to make sure you are using a positive risk to reward ratio. To learn more about risk management techniques see our Traits of Successful Traders.
How to Trade Silver Using Technical Analysis?
Once a trader is confident in the direction of the trend or range of silver, he/she can then look for signals to enter the market using other technical indicators. Examples include the relative strength index and price-patterns. Which indicators are used depend on the choice of silver trading strategy.
Consider an example of how a trader would look for a sell signal in a down-trending silver market. The daily price of silver in the chart below has been trading below the 50-day moving average, indicating that silver is in a downtrend. The trader then waits for a confluence of indicators before he/she enters the market.
The chart below shows a confluence of the following indicators:
Relative strength index (RSI) has reversed from overbought territory.
The price has returned to the 50% retracement level.
The price is very close to the 50-day moving average.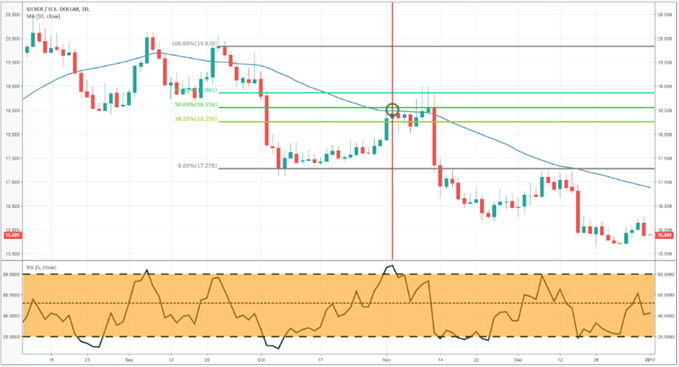 Waiting for a confluence in indicators after already determining the overall trend in the market increases the probability of the trade. It does not ensure the trade will be a success, so it is important that the trader manages his/her risk. A trader can manage his/her risk by using stop-losses and take-profits and by using appropriate leverage.
Silver Trading Tips for Beginners and Advanced Traders
Trade the silver market during main market hours for a reduced cost on the spread.
Risk management should involve using stop-losses and take-profits. Silver traders should only risk a small amount of capital on each trade. We recommend risking less than 5% of capital on all open trades.
See our Silver sentiment analysis, pivot points and charts.
DailyFX provides forex news and technical analysis on the trends that influence the global currency markets.