Invesco QQQ Trust (QQQ) Stock Price
Invesco QQQ Trust (QQQ) Chart
Last updated:
Feb 3, 2023
Note: Low and High figures are for the trading day.
Read the latest Nasdaq 100 news, analysis and forecasts for expert trading insights. Get QQQ Nasdaq 100 ETF price data, news, charts and performance.
QQQ, which tracks the Nasdaq 100 index, is one of the world's best-known and among the most popular exchange-traded funds, by trading volume. Its official name is Invesco QQQ Nasdaq Trust ETF, and it is often called "the triple Q's" or the "cubes." QQQ holdings consist of 100 of the largest non-financial companies listed on the Nasdaq including Apple, Microsoft and Amazon. Similar to the Nasdaq 100, QQQ holdings are focused on large-cap tech companies. The QQQ holdings list comes from investment sectors such as Information Technology, Communications Services, Consumer Discretionary, Healthcare and Consumer Staples. Launched in 1999, QQQ has a record of outperforming the S&P 500 in bull markets. In bear markets it tends to underperform. On March 10 2022, QQQ YTD performance was -14.79%. Since its formation, the average annual performance of QQQ is 9.2%, as of March 10, 2022. People often ask, what is better, QQQ or SPY. In terms of fees, QQQ has a fee of 0.20%. SPY costs less at 0.09%. Glean details on the latest performance data including QQQ YTD and other information in the QQQ chart below.
View More
View Less
The $QQQ ETF (Nasdaq 100) is frozen ahead of the FOMC decision. The 0.7% range (as percentage of spot) is equivalent to the trade the Friday after Thanksgiving. It likely won't end the day this quiet though... https://t.co/GUouXLR4rZ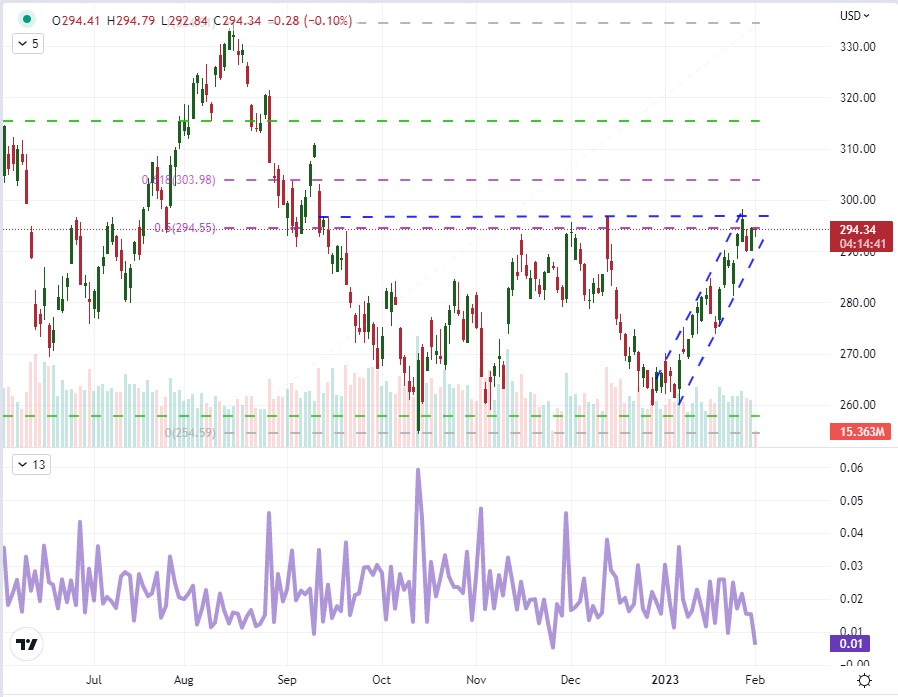 RT @CheddarFlow: $QQQ $1.4 BILLION Singular Dark Pool Print (Extremely Rare) 🔮 Interesting timing ahead of FOMC tomorrow https://t.co/NWqO…
00:00:00
TD-MI Inflation Gauge MoM
(JAN)
00:30:00
Retail Sales MoM Final
(DEC)