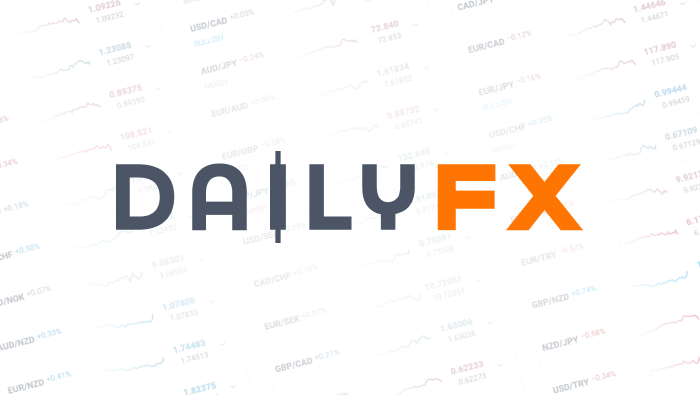 US Equities Slide in Defiance of Holiday Expectations, Be Wary of EURUSD's Break
Talking Points:
Risk trends slide to start the week in defiance of the feel good holiday expectations with US indices bearing more weight

EURUSD is attempting a noteworthy technical break that could be read as reversal, but conditions will not make it an easy move
Where many themes and their target markets await a spark, natural gas looks to content to leverage pure speculative volatility
With so many fundamental themes jostling for control of sentiment against the warm embrace of complacency born of holiday trading conditions, how are you approaching the next six weeks of trade? Bring your market, trading and strategy questions to the weekly Trading Q&A webinar Tuesday. Sign up on the DailyFX Webinar calendar.
More Risk than Holiday Conditions Would Normally Allow For
We have kicked off a trading week that is well-known for its liquidity and volatility restrictions with a notable slide in some of the most high-profile speculative benchmarks. Though the Thanksgiving Holiday on Thursday is a distinct US closure, its influence carries over to the global markets. A well-known and statistically-relevant disruption in the transmission of speculative momentum with the removal of a key financial hub on an inconvenient Thursday carries a certain air of self-fulfilling prophecy when it comes to tempering ambitions - and often time's fears. If there is a known fire break in the acceleration of sentiment-derived market adjustments, it would be a risky venture to jump in the market with outsized expectations for volatility or trend development. That said, a certain degree of bearish intent seemed to span asset type and region Monday. From emerging markets and junk bonds to carry trade and equities, there was a notable unwinding at work. Yet, for pace, there were few moves that seemed to measure up to US equities. The S&P 500 and Dow dropped, but the Nasdaq 100 was hugging a more significant support. Further concentrating on the area of outperformance over the past half-decade, my index of the vaunted FAANG group has extended its reversal beyond the '20 percent from peak' mark - the technical transition into a bear market. This is a remarkable progress given the circumstances, but should we treat it as we would any 'regular' week of the year when liquidity is very likely to drain intent?
Chart of the Nasdaq 100 (Daily)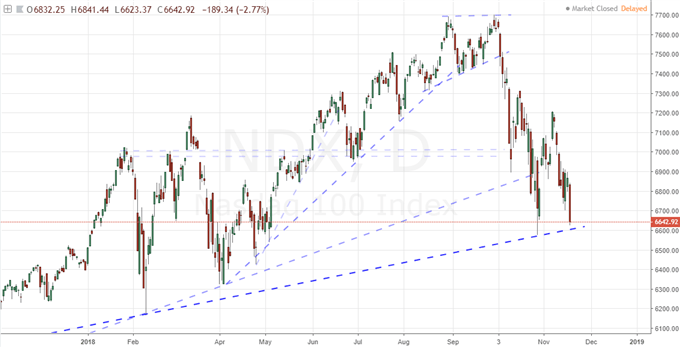 EURUSD Posts a Bullish Technical Break That Will be Hard to Facilitate
Reflecting on the conflicting signals of speculative charge and seasonal liquidity, we have a great FX example of the quandary traders face in EURUSD. On the technical side, this benchmark currency pair managed a meaningful, medium-term channel break that would normally form a reasonable basis for breakout assessment. If receding market depth were not a concern, this pair's charge through 1.1400 and 1.1425 would deserve a closure look. Market moves that have technicals, fundamental and market conditions working collectively in their favor make for the best overall trade opportunities. However, when only one facet of this complete analysis review is providing a clear signal and the other two simply don't present distraction, there can still be a favorable setup to seize upon. On a technical basis, the channel break following the reversal from 16-month lows is substantial. Fundamentally-speaking the Dollar has a troubling backdrop between its position in trade wars, risk trends and monetary policy. The first two features have exerted some pressure on the Greenback, but the implied rate through Fed Fund futures out to the end of 2019 has dropped back to its lowest level in 2 months. If this were merely a correction to a prevailing move, the 'path of least scenario' rebalancing effort could naturally pull the market to a rebound. However, this registers more of a break with a host of fundamental themes working against each other.
Chart of the EURUSD (Daily)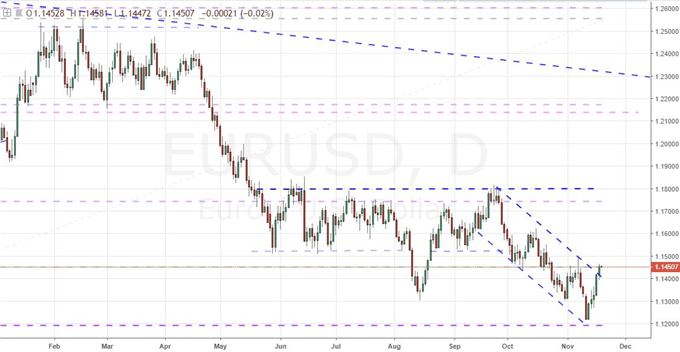 Brexit Updates Offer Little on Which to Hang Hopes of a Happy Resolution
One of this past week's top fundamental headlines remains an unresolved threat to Europe's - and perhaps the world's - financial stability. UK Prime Minister Theresa May's progress in reaching a draft that both she and EU lead negotiators were ready to sign off on was scuttled when key members of her cabinet announced their resignation. The first step forward from here is to reestablish the government - preferably with officials ready to support her proposals so that they can make reasonable progress on a sound separation. In the meantime, EU officials have remarked that the UK will find no better deal than what May presented last week while there are reports that opposition has met, perhaps with designs to mount a confidence challenge. The Prime Minister remarked that if she were replaced, it would further delay progress. That is almost certainly true. Beyond the technical aspects of replacing the head of state and their cabinet, a more aggressive Brexiteer or EU-supportive candidate would face the same crosswinds. With the risk of a 'no deal' outcome rising and the cutoff dates for making progress rapidly approaching, each week brings greater weight to the Sterling. Ahead, we will come into another event that will concentrate the appreciation of what exactly is at risk. Bank of England (BOE) Governor Mark Carney and a few of his colleagues are due to testify before the Treasury Select committee in Commons, and the central bank has made its position very clear. Don't assume the market has fully discount the risks ahead when it comes to Brexit.
Chart of an Equally-Weighted Pound Index (Daily)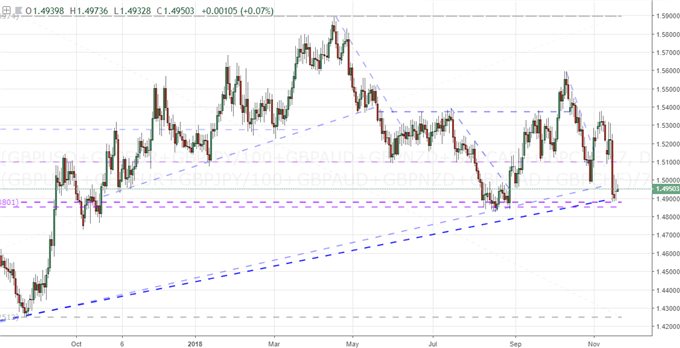 Consider the Unobtrusiveness of the Commodity Currencies and Rubberneck Natural Gas
There are a host of ongoing unresolved fundamental themes and a discrete break in liquidity ahead. That makes for difficult trading conditions across the board this week. However, not all currencies and assets are dealing with the same degree of trouble. The commodity currencies are typically a group staged at the most risky end of the curve owing to their sensitive to speculative winds. However, sentiment is in a unique position with moderation-of-trend the most reasonable path forward. With the likes of the Australian and New Zealand Dollars notably diverging from the traditional carry role, this corrective influence possess less trouble than it normally would. In the meantime, net speculative futures positioning can add more directional fuel to the fire as the withdrawal from excess can facilitate a steady drive. Meanwhile, if we were looking for the financial systems most extraordinary liquid mover, the undisputed champion would have to be natural gas. While US crude oil (WTI) has put in for one of the most incredible trends over the past few months, the concentration of volatility behind this alternative energy contract over just the past week is nothing short of incredible. Daily moves over 5 percent are proving standard with 15 percent-plus charges in both direction have defined the extremes. The CME exchange has noticed the action and in turn raised the margin requirements to help curb the speculative slingshoting. We discuss all of this and more in today's Trading Video.
Chart of the Natural Gas Futures and 5-Bar ATR (Daily)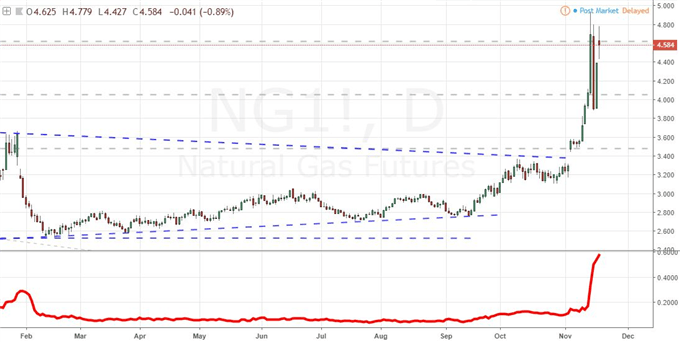 If you want to download my Manic-Crisis calendar, you can find the updated file here.
DailyFX provides forex news and technical analysis on the trends that influence the global currency markets.