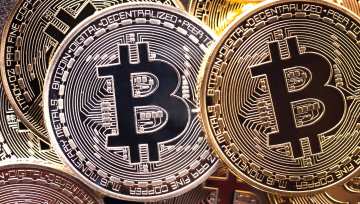 Bitcoin Elliott Wave Forecasts Dominant Bearish Trends
What's on this page
The Bitcoin Elliott Wave forecast suggests that the bearish patterns are dominating so long as Bitcoin prices remain below $14,000.
Bitcoin Elliott Wave Analysis Talking Points:
Bitcoin prices have been contained inside a downward sloping price channel
Recovery from January 17 to January 20 takes the shape of a corrective zigzag pattern (purple box)
Pressure remains to the downside so long as prices remain below the upper channel line
Bitcoin prices are falling within a downward price channel. It is possible this downward wave since December 17 is a bearish zigzag and the first wave of a larger correction or perhaps the beginning of a larger bearish impulse. As I contemplate the potential for bullish patterns, the models return results that are temporary and short lived. As a result, this cryptocurrency is operating in a sell the rally environment until we see a bullish motive wave develop.
Bitcoin Price Charts Offer Corrective Rallies
The Bitcoin price rally that began on January 17 appears to be a three-wave rally. According to the Elliott Wave principle, three wave moves are corrective and tend to be completely retraced. Therefore, the January 17 – 20 rally raises the probability that Bitcoin prices may continue to be pressured to the downside.
Though the January 17-20 trend appears to be a corrective rally, Bitcoin prices can continue to increase to extend the correction in price and time.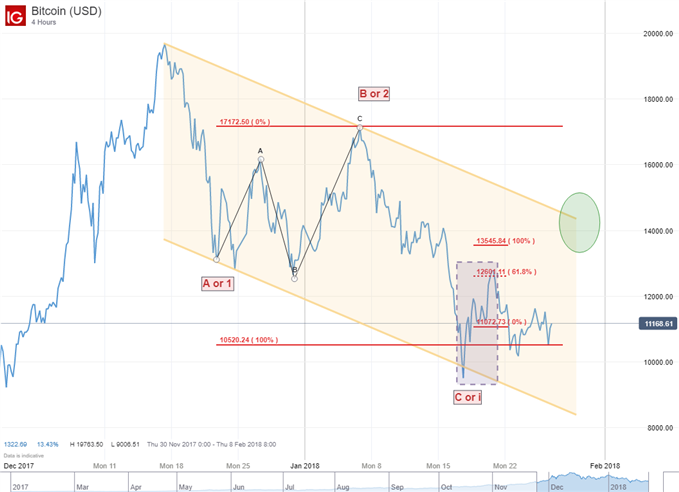 Bitcoin Key Level is 14,000
The Elliott Wave models we are following show patterns that are indifferent in the near term. However, so long as Bitcoin prices remain below the upper channel resistance trend line, then we can consider the trend lower.
If Bitcoin prices are successful in breaking above the 14,000 level, then that will eliminate some of the most bearish scenarios and we will re-evaluate the potential for extended bullish moves. Absent any bullish motive waves, the trend for Bitcoin prices remain towards lower levels.
Bitcoin Elliott Wave FAQs
What is Elliott Wave Theory?
Elliott Wave Theory is a trading study that identifies the highs and lows of price movements on charts via wave patterns. Traders often analyze the 5-wave impulse sequence and 3-wave corrective sequence to help them trade strategically. We cover these wave sequences in our beginners and advanced Elliott Wave trading guides.
Does the Elliott Wave principle work on cryptocurrencies?
We think it does. Elliott Wave is a study of the waves, which are reflective of the mass psychology of the market. Right now, we think the mass psychology on Bitcoin and other altcoins diminishing. Any large market with a mass of humans behind it can be analyzed using Elliott Wave Theory. If you are new to Bitcoin, we have an introductory guide to help you get started.
---Written by Jeremy Wagner, CEWA-M
Jeremy Wagner is a Certified Elliott Wave Analyst with a Master's designation. Jeremy provides Elliott Wave analysis on key markets as well as Elliott Wave educational resources. Read more of Jeremy's Elliott Wave reports via his bio page.
Communicate with Jeremy and have your shout below by posting in the comments area. Feel free to include your Elliott Wave count as well.
Follow on twitter @JWagnerFXTrader .
Join Jeremy's distribution list.
Recent Elliott Wave articles by Jeremy:
Gold Prices Hit 17 Month High; What Does the Wave Analysis Forecast?
USD/JPY Elliott Wave Analysis Points Towards 107
2018 Forecast for EUR/AUD, GBP/AUD and AUD/JPY
AUD/USD 2018 Forecast Includes a Smooth Start and Rough Finish
DailyFX provides forex news and technical analysis on the trends that influence the global currency markets.