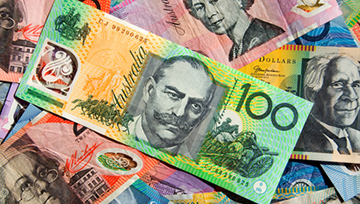 AUD/USD 2018 Forecast Includes a Smooth Start and Rough Finish
As we peer across the horizon of a new calendar year, it appears as though AUD/USD may be rising towards a longer-term top. The Elliott Wave models we are following suggest AUD/USD may continue to rise in the first part of 2018 with a longer-term reversal taking place on a mild break above 81 cents. There are several wave relationships showing up near 82 cents that may act as the reversal zone.
Do you struggle with your trading? This could be why.
We think AUD/USD has been slopping higher in a complex wave that began September 2015. We are labelling the pattern as w-x-y (Expanded Flat-Triangle-Zigzag). It appears as though AUD/USD is carving out a terminal wave of the bullish zigzag. The zigzag would subdivide as a 5-3-5 wave sequence that began in May 2017.
Since waves (a) and (b) are completed, that means AUD/USD has begun its climb in a wave (c). We can anticipate the (c) wave of the zigzag to subdivide as a diagonal or impulse wave. The sharp rise over the past few days tips the scales towards the (c) wave carving as an impulse wave. Once this impulse terminates, then we will be on the lookout for a large top and large sell-off in the last part of 2018.
There are multiple wave relationships appearing near 82 cents that may aid in the reversal. First, wave (c) of the zigzag is equal to wave (a) of the zigzag near .8229. Secondly, wave 'y' of the complex correction is equal in length to wave 'w' near .8266. It is quite common in Elliott Wave Theory for alternating waves to be equal to one another.
Bottom line, the Elliott Wave pattern indicates we could see gains in AUD/USD for the first part of 2018. If AUD/USD is able to climb to 82 cents, we will be looking for signs of a longer-term top and bearish reversal.
Learn more about the Elliott Wave patterns by receiving our beginner and advanced Elliott Wave guides.
Are you new to FX trading? This ebook was created just for you.
AUD/USD Elliott Wave Count December 2017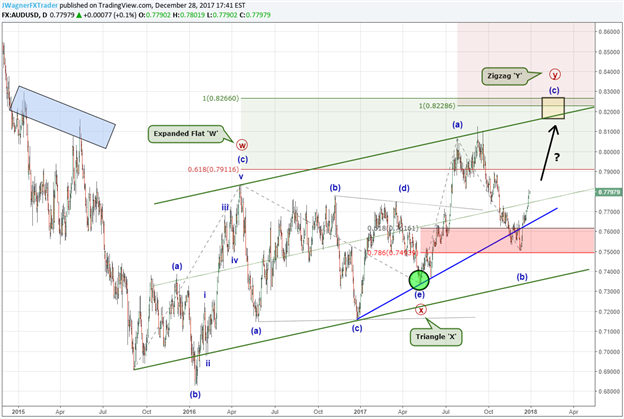 ---Written by Jeremy Wagner, CEWA-M
Jeremy is a Certified Elliott Wave Analyst with a Master's designation. Jeremy provides Elliott Wave analysis on key markets as well as Elliott Wave educational resources.
Discuss this market with Jeremy in his Wednesday January 3 webinar forecasting 2018 trends in GBP, JPY, and AUD pairs. Register here to join live or watch a recording.
Recent Elliott Wave articles by Jeremy:
Can Swiss Franc Outperform its Peers in 2018?
Bulls Excited About GBP/JPY Longer Term Elliott Wave Pattern
Elliott Wave Analysis: Crude Oil Price Bursts Higher in 5th Wave
Santa Brings a Gold Price Rally for Christmas
EURUSD Elliott Wave Pattern Looks to Higher Levels
NZDUSD Elliott Wave Analysis: Fourth Wave Close to Terminating
USD/CAD Falls Towards Support Offering a Bullish Setup
Register and watch the one hour long "What to Watch 4 Part 1" webinar where the forecasts were shown for Gold, Oil, EURUSD, and the commodity currencies.
Follow on twitter @JWagnerFXTrader .
Join Jeremy's distribution list.
DailyFX provides forex news and technical analysis on the trends that influence the global currency markets.