Talking Points:
-EUR/AUD approaches the middle of an Elliott Wave Triangle
-GBP/AUD reverses at channel resistance setting up a weak return in 2018
-AUD/JPY may be approaching the end of a very large triangle pattern in 2018
-Learn more about the Elliott Wave patterns by receiving our beginner and advanced Elliott Wave guides.
EUR/AUD Approaching the Middle of Triangle Consolidation
While assessing the longer-term prospects for EUR/AUD, the pattern appears to be a bullish zigzag that is incomplete to the upside. The reversal point of December 1 pivot comes at an interesting external Fibonacci level. The pivot near the 1.618 extension is quite large and hints that wave could be the (b) wave of a triangle pattern. It is a little early to identify it with certainty, but the pattern is following the guidelines of a running triangle within the early stages.
If this triangle pattern holds, then look for wave (c) of the triangle to move down towards 1.48 while holding above 1.4418. At that point, we would anticipate a wave (d) rally back towards 1.54 while holding below 1.5771.
Are you new to FX trading? This ebook was created just for you.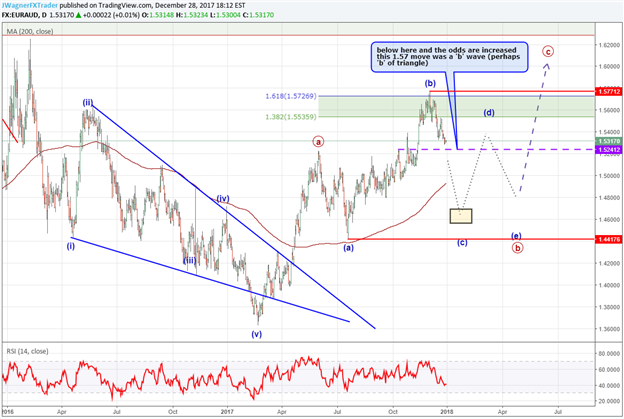 GBP/AUD Reverses at Channel Resistance
The recent rise of the Australian Dollar has pushed the GBP/AUD aggressively lower. On December 8, GBP/AUD reversed from price channel resistance and has closed down 12 of the past 14 trading days since then. Relative Strength divergence appeared at the highs indicating a weak market. The blue price channel below is formed by a complex w-x-y correction higher. Therefore, it hints at an eventual retest of the channel lows near 1.65.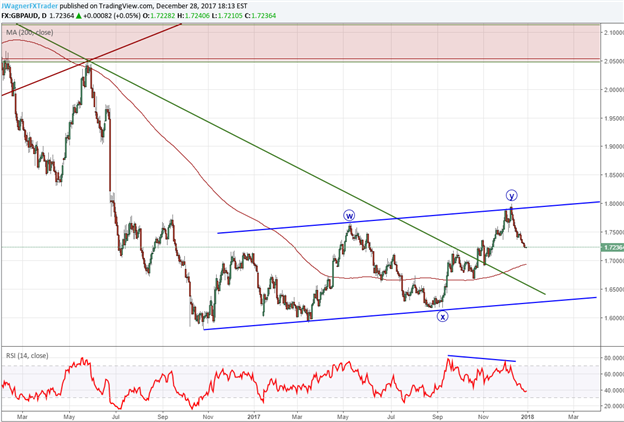 AUD/JPY May Press Higher in Another Leg of a Large Triangle
AUD/JPY used to be the poster child of risk on versus risk off. Since the world began its indulgence on quantitative easing, AUD/JPY has hammered through a large triangle pattern. We are far enough along in this bearish triangle to warrant placing it on the radar to revisit later on in 2018.
Though we can count the triangle as completed in September 2017, this particular zigzag of the 'E' wave of the triangle is very short. Therefore, we will hold to the view that June 2016 to September 2017 rally is just an intermediate wave of the 'E' leg.
Once this 'E' leg of the triangle exhausts (likely near 96-100), be on alert for a large correction beginning.
Do you struggle with your trading? This could be why.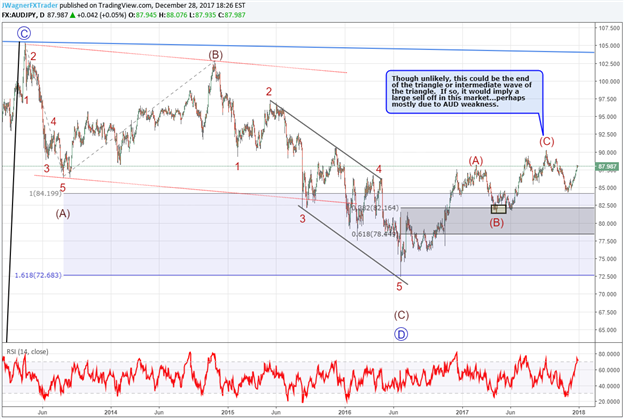 If you are interested in the 2018 forecast for AUD/USD, you can read it at this link.
---Written by Jeremy Wagner, CEWA-M
Jeremy is a Certified Elliott Wave Analyst with a Master's designation. Jeremy provides Elliott Wave analysis on key markets as well as Elliott Wave educational resources.
Discuss these markets with Jeremy in his Wednesday January 3 webinar forecasting 2018 trends in GBP, JPY, and AUD pairs. Register here to join live or watch a recording.
Recent Elliott Wave articles by Jeremy:
Can Swiss Franc Outperform its Peers in 2018?
Bulls Excited About GBP/JPY Longer Term Elliott Wave Pattern
Elliott Wave Analysis: Crude Oil Price Bursts Higher in 5th Wave
Santa Brings a Gold Price Rally for Christmas
EURUSD Elliott Wave Pattern Looks to Higher Levels
NZDUSD Elliott Wave Analysis: Fourth Wave Close to Terminating
USD/CAD Falls Towards Support Offering a Bullish Setup
Register and watch the one hour long "What to Watch 4 Part 1" webinar where the forecasts were shown for Gold, Oil, EURUSD, and the commodity currencies.
Follow on twitter @JWagnerFXTrader .
Join Jeremy's distribution list.