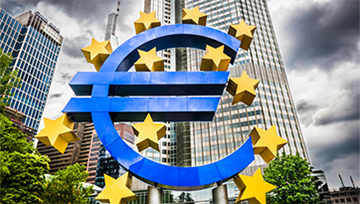 Will the ECB Attempt to 'Talk Down' the Euro, and Will it Work?
Talking Points:
- The European Central Bank hosts a rate decision tomorrow, with press conference to follow at 7:45 AM and 8:30 AM ET, respectively.
- The Euro has been strong for much of 2017 as markets attempt to front-run a stimulus exit from the European Central Bank. As of yet, no formal announcements from the bank have been made, but will the ECB signal that tighter policy options are on the horizon?
- Retail traders remain heavily short EUR/USD, with current sentiment showing -2.54-to-1, as of this writing. Given retail sentiment's contrarian nature, this is bullish for the pair.
- If you're looking for trade ideas, please check out our Trading Guides. And if you're looking for shorter-term trade ideas, please check out our DailyFX Live Webinars.
To receive James Stanley's Analysis directly via email, please sign up here.
Tomorrow brings a rate decision out of the European Central Bank, and there is little expectation for any actual changes. But as has become usual, the driver here will likely be in the details as markets continue to read the tea leaves in the effort of getting in-front of the ECB's inevitable exit from their massive stimulus program.
As we came into the New Year on the back of rising growth and inflation in Europe, a series of pivotal elections in Holland and then France kept the ECB in somewhat of a defensive stance. But as the first round of French elections resolved with a rather market-friendly outcome, the Euro shot-higher and continued to gain as markets attempted to front-run an eventual stimulus exit from the bank.
EUR/USD Gaps-Up to Fresh highs Following Rd. 1 of French Elections (gap shown in blue)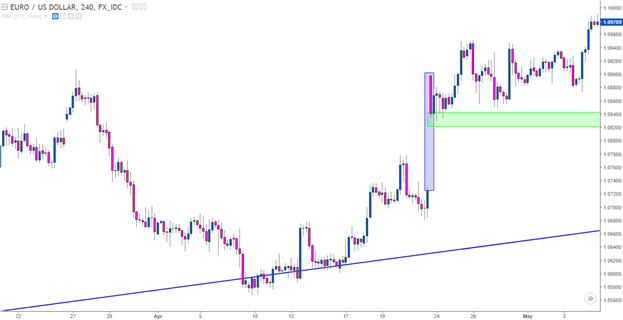 Chart prepared by James Stanley
At the ECB meeting in April, this topic was of top concern as Mario Draghi was asked, point blank, whether the bank had discussed exiting stimulus. Mr. Draghi said that they had not, and EUR/USD moved down to a prior area of support around 1.0820-1.0850. The pair remained supported for two weeks until another gust of USD-weakness took over, driving EUR/USD above the psychological 1.1000 level.
Draghi 'Talks Down' the Euro at April ECB (shown in Red); Support Remains (in Green)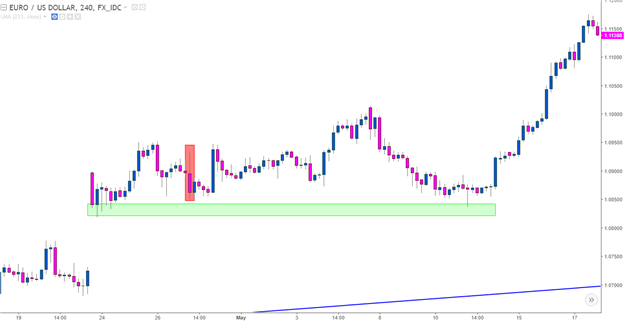 Chart prepared by James Stanley
And then at the ECB meeting in June, Mr. Draghi was again asked if the bank had discussed exiting stimulus, to which he denied; giving another touch of weakness to the pair. This time, support showed-up at the 1.1100-handle, and just a few weeks later, the pair rocketed-higher to set fresh highs just shy of the 1.1500-level. The driver at the end of June was a bit more suspect, however, as a speech offered from ECB President, Mario Draghi, was inferred to mean that the ECB was starting to look at options for exiting their massive stimulus operations.
Draghi Goes Dovish at June ECB (shown in red), but Longer-Term Support Remains (in Green)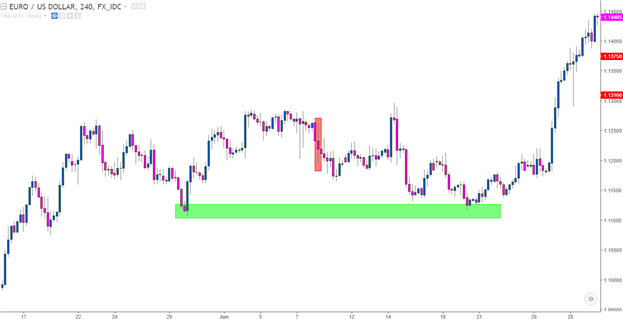 Chart prepared by James Stanley
At this speech, Mr. Draghi might not have been as dovish as he'd been in the past, but he certainly didn't provide any hard signals that stimulus exit had been decided upon. Mr. Draghi had said that the ECB could adjust the 'policy parameters' of the bank's stimulus program – not to tighten policy but to keep it broadly unchanged. Markets, however, inferred this to mean that the ECB was ready to back away from monetary accommodation, and the Euro caught a significant bid as the single currency jumped to fresh highs. Just a day later – an 'anonymous ECB source' was quoted by many major media outlets to say that Mr. Draghi's speech had been 'misjudged', as the intent was to be balanced in nature, rather than hawkish and warning of impending stimulus exit. This brought in a quick iteration of weakness to the Euro, but by then it was too late – markets cared little about the 'clarification', and prices continued their upward trajectory.
July ECB Meeting
Will this be the ECB meeting in which Mario Draghi finally waves the white flag on stimulus, giving Euro bulls a shot-in-the-arm to rally up to fresh highs? Or would September, a meeting in which the European Central Bank will also be providing fresh inflation forecasts and economic projections, be more appropriate for such an announcement?
While September would likely be far more appropriate, Mario Draghi is probably already aware that this is what markets are looking for – and any early signal provided by the head of the European Central Bank will likely become a self-fulfilling prophecy. As in – if Mario Draghi warns that the ECB will be looking hard at stimulus exit ahead of their September meeting – we will likely see traders beginning to price-in that theme, almost as a given. This could effectively trigger the 'taper tantrum' that Central Banks are want to avoid, which can create a bit of panic as an economy that's levered up on debt markets that have been supported and driven to all-time-highs (in price, not yield) by easy money Central Bank policies begin to revert. As one of the biggest buyers of that debt fades into the background, those holding long debt should rightfully begin to question how long (pun intended) they want to hold into those positions. Because as rates go up, prices go down – and the last one out of the door gets no consolation prizes, as they'll be upside-down in low-yielding debt with the threat of larger losses as rates continue to rise.
This is likely one of the major reasons that the ECB and President Draghi have been so evasive on the topic of stimulus exit. It's also a major reason why they'll probably continue to do so, for as long as they can until it becomes more clear and obvious that European growth and inflation are here to stay and the downsides of rising rates creating distortions in the bond market can be offset by the prospect of stronger growth. The bigger question is where support might show-up on the Euro for traders looking to acquire bullish exposure in anticipation of this theme continuing to develop throughout the year. The ECB has been one of the most attractive retracement vehicles for EUR/USD in 2017, and on the chart below, we're looking at a series of longer-term support levels that can become attractive should the Euro pull back at or around tomorrow's press conference.
EUR/USD Four-Hour Chart with Longer-Term Support Levels Applied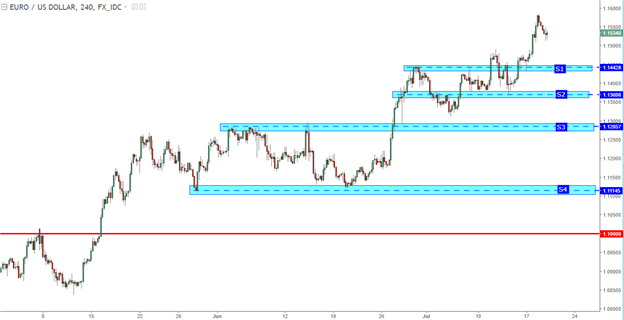 Chart prepared by James Stanley
--- Written by James Stanley, Strategist for DailyFX.com
To receive James Stanley's analysis directly via email, please SIGN UP HERE
Contact and follow James on Twitter: @JStanleyFX
DailyFX provides forex news and technical analysis on the trends that influence the global currency markets.