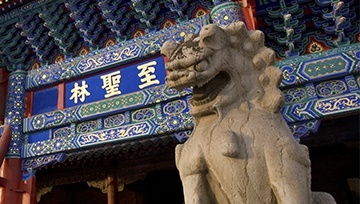 Yuan May Retrace Amid Mixed Fundamentals, Resumed US-China Talks
FUNDAMENTAL FORECAST FOR CNH: Neutral
China's domestic investment improved but consumption remained weak.
US-China resumed high-level talks, though still pending on major disputes.
PBOC may continue to guide the Yuan to curb the risk of financial instability.
How to trade news? Learn with DailyFX Free Trading Guides!
The Chinese Yuan reversed losses from last week and gained against the U.S. Dollar this week; at the same time, it weakened against the rest of major currencies, except the GBP. Chinese fundamentals saw uneven development in October, bringing a mixed impact to the Yuan. Looking forward, the Dollar/Yuan may continue to retrace, amid a light Chinese economic calendar. Major event risks could come from the US-China trade war and the PBOC's guidance.
CHINESE FUNDAMENTALS – POSITIVE & NEGATIVE CHANGES
Positive: Signs are showing that China's fiscal policy may have begun to affect the economy as designated. The Fixed Asset Investment Excluding Rural Households picked up for the second consecutive month, to 5.7% in October, after the gauge hit an 18-year low of 5.3% in August. Infrastructure projects, led by the government, take a large proportion among all fixed assets investment; this is a measure of fiscal policy. More measures include cutting taxes and fees: China's Finance Minister Liu Kun told on Monday that the fiscal cuts in 2018 will exceed 1.3 trillion yuan, greater than the 1.1 trillion yuan target set at the beginning of this year.
Negative: the demand side remains weak. China's October Retail Sales dropped to a five-month low level of 8.6%, and is close to the 15-year low of 8.5% set in May. At the same time, China's exports expanded 15.6%in October unexpectedly; however, this may not be sustainable in a longer term, as the surge is likely driven by holiday season and a rush that Chinese producers shipped goods overseas before more tariffs come into effect. While China is deviating from an export-driven economy, developing momentum in domestic consumption is essential to maintain growth.
US-CHINA TRADE WAR
After the US and China halted high-level communications for weeks, there is some progress recently: US President Donald Trump and Chinese President Xi Jinping had a phone call on November 1. They are also expected to meet at the G20 meeting at the end of November; China's top diplomat visited Washington on November 9, for a high-level security dialogue. Those developments may help ease tensions in the short-term, lifting some pressure on the Yuan. However, it will be too soon to expect major breakthroughs without signs of reaching an accord on the two key controversial issues: trade deficits and industrial policies.
PBOC'S GUIDANCE AND BOND YIELD SPREAD
China's Central Bank defended the Yuan last week through offshore bank notes and the daily reference rate. The regulator may continue to calm the Yuan when see extreme moves driven by speculation. This does not necessary mean to hold the Dollar/Yuan below a certain level – such as the key psychological level of 7.0, or to go against a major trend: China's PBOC and the US Fed are on different tracks of monetary policy: one is cutting reserve requirement ratios, and the other is hiking interest rates.
In fact, as it approaches Fed's December meeting, the spread of Chinese and US government bond yields has been narrowing. On November 16, the 1-year spread of Chinese-US bond yield turned negative, the first time since 2008. The spread of 3-month bond yields saw a reverse even earlier, in August.
What the Chinese regulator may care more is the volatility of Yuan moves, as this could impact the financial stability of China's capital market which is still developing. Thus, it may continue to guide the Yuan through common tools such as the reference rate, as well as uncommon tools, such bank notes and FX forward reserve requirement.
YUAN TECHNICAL ANALYSIS
USD/CNH 1-Day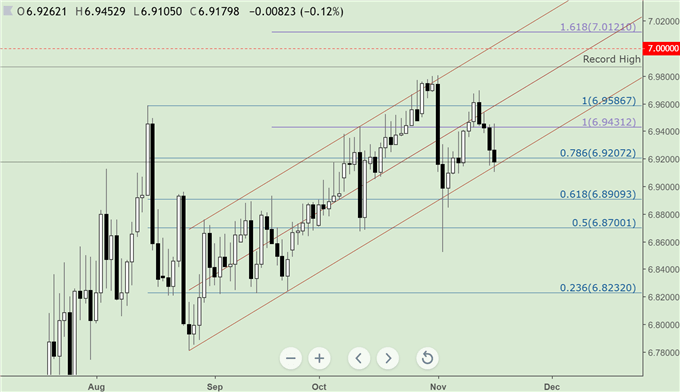 The USD/CNH failed to break below the bullish trend (bearish for the Yuan) that started in late August. This indicates Yuan's weakness in a longer timeframe.
USD/CNH 4-Hour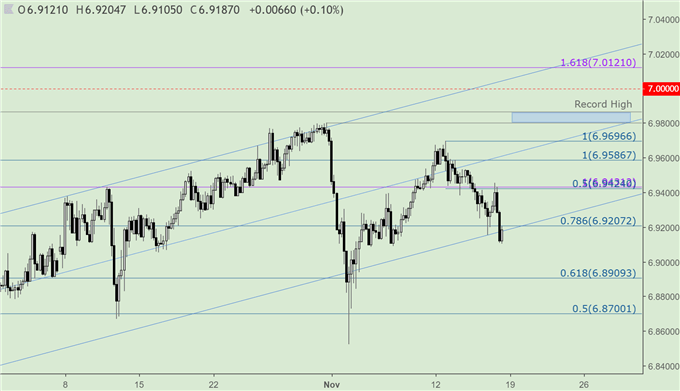 In the near-term, the USD/CNH may continue to retrace within a range. It will need to break above a series of resistance levels before can fully re-gain the bullish momentum. The first key level to watch is 6.9424 and then 6.9697. If it can break above the resistance zone of 6.9804-65 (a recent swing high and the record high), the upper territory of 7.0 and above could be opened for the pair.
-- Written by Renee Mu, Currency Analyst with DailyFX
OTHER FUNDAMENTAL FORECAST:
Oil Forecast – Crude Oil at Risk as OPEC Supply Cut Bets Undermined by Russia, US
Australian Dollar Forecast –Australian Dollar Can Hang On Again, But Downward Bias Remains
British Pound Forecast – Brexit Chaos Leaves Sterling Still Vulnerable to Whiplash Moves
US Dollar Forecast – US Dollar Aims Higher on European Turmoil, Fed Outlook Rethink
Gold Forecast – Gold Price Could Drive Higher After Dovish Remarks from Fed Officials
DailyFX provides forex news and technical analysis on the trends that influence the global currency markets.