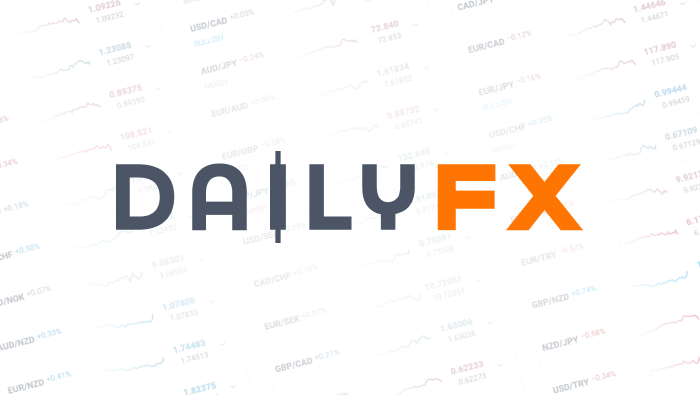 USD/JPY Stalls But Holds Above Support
We went long USD/JPY on Sept 22 on the dip down to 111.70 and moved the stop loss to 112.25 on October 20. Now that USD/JPY and its price action has developed further, we are going to squeeze the stop loss higher a little more as the pattern isn't taking off to the upside like we anticipated. This is a subtle clue that a wash out lower may be on the horizon.
Therefore, we are going to bump the stop loss tighter to the proposed wave 'i' high of 112.48. Up to this point, USD/JPY has held above our defined support levels. We will continue to hold the long open if USD/JPY remains above 112.48.
The rest of the trading plan remains the same. Our first target to the upside is 115.50. At that point, we will close 1/3 of the position.
USD/JPY Elliott Wave Picture October 30, 2017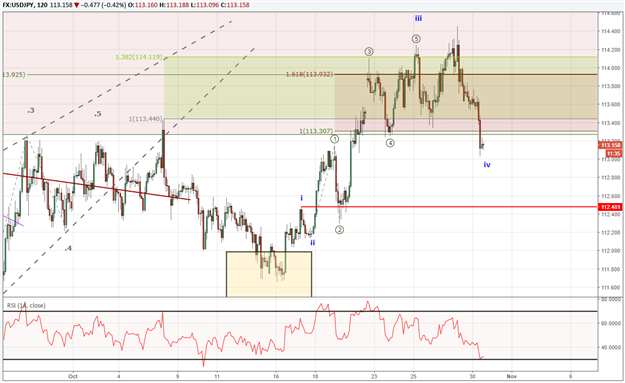 We continue to monitor the relationship between USD/JPY and Nikkei 225. However, if USD/JPY is unable to follow through on this week's strength, then we will be happy to exit the full position at 112.48.
IG Client Sentiment is neutral. The sentiment reading is currently near parity this week. Now, with a reading of -1.01, we would like to see a material move above +1.10 or below -1.10 to use this as a part of the analysis. Follow the live sentiment reading here.
In our previous analyst pick, we mentioned how GBP/JPY is a market to watch for clues on USD/JPY. The highlighted rectangle below appears to be a bearish impulse taking shape. If so, then it suggests pressure may weigh GBP/JPY and pull USD/JPY lower.
GBP/JPY Technical Analysis October 30, 2017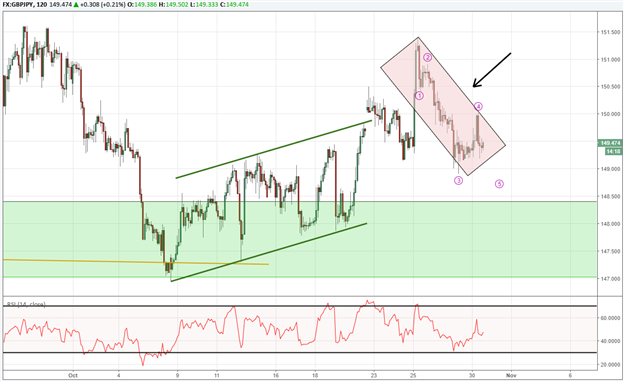 Do you know why many traders lose? Find out here.
If you are new to trading FX, we have created this guide just for you.
To learn more about Elliott Wave theory, grab the beginner and advanced trading guide.
---Written by Jeremy Wagner, CEWA-M
Jeremy is a Certified Elliott Wave analyst with a Master's designation. This report is intended to illustrate how Elliott Wave Theory can be used to identify potential patterns of trading opportunities.
Recent Elliott Wave articles by Jeremy:
Gold prices may see $1200 in the coming weeks.
USDCAD up from September low, how high will it rebound?
Webinar: Price Action Analysis for USDJPY, EURUSD, and Gold Prices
Jeremy's favorite Elliott Wave Resources:
Elliott Wave Patterns: What is a Zigzag?
3 Elliott Wave Flat Patterns to Know and Understand
Learn more about the Elliott Wave patterns by receiving our beginner and advanced Elliott Wave guides.
Also, view these one-hour webinar recordings on the specific patterns:
Elliott Wave Impulse Patterns
Elliott Wave Zigzag Patterns
Elliott Wave Flat Patterns
Elliott Wave Triangle Patterns
Elliott Wave Diagonal Patterns
Starting Your Elliott Wave Counting
Follow on twitter @JWagnerFXTrader .
Join Jeremy's distribution list.
DailyFX provides forex news and technical analysis on the trends that influence the global currency markets.