USD/JPY
of clients are
net long.
of clients are
net short.
Note: Low and High figures are for the trading day.
USD/JPY is the forex ticker that shows the value of the US Dollar against the Japanese Yen. It tells traders how many Yen are needed to buy a US Dollar. The Dollar-Yen is one of the most traded forex pairs – second only to EUR/USD – and is a benchmark for Asian economic health and even the global economy. View the live Dollar-Yen rate with the USD/JPY chart and improve your technical and fundamental analysis with the latest USD/JPY forecast, news and analysis.
Daily
Classical
Pivot Points.
Last Updated:
Sep 26, 2022
USD wrecking ball continues as short-end US yields rise to highest levels since 2007. $GBPUSD now below 1.1000 for the first time since March 1985. $EURUSD below 0.9800 for the first time since October 2002. $USDJPY at highest rate since August 1998.
(FX Update) Japanese Yen Intervention Brings Most Volatile Day Since 2016, Where to for USD/JPY? #Yen #JPY $USDJPY #BoJ https://www.dailyfx.com/news/japanese-yen-intervention-brings-most-volatile-day-since-2016-where-to-for-usd-jpy-20220923.html?CHID=9&QPID=917702&utm_source=Twitter&utm_medium=Dubrovsky&utm_campaign=twr https://t.co/Vrh2KibbYe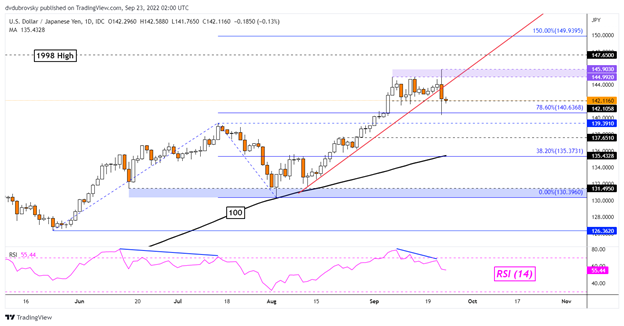 USDJPY tumbles from 145 to 140 as MoF intervenes in Yen market. Bank of Japan sticks to negative rates, easy policy. Yen crosses sink lower into key areas as traders digest intervention. https://www.dailyfx.com/news/japanese-yen-roars-to-life-following-intervention-usdjpy-gbpjpy-audjpy-eurjpy-setups-20220922.html
12:30:00
Durable Goods Orders MoM
(AUG)