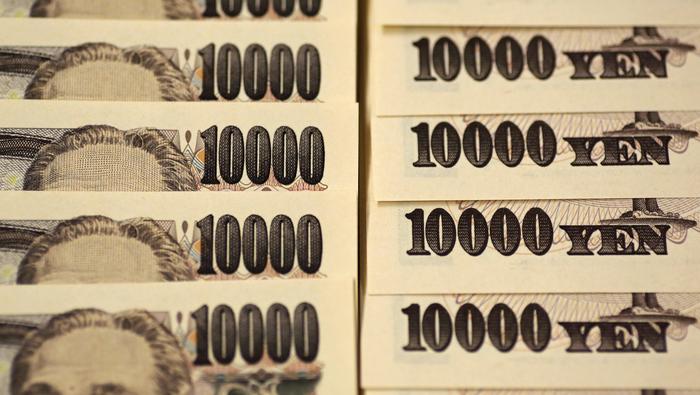 Trading USD/JPY: A Complete Guide to the Dollar-Yen Forex Pair
What is USD/JPY?
The USD/JPY currency pair is one of the more popular FX pairings available to traders. It's represented by two of the world's largest economies with the US (US Dollar) and Japan (JPY). USD/JPY ranks as the second most traded currency pair in the world, according to the Bank of International Settlement (BIS), which compiles statistics in cooperation with world central banks to inform analysis of global liquidity, among other things. In the chart below, looking at 2019 volumes through IG platforms, you'll see that USD/JPY represented 13.2% of FX trader's activity.
Note that there are risks of loss in trading currency pairs. All traders should carefully consider these risks.
It is important to note that the BIS is a good resource to gauge the size of the $6.6 trillion global interbank market, but that non-institutional, or retail and/or individual investors, do not engage in trading directly in the interbank market. Instead retail investors engage in trading with a Registered Foreign Exchange Dealer, which acts as a counterparty to all of its customers' trades.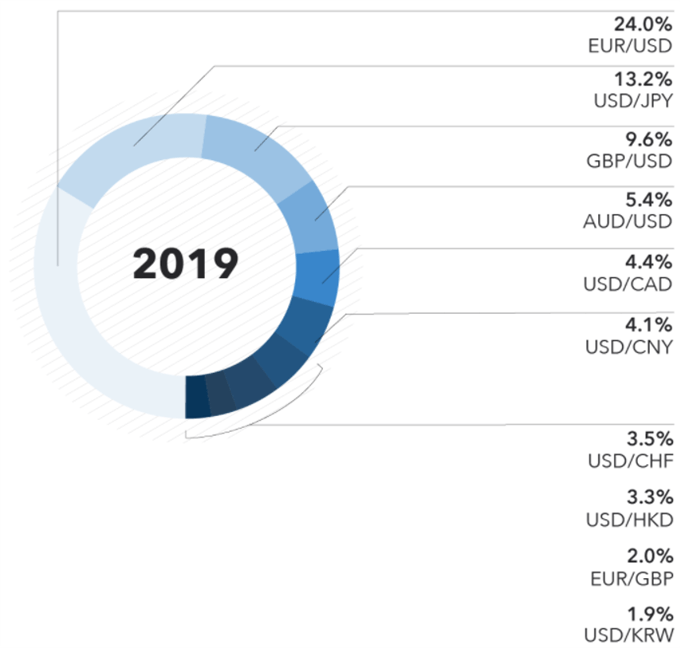 Bank for International Settlements, 2019
Why Trade USD/JPY?
Representing two of the world's largest economies, USD/JPY is often a popular macro venue for traders – especially as a hedge for manufacturers and global importers/exporters. With the Japanese Yen being the most heavily traded currency in Asia, USD/JPY is often seen as a significant link between the Eastern and Western worlds. Because the pair represents two risk-averse currencies, volatility often lags behind the other G10 FX majors, which will tend to offer greater deviation in the represented economies (such as the UK and US or Europe and the US). As such, traders will often expect lower levels of volatility in the pair, which can open the door to more ranges or mean reversion as opposed to trends or breakouts that may be more common in other major forex trading pairs.
USD/JPY Technical Analysis Tips
With such a high market volume, USD/JPY is often a favored FX pair for technical traders. Adherence to psychological levels and potential for sharp inflection moves off support and resistance levels tend to make the pair more amenable for reversal/breakout approaches and shorter intra-day trends.
Source: Chart Prepared by Michael Boutros, Technical Strategist; USD/JPY on Tradingview
Note that over the past six years, big-figure psychological levels have offered major pivots in price – most notably the 105 region that has continued to govern price since the 2018 lows. Interested in details? Learn technical analysis with our educational courses.
USD/JPY Fundamental Analysis Tips
The 2007 financial crisis saw the dawn of a new era of central bank stimulus as the Fed embarked on what would be the first of a round of quantitative easing measures. These unprecedented steps taken to shore up markets amid the worst economic downturn since the Great Depression were instrumental in turning the tide of the recession.
In Japan, lost decades of low growth and inflation, and in some cases even deflation, had set the stage for a shift in policy approach. Former Japanese Prime Minister Shinzo Abe came onto the scene in 2012 with the idea of reinvigorating growth in Japan by using the Fed's quantitative easing approach in combination with significant changes to government policy and tax structure. This allowed USD/JPY to rally more than 60% in less than three years.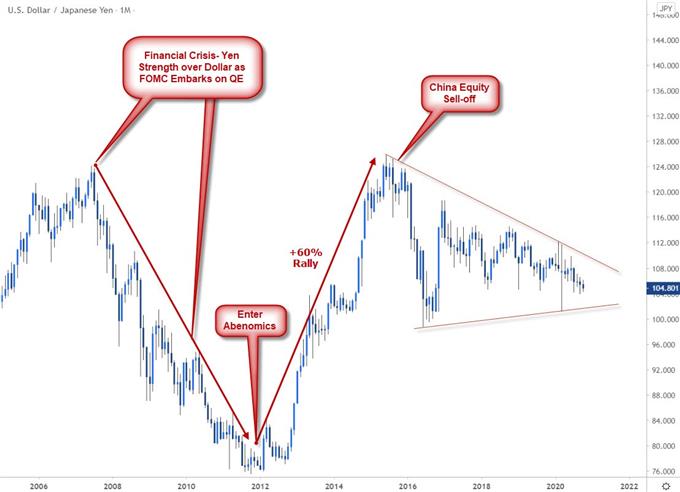 Source: Chart Prepared by Michael Boutros, Technical Strategist; USD/JPY on Tradingview
In the summer of 2015, the Chinese equity market began to collapse and created a stern bout of risk aversion that drove investors into the safety of the Yen. Since that decline, price has held within a contractionary range for more than five years. Given rate policy in Japan and - more recently - the US, there's little hope for rate hikes out of either economy anytime soon.
As such, the big focus is on the respective central banks for the possibility of even more unprecedented easing. The Fed and BoJ are two of the most extended central banks and the competing stances on monetary policy have continued to define the multi-year range in price. USD/JPY has traditionally seen strong correlations with U.S. Treasuries and as such, tends to be rather sensitive to broader shifts in interest rates and interest rate expectations. Also of note: the Japanese Yen, as well as the US Dollar, enjoys a 'haven' status during times of economic uncertainty.
Most active trading times
As one of the most heavily traded currency pairs, USD/JPY tends to remain rather liquid throughout the 24-hour trading day, but the Asian open is when the pair is in the spotlight. That's around 7PM ET and lasts until the Euro open at around 4AM ET. Also note that due to the heavy-handed impact of the FOMC and Bank of Japan, this pair can be sensitive to both US and Japanese economic data releases as well as central bank policy decisions with intraday volatility surging during these high-risk events.
Key participants
USD/JPY is extremely popular with larger institutional traders, banks and multi-national corporations. Often employed for hedging purposes, the pair can be used to offset currency risk for manufacturers as well as global exporters and importers. USD/JPY often trades on both USD flows and risk trends, depending on future interest rates expectations and risk appetite in broader financial markets. Range-prone price action and event risk volatility makes USD/JPY an attractive asset for retail traders as well as technical traders across the spectrum.
Advanced tips
USD/JPY trading trends evolve quickly and over the past five years, the pair has been a popular product for near-term and swing traders. Price action in this pair is notorious for aggressive reversals and fast breakouts, making it ideal for short-term scalping as well as event risk traders looking to take advantage of the sharp spike in volatility during key data releases or macro-economic developments. In practice, this can mean shallower targets and tighter stops. Finally, it is worth paying attention to the psychological price levels, as there is a propensity for sharp inflections off big-figure thresholds.
DailyFX provides forex news and technical analysis on the trends that influence the global currency markets.