US Dollar - Canadian Dollar Chart
Mixed
6h
Last updated:
Dec 6, 2023
of clients are
net long.
of clients are
net short.
Total Intraday Range (% of ATR)
Note: Low and High figures are for the trading day.
USD/CAD is the forex ticker that represents the US Dollar-Canadian Dollar currency pair. The USD/CAD rate, as indicated on the live chart, shows traders how many Canadian Dollars are required to buy one US Dollar. Follow the USD/CAD chart for live prices and stay up to date with the latest USD/CAD news, forecasts and analysis. Our expert industry insights will give you the edge to conduct thorough fundamental and technical analysis to trade this popular currency pair.
Last updated: 2023-12-06 18:23:21
Daily
Classical
Pivot Points.
Last Updated:
Dec 6, 2023
RT @WVenketas: @bankofcanada to hold rates. Improvement on US ISM services PMI and #NFP expected. Couple that with weaker #crudeoil prices & escalating geopolitical tensions = #USDCAD upside to come? More @DailyFX @DailyFXTeam below: #loonie #CAD https://t.co/QvPxJp50IF
US Dollar Trapped in Bearish Path - Price Action Setups on $USDJPY, $USDCAD, $AUDUSD #trading #forex #FED #yields ✅Read more here: https://t.co/3wmuyjZs07 ✅For the U.S. dollar's medium-term outlook, download the fundamental and technical forecast here: https://t.co/jXWsRwJIUF https://t.co/ommM3MvRyJ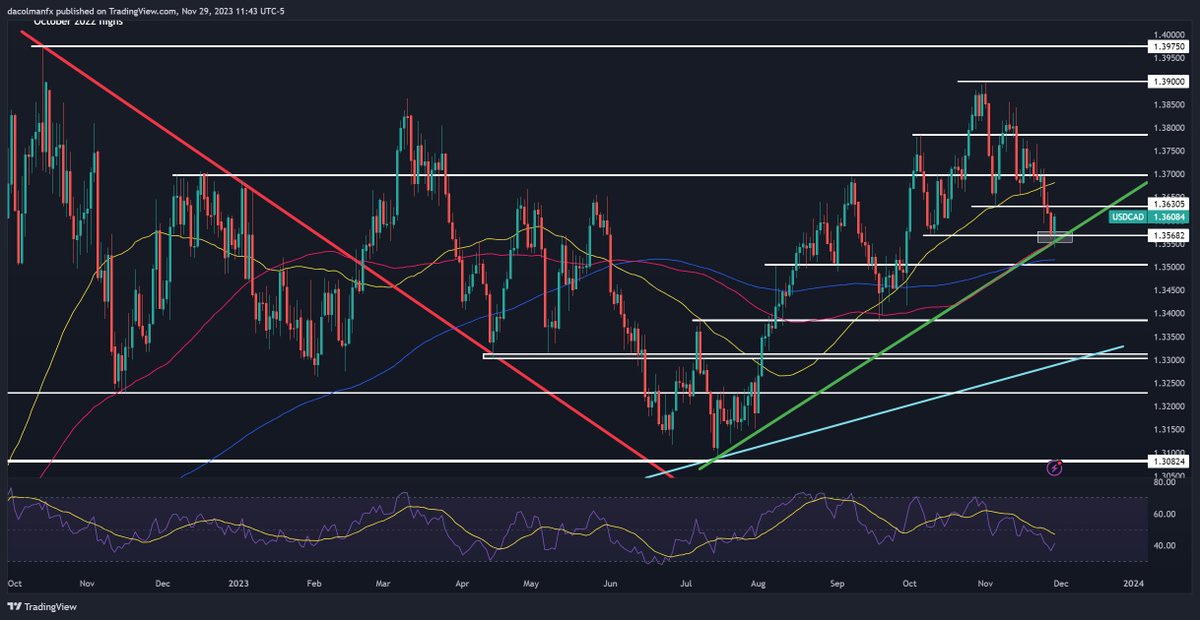 content
12:30:00
Challenger Job Cuts
(Nov)
13:30:00
Building Permits MoM
(Oct)
13:30:00
Continuing Jobless Claims
(Nov/25)
13:30:00
Initial Jobless Claims
(Dec/02)
13:30:00
Jobless Claims 4-week Average
(Dec/02)
14:00:00
Used Car Prices MoM
(Nov)