Talking Points:
Trading different markets requires an appreciation of their particular landscape they form

Considerations of liquidity, market participant, fundamental themes and technical sway come in disproportion
Did you miss the EUR/USD's rally as monetary policy standings changed these past weeks? Join the DailyFX analysts as they cover event risk and breaking technical as well as underlying themes and high potential patterns in a range of webinars. Sign up here.
There is no one-size-fits-all trading strategy much to the chagrin of those looking to streamline their navigation into different markets or the surprise of those that thought trading really is 'that easy.' There are certain elements of trading that can be applied more or less uniformly - money management, risk management, some elements of portfolio management - but what most of us consider to be our 'edge' rarely has the kind of reach we suspect it does. The limitation is due to the very different nature of the systemically different markets that we have to trade. Differences in liquidity, the mix of participants, external forces and maturity of the market can lead to profound differences in background of the markets and how they are traded. To illustrate how conditions can shape the environment differently, we look across four different and generally popular markets with both similarities and differences.
The first asset up for discussion is EUR/USD. This is the arguably the most liquid market in the world and it has the maturity of the Dollar and a wise-beyond-its years Euro (only having been traded in its current form since 1999). This exchange rate is at the very heart of the financial system and that draws in very different market participants with habits and objectives that are vastly different. Central banks, money managers, corporate hedging and retail trading all access this market regularly. This creates a diversification that makes technicals a viable analysis technique and fundamentals a crucial compass. Trading in EUR/USD is very appealing to the average speculator. Contrast that to the Chinese Yuan. China is the second largest country in the world and there is deep liquidity behind USD/CNH. Further, there is plenty of foreign speculator interest along with banks, central banks looking to fill reserves needs and money managers. However, an 'external influence' in the form of the Chinese government makes this pair all but untradeable. The PBoC and SAFE frequently manipulate the exchange rate to maintain a financial stability that is difficult to achieve given the underlying conditions.
Without the same degree of liquidity, but adding a considerable boost in popularity is the VIX Volatility Index. While not a tradable instrument, the implied activity measure has inspired a range of products that aim to approximate the benchmark. In a market where standard assets have seen their swings significantly deteriorate, the appetite for amplitude drives market participants to the very thing meant to hedge against exceptional activity. Yet, ETFs like the VXX (short-term and flawed) and the XIV (inverse) draw the initiated, desperate and decisively speculative. Even the VIX futures which draw more practiced hands is heavily skewed towards the trading element as is evidenced by the extreme net-short COT reading. This concentrated speculative positioning leads fewer trends and sudden jolts while further reflecting other traits of speculative navigation - such as an observance of technicals.
Another speculative-focused asset with a much shorter history is Bitcoin. All crytocurrency fit this archetype; but this brand new asset class has not secured its place in the financial system. While blockchain may prove the wave of the future, the market volume is currently dominated by those looking to make a quick profit in the early phase boom. Bitcoin does not trade on traditional fundamentals and technicals are erratic as systemic surprises quickly blow apart patterns. We look at how the differences behind the structure and participants of various markets despite some critical similarities can dramatically change the nature of different assets in this weekend Strategy Video.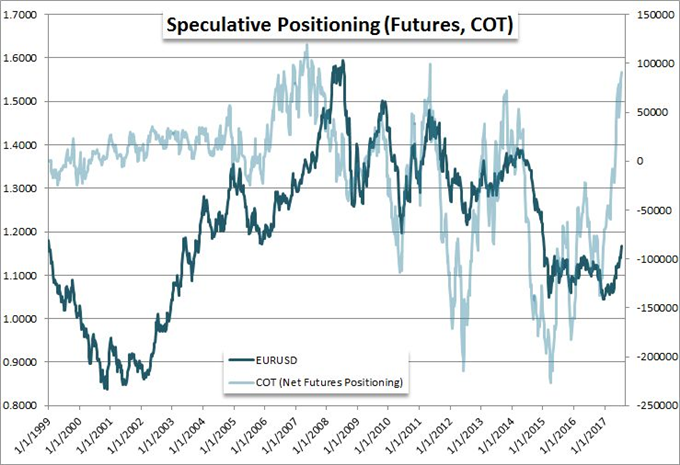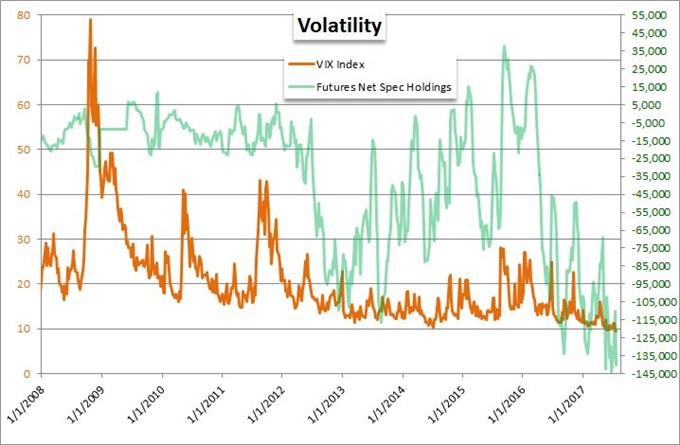 To receive John's analysis directly via email, please SIGN UP HERE