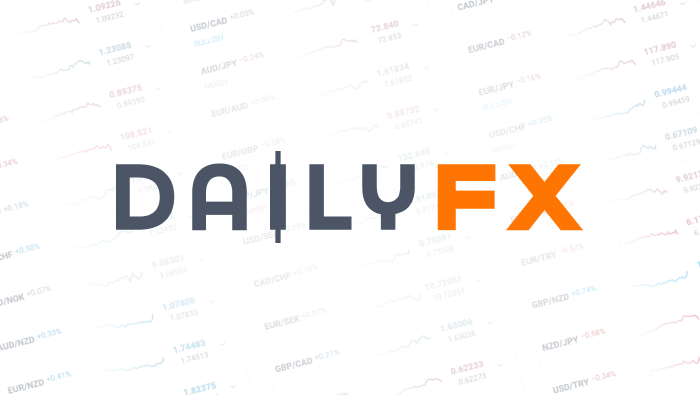 Dollar Short of Breakout, SPX Hits New Technical High, Earnings Stir Trade Wars
What's on this page
Volatility Talking Points:
The DXY Dollar Index put in for another test of well-worn resistance at 97.75 but the currency wouldn't put in for its breakout yet
A charge to new record highs from the Nasdaq draws a pacing contrast to the S&P 500 while global indices are still dithering
US earnings is a top theme with Microsoft, Caterpillar and Boeing ahead; but recognition of trade wars should raise traders' attention
Do you trade on fundamental themes or event risk? See what live events we will cover on DailyFX this week (BOC rate decision, Australian CPI and US GDP) as well as our regular webinar series meant to help you hone your trading.
Which is More Important to Risk Trends: Earnings or Trade Wars?
There is often a dubious approach in the markets whereby participants evaluate the shape of the fundamental and speculative landscape in a way that fits prevailing trends. That is in contrast to evaluating the backdrop independent of the 'animal spirits' and perhaps discovering where a market has moved dangerously off course from what would generally be considered 'value'. Arguably one of the most popular benchmarks for risk trends nowadays remain the US indices, and they paint a picture of confidence with borderline mania. Looking for fuel to that fire, we could tap the potential of US earnings as one of the few high-profile themes currently active - growth concerns are on hold for Friday's GDP update and central bank support is now a passive theme after the first quarter rebound. Procter & Gamble was the most prominent American corporation reporting this past session and revealing the strongest sales in eight years, but the markets still judged the stock's prospects harshly. Twitter's beat was taken at face value, but it is not counted among the trendsetting tech companies. Boeing and Caterpillar before the bell Wednesday will better reflect the US economy as Dow components while Microsoft and Facebook will represent unmistakable tech titans.
Chart of S&P 500 (Daily)
While there is an important signal of US financial and economic health to be drawn from these reports along with the manipulation it manages for speculative appetite, we should also consider their capacity to offer insight into broader macroeconomic themes. One such theme that was clearly stirred Tuesday through earnings was trade wars. Motorcycle manufacturer Harley-Davidson reported further declines in profit as tariffs resulting from the United States' trade wars (in different stages) with China and the EU took their toll. It is worth recalling that President Trump called for a boycott of the American company's products last year when it announced plans it would manufacture some of its bikes in Taiwan to avoid some of the tariff burden. This earnings season, the US President commented in a tweet that the burden on HOG was unfair and that "we will reciprocate" against the EU. Add that to the tally of threats with the possibility of a general tax on autos and auto imports that his administration is considering after receiving its report from the Commerce Department and the more recent evaluation of an $11 billion tax in retaliation for perceived unfair subsidies afforded by the EU to plane manufacturer Airbus. Speaking of, Boeing and CAT will offer critical views of trade wars themselves.
S&P 500 Earns a 'Technical' All-Time High While the US Dollar Backs Down from Breakout
Despite the uneven backdrop for earnings and themes like trade wars, there was little hesitation for US equities. Indices in the world's largest economy were broadly higher through the day. That said, there was a difference in progress and pace depending on the sectoral weightings of the specific index. This disparity was in full display with the remarkable performance from the tech-heavy Nasdaq. Having already moved to record highs last week, the return of European and APAC liquidity Tuesday would add considerable heat to the rally. From its sister S&P 500, the day's advance brought it back to its highs and earned a 'technical' record reflected in the highest close - but not an intraday top. From the blue-chip Dow, we are still 0.6 percent from a record high close and 1.1 percent from the intraday mark. From this relationship, a general trend - which we have discussed before - emerges. US equities relative to the rest of world (S&P 500 to VEU) shows a strong preference for US assets. The same performance disparity is apparently relative to emerging markets, junk bonds, carry trade and more risk assets. From this, we see a pull for speculative performance (momentum, progress) rather than a universal search for 'value' on discounted, economic-dependent assets. Remember that in your evaluation of follow through on risk trends.
Chart of Ratio of Nasdaq to S&P 500 (Daily)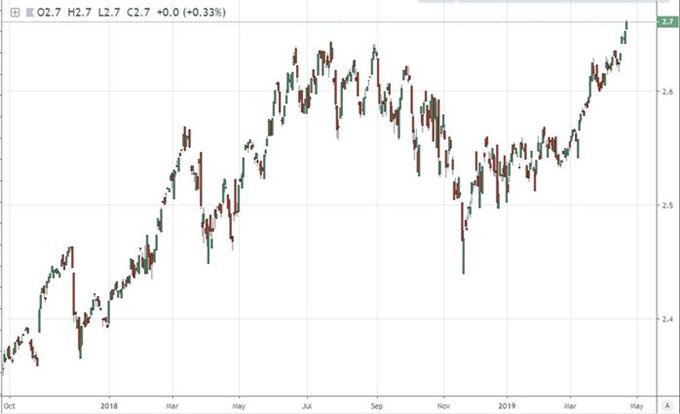 Where the breakout for US equities was a point of debate, there was no mistaking the Dollar's shortcoming at resistance. The ICE's DXY Dollar Index moved up to make a fourth major test of a 97.75 ceiling. Faced with the decision to make a serious commitment to a bullish run, the Greenback would hold the line and tentatively retreat. This doesn't register as a full-scale reversal back into a very mature range, but it has certainly raised the scrutiny over the currency's fundamental drive moving forward. What is fueling bulls to not only forge a break higher but keep it rising? Data this past session lacked for gravity, though the housing starts figures were strong. Earnings and relatively growth considerations are not showing through in targeted assets, the competitive monetary policy environment is not improving in the USD's favor and there certainly isn't an absolute demand for total safe haven. This won't prevent further bullish progress for a break say for EURUSD below 1.1200 or USDJPY above 112.20, but it will work against the development of reliable momentum.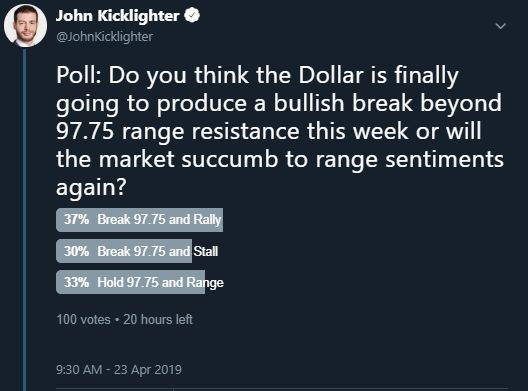 Watching for Volatility from the Canadian, Australian and New Zealand Dollars
The Dollar isn't the only major struggling with clear motivation. The Euro seemed to show little regard for the unexpected worsening of Eurozone consumer confidence or the improvement in the debt to GDP ratio for 2018 (from 86.8 to 85.1 percent). In the background, worry over Italy's pressure on European unity was revived when the leader of the member economies' finance ministers voiced concern over the country's trajectory and credibility, yet the jump in Italian 10-year bond yields resulted in no material Euro response. In similar measure, the Brexit-focused Pound was unmoved by reports that some in the UK government were pushing Prime Minister May to offer a clear timeframe for her stepping down from the top spot as well as suggestion that the she would put forward the same withdrawal agreement - that had been rejected three times before - as soon as next week. I am not waiting with bated breath for a clean break from the Sterling and will eye moves like that from GBPUSD with a high level of dubiety.
Chart of EURGBP (Daily)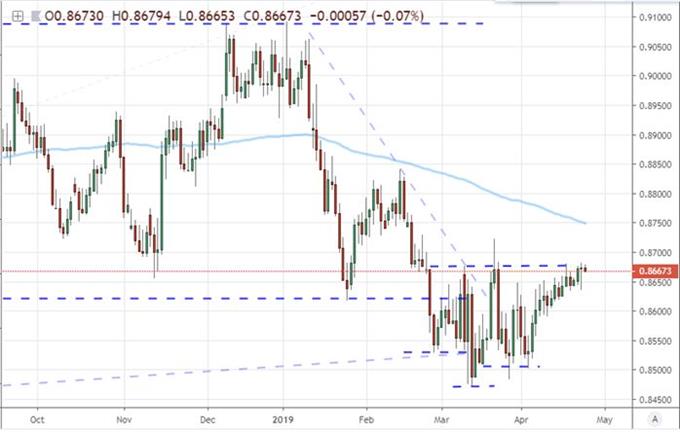 In contrast to these fundamentally put-upon majors, we have less restricted and single-tracked currencies to consider. Take for example the Canadian Dollar. The Bank of Canada (BOC) rate decision is on deck for Wednesday. The policy group is not expected to change its official standing but that isn't the high-water mark for market movement. If there is anything in the central bank's rhetoric that signals any risk of a future cut has been washed away, the Loonie could rally. Of course, with only a modest probability of a cut before year's end priced in, it could also spark a significant decline. The Australian Dollar faces a similar type of evaluation but with greater extremes in preset forecast. According to swaps, the RBA is most likely among the major central banks to cut before year's end. If data like the 1Q CPI reading raises that prospect, there is only so much more discount that can be added to the currency's current standings. On the other hand, a scenario that reduces - or obviates - a cut can leverage a greater bullish move. Consider that for pairs like AUDUSD, AUDJPY and AUDCAD. If your aim is to get further away from fundamentals, the New Zealand Dollar is a close AUD cousin that has lost more significant ground and could muster a speculative appetite. The Swiss Franc is in a similar situation with a tumble that has now forced further USDCHF and EURCHF bullish breaks, but its own fundamental participation is severely lacking. We discuss all of this and more in today's Trading Video.
Probability of Major Central Banks Hiking Rates Versus Cutting Rates According to Swaps (Daily)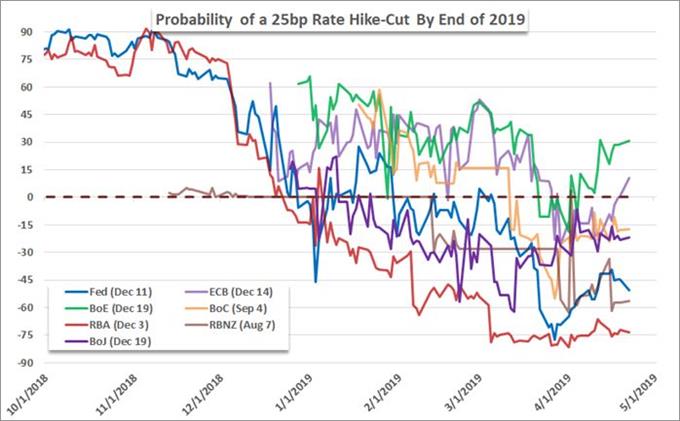 If you want to download my Manic-Crisis calendar, you can find the updated file here.
DailyFX provides forex news and technical analysis on the trends that influence the global currency markets.