What are Millennials and Gen Z Investing in?
What are millennials and Gen Z investing in? | DailyFX
The millennial stock market: what stocks are millennials and Gen Z investing in?
We've all heard about Gamestop - the Reddit uprising that dominated stock market news. But that's not the only thing millennials and Gen Z, whose ages range from late teens to age 40, are investing money in. In fact, the younger market is much more diverse than you might imagine and their investments show a fascinating range of choices.
We look at where millennials and Generation Z are putting their money, showing some of the big - and some of the more surprising - names whose shares are being snapped up by younger audiences.
US snapshot: most popular stock investments – by state
Share popularity differs from state to state, with some preferring to invest in household names such as Apple and Disney, while others investing in brands you might not know as much about.
We looked at the trends in search volume for share prices in each state to work out who wants what, where.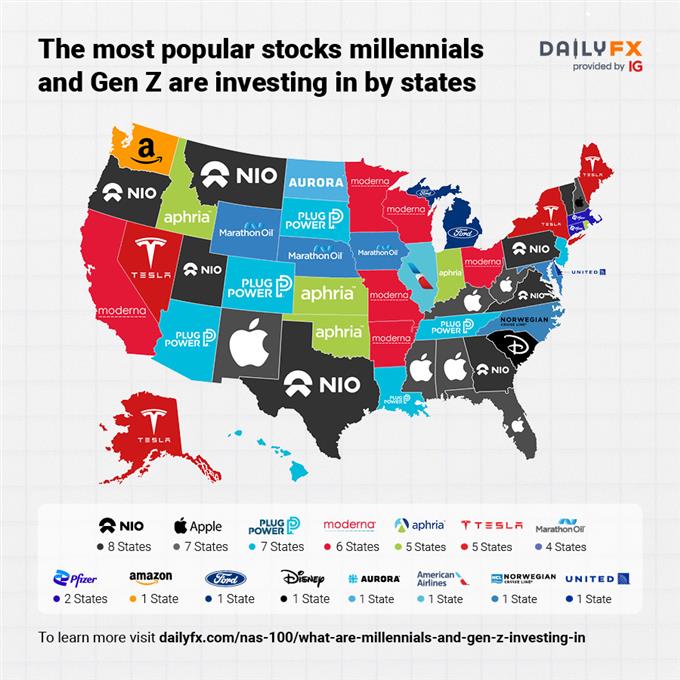 Apple (AAPL) is the most popular millennial investment in seven states
It might come as no surprise to see that tech giant Apple is one of the brands leading the way for millennial and Gen Z investments. At the time of writing, its share price sits at $134.16, an increase from $69.23 over the past year. Covid-19 has certainly played a part in the company's success, with people across the globe relying more than ever on technology to keep them connected.
Apple is the most popular stock among the demographic group we studied in Alabama, Florida, Kentucky, Mississippi, New Hampshire, New Mexico and West Virginia.
Plug Power (PLUG) shows younger audiences are investing in sustainability
Plug Power is another brand popular with millennials and Gen Z. In fact, it is the top investment among the demographic group across seven states. Plug Power is a developer of hydrogen-based technology that could power the emission-free vehicles of the future.
Its technology is promising news for the environment. The younger investors interested in Plug Power span Arizona, Colorado, Hawaii, Louisiana, New Jersey, South Dakota and Tennessee. Plug Power's share price is much lower than Apple's at only $27.24, which makes it a much cheaper tech investment.
As governments worldwide enact policy and law to cut back carbon emissions, electric vehicle brands could definitely be ones to watch in the coming years.
NIO is the most sought after investment for American millennials
Another electric car brand appealing to US millennial investors and Gen Z is NIO. The Shanghai-based manufacturer shot to fame in the Formula E racing championship, and is being tipped by many to become a rival for Tesla. NIO, which trades as an ADR on the NYSE, posted revenues of $2.49 billion in 2020 – a year when almost everyone was stuck inside.
NIO's share price has rocketed over the past 12 months, peaking at $62.84 in February. While it now sits lower at $36.09, global interest in green power, regular comparisons to Tesla, and substantial backing by the government of China show NIO is a stock to watch.
NIO is the most popular millennial investment in eight states, making it the USA's most sought after stock for the age bracket. Investors in Georgia, Montana, Oregon, Pennsylvania, Texas, Utah, Vermont and Virginia can't get enough of the brand. And amazingly, not one NIO car has been sold in the US.
The brands most popular with millennial and Gen Z investors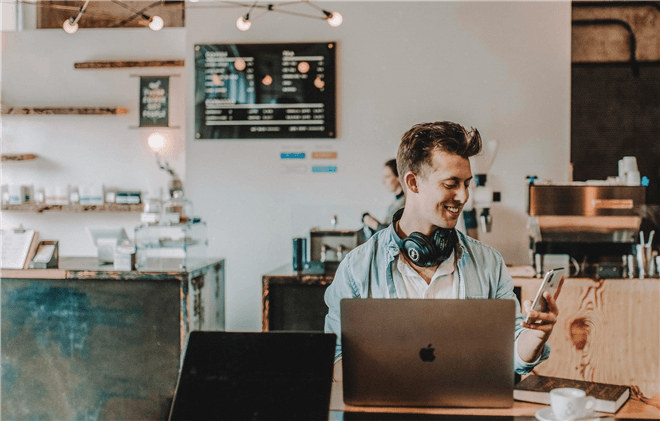 Which brands are younger generations investing in? Take a look at the top 50 stocks in the U.S. among millennials and Gen Z to see where they see opportunity.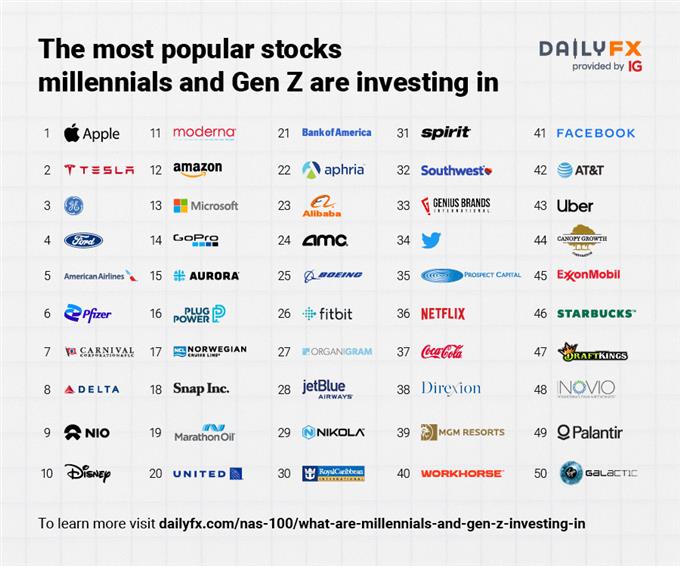 US investors back technology and cars
Many of America's most popular investments among the youngest investors come in the form of technology brands, with the likes of Apple, Plug Power, GoPro and Fitbit making the top 50. Automotive companies also draw interest, with the likes of Ford, Tesla and Marathon Oil attracting millennial and Gen Z attention.
Major brands such as Starbucks, Uber and Netflix also prove a source of stock excitement -- supporting an assertion by The Economist, which pointed out that "Global brands account for more than 30% of the stock market value of companies in the S&P 500 index."
Millennials and Gen Z take a clear interest in healthcare
Young Americans across the country also show an interest in investing in healthcare. Both Pfizer and Moderna, which are pioneering vaccines for the Coronavirus pandemic, appear high on young investor lists.
Young investors believe in travel
Stocks in travel-related industry stocks also lure younger investors. American Airlines is the fifth most popular stock with the likes of Delta and JetBlue airways also among the top 30.
Cruise company Royal Caribbean also appears among the most popular stocks for millennials and Generation Z.
The UK's top brands for millennial and Gen Z investments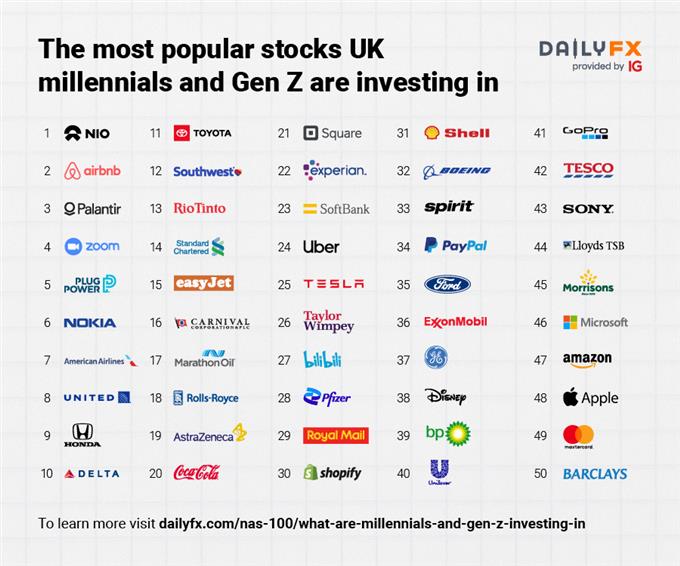 Millennials and Generation Z in the UK have a few things in common with their American counterparts – both groups invest heavily in NIO. But other brands make the top five, with travel company Airbnb and video call brand Zoom grabbing headlines.
Despite facing travel restrictions and other business challenges throughout Covid-19, excitement is building around Airbnb, especially as lockdown restrictions ease. The appetite for holidays will be huge, and one beneficiary could be the company's stock price (currently $178.69).
In contrast, Zoom as a brand thrived during the pandemic. Everyone needed a way to communicate, and Zoom parties and quizzes became part of our everyday routine during social isolation. The company's share price peaked at $568.34 in October 2020, and has declined since. It now sits at $329.95, and could see further drops as the world eases back into normality. Take a look at our analysts' top picks to know what trades and investments DailyFX is closely following now.
Could millennials and Generation Z be shaping the future of the stock market?
Much has been written about the new class of retail traders in financial markets. This wave of new market participants brings with it a wave of liquidity that had been otherwise out of the reach of traditional financial markets. Many of these participants are millennials and Gen Z, and their moves are shaping markets now and will continue to do so in the future.
If you think shares are the right thing for you, take a look at our beginners' guide to investing to see how to get started. This Nasdaq trading basics report will tell you everything you need to know to stay on top of the market, as well as trading strategies for all levels. Remember, investing always poses a risk that you won't get your money back. Make sure you know what you're doing before you take the plunge.
Methodology
To identify the top millennial and Gen Z investments, DailyFX used data from Robinhood, a stock trading platform in order to determine the brands millennials are investing in the most. The users of the app are predominantly 18-35 years old, the demographic of a majority of millennials and Gen Z users. By utilizing search volume from the last 12 months (sourced April 1, 2021) , DailyFX determined the most popular stock for millennial investors in each state of the United States based on the percentage increase, overall. For the search volume data for the millennial investments of the UK, data was sourced April 6, 2021.
GME stock was not included as that would dominate the end results, skewing them for the search volume increases from Reddit-fueled activity.
DailyFX provides forex news and technical analysis on the trends that influence the global currency markets.