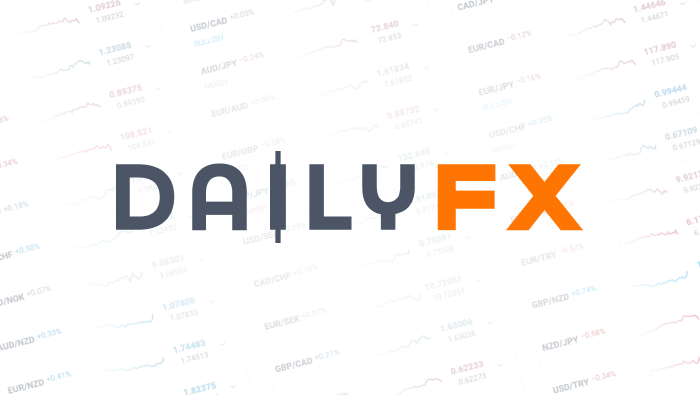 EURUSD and USDMXN - At What Point Do Caveats Outweigh Appeal?
EURUSD and USDMXN Talking Points:
No trade is perfect, so we need to determine at what point our conviction in a setup is strong enough to justify acting

EURUSD has dropped to the bottom of its multi-month range with a notable lack of conviction as to what can charge a trend

USDMXN produced a bullish break on a tight congestion to trade back into a wider range, following some key fundamental progress
Do you have questions on the technical or fundamental aspects behind the EURUSD or USDMXN? Have general trading, market or strategy questions? Bring them to the weekly Trading Q&A webinar on Tuesday. Sign up for the event on the DailyFX Webinar Calendar.
Come to Peace with the Fact That There is No Perfect Trade
There is no such thing as the perfect trade. If you are 100 percent confident in a setup, that is more a sign of one's own delusion than it is of the actual opportunities faced. We cannot know the future, and therefore the outlook is always uncertain. Such a reality precludes absolute confidence that a trade will work in our favor. That said, we can perform analysis to whittle down scenarios to reasonable outcomes and more predictable outcomes. Whether your preference is for technical, fundamental, conditional analysis or some mix of these techniques; a thorough evaluation can establish probabilities for which risk and trade-managed strategies can exploit. A strong trading strategy and 'edge' is essential to trading/investing over time, but actual execution requires another personal consideration: risk tolerance. At what level of (reasonable) conviction in a trade would you consider trade worthy of pursuit? For some, 75 percent confidence is enough to take the risk while others wait for the closest to perfection (90-95 percent) that they can get and yet others rely more on their strategy such that anything above 50 percent is viable. Know your threshold.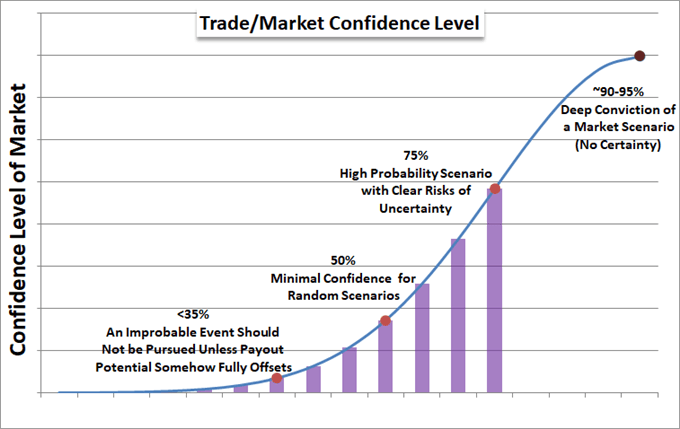 The Pros and Cons of a EURUSD Range
The most recognizable currency pair in the FX market is seeing the convergence of technical and fundamental factors that could be argued offer strong support for range conditions. From a technical basis, EURUSD established a general range over the past three months with a rough zone of resistance around 1.1500-1.1550 and support in the vicinity of 1.1200/1275. We have slid into the general area of support following a remarkable 8-day rally from the US Dollar - though it only translated into a 6-day slide for the benchmark pair. The consistency into that recognizable barrier adds greater expectation that the run will begin to struggle for sheer statistical norms (though that is not exactly true mathematically). A slight advance is all that would be needed to end the consecutive-day charge with no potential of reversal beyond the pause. Fundamentally, the Euro has a host of general, systemic risks associated to it; but local event risk is not on tap until Thursday's German and Eurozone GDP updates on Thursday. For the Dollar, there are so many conflicting and high-profile issues that it seems to just as readily sidetrack the market as it does delivery clear and concise trend. Adding some market perspective to the unique factors for the pair, it just so happens that range conditions are more consistent with the development of critical breakouts - and certainly trends - rare occurrence nowadays. The greatest caveat for this pair is that a break is inevitable. Fundamental themes that have thus far proven disconnected from generating a clear trend may finally find clarity on what is the primary issue just as drive renders behind it. Weigh the opportunity against the risk.
Chart of EURUSD and 200-Day Moving Average (Daily)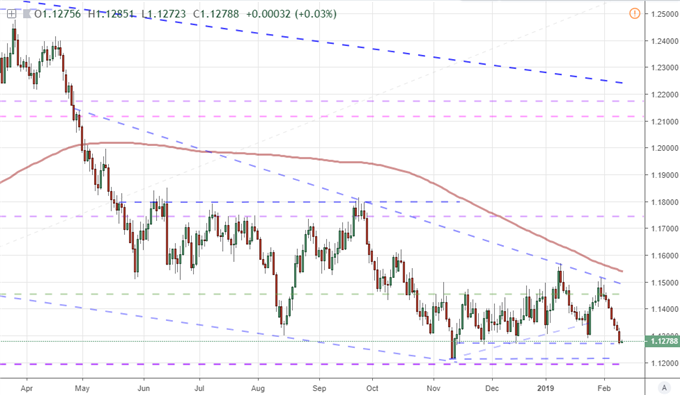 The Pros and Cons of a USDMXN Breakout
In wide contrast to the ubiquity of EURUSD, there is significantly less recognition for and trade activity in USDMXN (US Dollar to Mexican Peso exchange rate). This is still one of the most liquid emerging market pairings though. The technical setup is appealing for this cross just as it is for EURUSD - though this case is tangibly more provocative. Rather than coming to the border of a wide range, USDMXN has recently forged a breakout from tight congestion. The bullish break above 15.20, however, is a move that maintains the much larger range established over the preceding months. In other words, it was a break that leaves up to expectation that the markets will follow the path of least resistance. The fundamentals align to the bullish, medium-term resolution as the Dollar is better suited for the relative rate of change for monetary policy and is far better stationed should risk aversion kick in and undermine the emerging market carry currency. The most prominent issue for this setup is the difficulty in fulfilling a range swing that is borderline trend commitment. What's more, this overdue bullish break has only occurred on the eighth day of an unbroken series of Dollar rally. A correction for the Greenback may be overdue which could stall or even reverse the progress found thus far. We discuss the tipping points on EURUSD and USDMXN in today's Quick Take video.
Chart of USDMXN (Daily)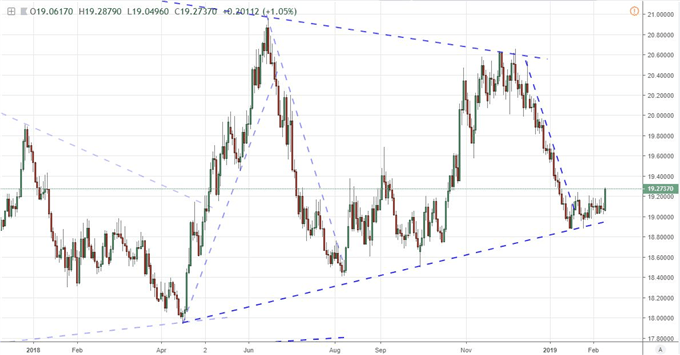 If you want to download my Manic-Crisis calendar, you can find the updated file here.
DailyFX provides forex news and technical analysis on the trends that influence the global currency markets.