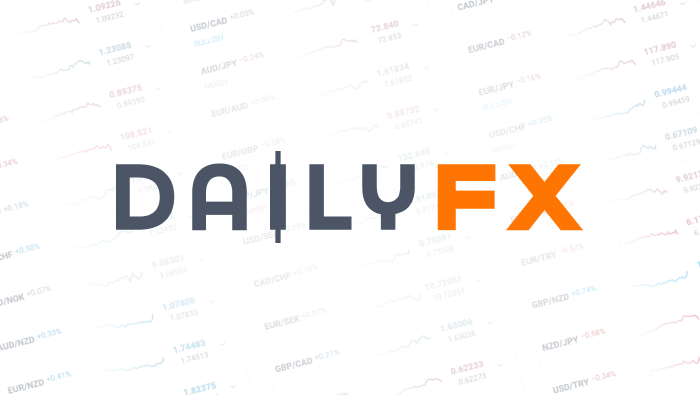 Yen as a Risk Measure, Carry Barometer and Trade Vehicle
Talking Points:
The equally-weighted Yen index finally capitulated this past week with its first drop in seven trading days

Risk trends took a collective turn through week's end, and the Yen index presented an appropriate technical alignment

Accounting for the Yen's motivations is only have the effort when looking for trades amongst its crosses
Is there a clear perspective on how retail traders are positioning on Yen crosses, equity indices and other risk-leaning assets? See how the trading crowd is positioned in USDJPY, EURJPY, other yen crosses, indices and more on the DailyFX sentiment page.
The Yen Crosses Finally Put in for a Correction
After a six consecutive session climb, the Yen crosses finally put in for a bearish day to close this past week. That was the run - and correction - registered from my equally-weighted Yen cross index. As impressive as the move was, it wasn't a record bull run by any stretch. In fact, there have been three such moves of equivalent reach or greater over the past year. Nevertheless, the charge was a significant one. It was also a move with notable technical precedence. Looking to the same equal-weight measure, we find the crosses hit a general range high that has absorbed and rejected multiple tests over the past 8 months. The reversal is a speculatively loaded move, but the context suggests it was a check to more productive trend rather than the commitment to a new one. Such a correction may not leverage the intensity of a fast-moving breakout or a full-scale trend development, but the consistency to be found in a range move is perhaps more reliable. It is not a certainty, but the opportunities should be considered.
Chart of Equally-Weighted Yen Index (Daily)
A Role as a Risk Measure and Carry Trade
The technical picture of the Yen crosses is one thing, but a full appreciation of scenarios is incomplete without an assessment of fundamental and speculative positioning. Though its specific motivations may change with the time and backdrop, the currency finds risk trends at the root of most of its movement - both in terms of short-term volatility and underlying trends. With a yield that has held near zero for decades, this currency has earned its honorary role as a 'funding' currency in the carry trade. That said, more recent circumstances have given the Yen a range of notable competitors. The Swiss Franc and Euro for example have negative key rates that offer more yield advantage with carry currencies. What's more, the general appetite for carry is predicated on the strength of risk trends. Given the small yield opportunities to be found in the market, there needs to be a far more intense appetite for risk exposure to encourage investors to 'reach for yield'. That said, speculative traction has clearly been tripped up through 2018 following the explicit tumble in risk assets through February and October. These conditions have made for a notable disparity in the performance of carry trade as a speculative outlet and other favorite asset classes that perhaps depend more on capital gains for their appeal - equities, emerging market assets, etc. Further in this context, we can refer to speculative positioning to register intent with the backdrop of existing exposure. Retail traders are dipping further into a net short position that they flipped to less than two weeks ago while large futures traders are just starting to pull back from another wave building up a net short Yen (long Yen crosses) position.
Chart of USDJPY and Inverted Net Speculative Futures Positioning in Yen (Weekly)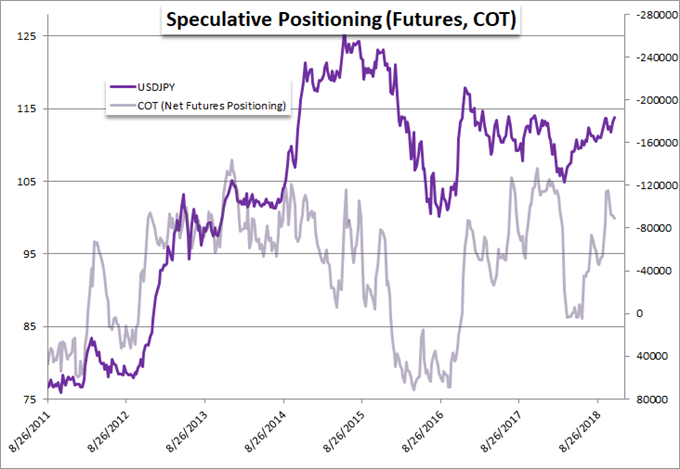 Seeking Opportunities in Well-Appointed Crosses
So, with a picture of the Yen in a isolated perspective, an appreciation of the skew in response towards risk aversion and the view that net positioning presents; we can work out timing and opportunities among the crosses. There is a famous market saying that 'if you are right at the wrong time, you are wrong'. Though conditions may favor a retreat in the Yen crosses, we need to see the market heading in that direction before we can exploit the circumstances. Furthermore, not all options to trade against the Yen's leaning are highly lucrative. The USDJPY has a remarkable range resistance not far above its Friday close around 115 for example. That said, the Dollar makes for a tricky counterpart as it is enjoying the spoils of growing strains on its most liquid counterparts. EURJPY is perhaps more appealing as the Euro struggles to sustain its own run amid uncertainties over Italy's budget, but it doesn't present a particularly appealing technical position. AUDJPY and NZDJPY are much better candidates for technical bearings but the risk sensitivity of the Aussie and Kiwi has been somewhat distorted as of late, seeing the currencies hold and even rise despite much of October's pain. GBPJPY is perhaps one of the best combination of circumstances from my perspective. A strong run up and tentative correction make for an appealing technical picture and the Pound is bound by Brexit which provides little headway towards resolution. We focus on the Yen in this weekend Quick Take video.
Chart of GBPJPY (Daily)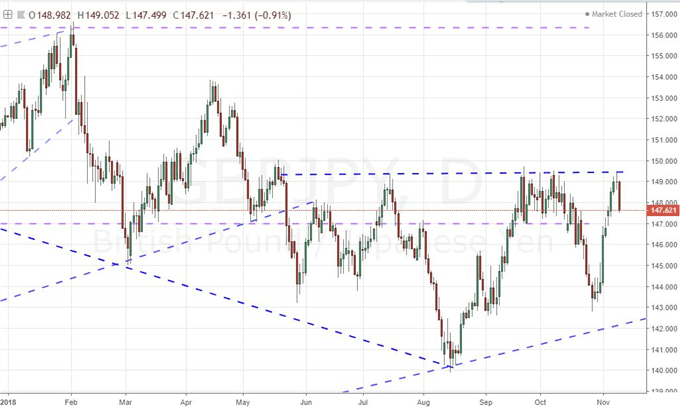 DailyFX provides forex news and technical analysis on the trends that influence the global currency markets.