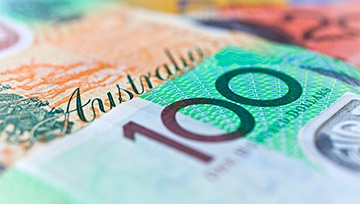 Aussie Dollar Offers Great Technicals, Patiently Awaiting Fundamental Catalyst
Talking Points:
The equally-weighted Aussie Dollar index doesn't present as profound a picture as the Canadian Dollar equaivalent
Yet, trading is done in the actual crosses where the AUD has carved out a range of appealing and provocative setups

As tempting as the charts may look, motivation/fundamentals is still crucial fuel for progress which is still woefully lacking
See how retail traders are positioning in the FX majors, indices, gold and oil intraday using the DailyFX speculative positioning data on the sentiment page.
When the Technical and Fundamental Stars Align
The best trades are those that find meaningful fundamental and technical opportunity unfolding at the same time. The Aussie Dollar may appeal How often do we find high level event risk that leverages a surge of volatility but a lack of technical course sees interest fizzle out nearly as quickly as the move initially forms? Or how about a high-profile, technical pattern that is so weighty that its speculative interest draws enough interest for a break; but the lack of fundamental motivation kills the move before momentum can even gain a foothold? When traders look to filter out good trades, they either look to align all the fundamental factors or run a view through a gauntlet of technical indicators/patterns in order to qualify a higher probability setup. And yet, there is often an inherent relationship within these analysis techniques - such as monetary policy influencing risk appetite or oscillators and activity measures deriving from the same 'price' and 'time' components. In the end, the most distinct and comprehensive analysis runs the market through these two distinct techniques to evaluate the full scope of a setup.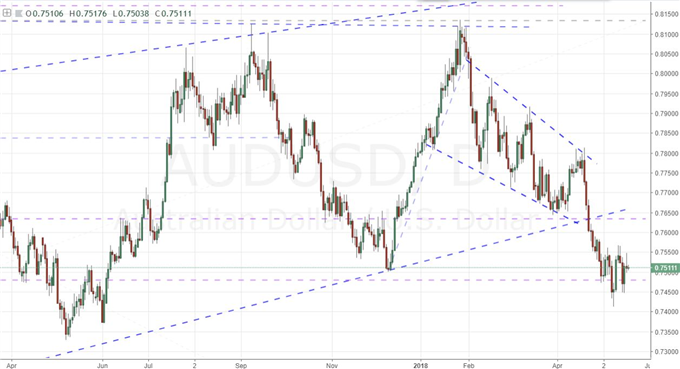 The Overview of the Aussie Dollar Versus the Overview of the Loonie
It can be difficult to evaluate the strength or weakness of an individual currency when you reference only a single pair. It is difficult to say whether it is the Euro or the Japanese Yen responsible for a strong EUR/JPY move without more comprehensive analysis. That is why I like to refer to equally-weighted indexes of currencies. We could also look across the range of liquid pairings for an individual currency to come to the same assessment, but it can be difficult to simply evaluate the connection through memory. For the equally-weighted Australian Dollar index, the technical picture is interest. The Aussie dollar has broadly recovered from trendline support, but the range it would run is not particularly wide and levels are not particularly clear. In contrast, the Canadian dollar's equally weight index has precise technical levels - one of which was recently breached after a strong bull trend. These levels should not be used to trigger trades as you cannot reasonably trade this diversified view (practically) but it can be used to inform your view.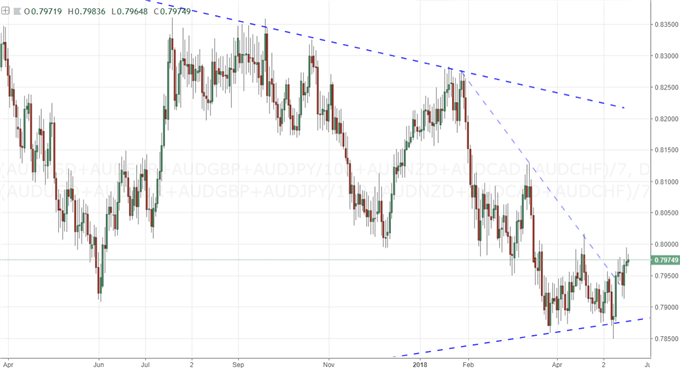 Appealing Aussie Dollar-Based Crosses
Where the Aussie dollar index may lack punch, the range of interesting technical patterns through the currency's crosses is remarkable. From AUD/USD and AUD/JPY, we have inverse head-and-shoulders patterns. The former has a stronger and more persistent build up to its looming reversal pattern however. EUR/AUD has run a months-long consistent bull trend and recently put explicit pressure to break the floor along with the 100-day moving average which falls in the same vicinity. The bear trend for AUD/CAD is exceptional for its intensity and technical acuity. While no crucial - or even tentative - breaks are in place, its technical coil is tightly wound. One of my favorite crosses is GBP/AUD which had the build up, horizontal congestion, a break into reversal and a retest of former support as resistance. There is some appeal in AUD/NZD and AUD/CHF, but the potential is far more reserved amid so many other prominent options.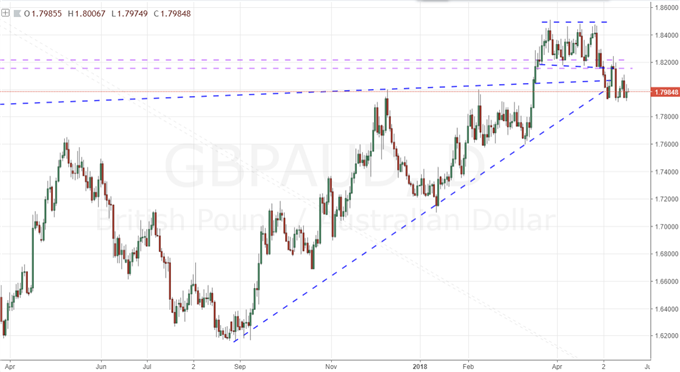 A Fundamental Hold Up
There is certainly capacity for continuation for many of these Aussie dollar crosses, but the balance of probability and potential leans far more substantially towards reversal. Yet, to facilitate such a speculatively-intensive market development, the requirement for conviction is far deeper. This is where the need for fundamentals comes into play. And, this is the Australian currency's biggest hurdle. As a carry currency, the AUD find the RBA troublingly in a neutral stance with its benchmark already at a record low. If there were an absolute need for yield at all cost, the speculative rank may overlook this shortfall; but we certainly don't have this degree of blind appetite. Local economic trends are not particularly remarkable and even more problematic is the fact that the China connection has changed from boon to burden amid trade wars. So what should we be watching for the Aussie crosses and which are more appealing that the others? We discuss that in today's Quick Take video.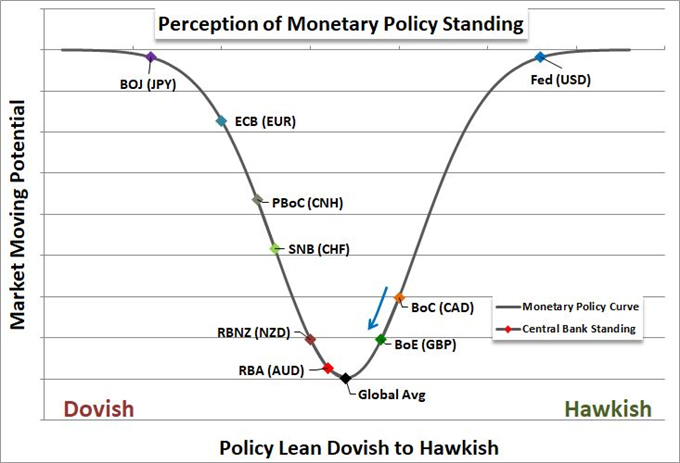 DailyFX provides forex news and technical analysis on the trends that influence the global currency markets.