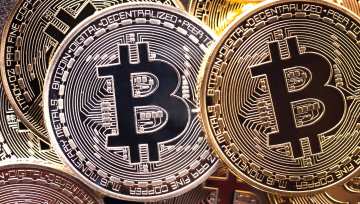 Bitcoin Soars as Traders Bask in Legitimacy
Talking Points:
Bitcoin surged over $7,000 this past session and has risen as much as 27 percent in just the past week

Headlines that the CME is awaiting approval for Bitcoin futures and Amazon is buying related domain names adds to legitimacy

A clear deviation in pace for Bitcoin versus Etherium, Ripple, Litecoin and others should remind us what is driving value
Successful trading includes an appreciation of the market you venture and the risks that they pose - which is clearly true for an emergent asset class like Bitcoin and cryptocurrency. Learn important habits and psychologies of successful trading in our guides on DailyFX.
Bitcoin continues to fly. Having only recently overtaken $6,000, the most recognizable cryptocurrency flew this past session through the next milestone of $7,000. The pacing of this climb is nothing short of extraordinary - but that speaks as much to the function of the market itself as it does to any traditional fundamental value being applied to the relatively new asset. In just the past week, Bitcoin (BTC/USD) has climbed as much as 27 percent. And, that isn't even the most remarkable performance over the moves. Swings of that magnitude - both higher and lower - have been fairly typical. That is a high degree of volatility. And, while we usually attributed volatility (like that measured by VIX) to reflecting a negative move in a market), that is not always the case. A heightened level of activity can work both for and against a market. It all depends on what is motivating investors to accumulate or distribute their exposure.
Headlines this week have driven more enthusiasm than concern. Top story remains the Chicago Mercantile Exchange (CME) filling for approval to list Bitcoin futures over the coming months. That would offer a degree of legitimacy far more material than the proposed (though rejected) filings for ETFs. Futures offered via one of the largest exchanges of the world can in turn offer a hedge opportunity that represents liquidity and safety of funds that the underlying notably lacks. Another top headline comes from news that Amazon has filed for three more crytocurrency related internet domains. Given the pull that this particular company has nowadays in disrupting and innovating markets, it comes as little surprise that this would pique the interest of millennial investors in digital currencies. Yet as Bitcoin flies higher, it is important to remember that more than a few unfavorable developments have only recently transpired. China maintains its crackdown while major players in Japan and South Korea have moved to more closely regulate. In the US, the SEC has kept a wary eye on the cryptocurrency space without making any definitive rulings.
As we move forward, it is important to recognize the depth and motivation of Bitcoin and its peers. While the former has bowled through $7,000, major counterparts from Ethereum, Ripple and Litecoin are conspicuously struggling. While BTC/USD may be given specific precedence as a first mover with the largest market share, the emergent market it occupies would do better to find legitimacy across the various offerings to draw more aggregate capital in to create depth. To that same point, those chasing Bitcoin higher do so more and more for speculative interest reasons rather than true investment appetite. There is no yield to be made off of this instrument, regulators continue to circle the entire system and valuations are off the charts. That is not the mix that would draw in the long-term buy-and-hold crowd that would be willing to hold through increasingly volatile drawdowns. In contrast, the bright light of volatility and the appeal of a purely technological development that speaks to new and inexperienced investors makes for an idealized 'traders' instrument. We discuss the realities of trading Bitcoin as it shoots higher in today's Quick Take Video.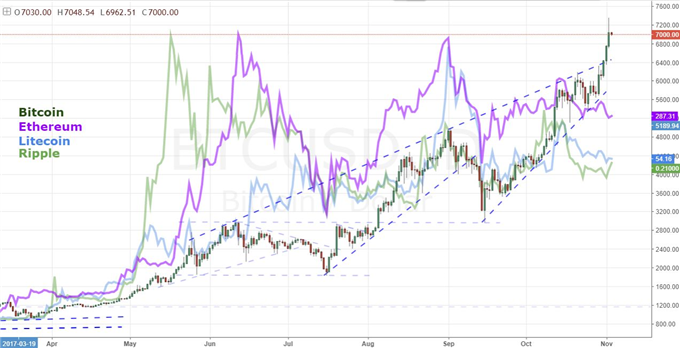 To receive John's analysis directly via email, please SIGN UP HERE
DailyFX provides forex news and technical analysis on the trends that influence the global currency markets.