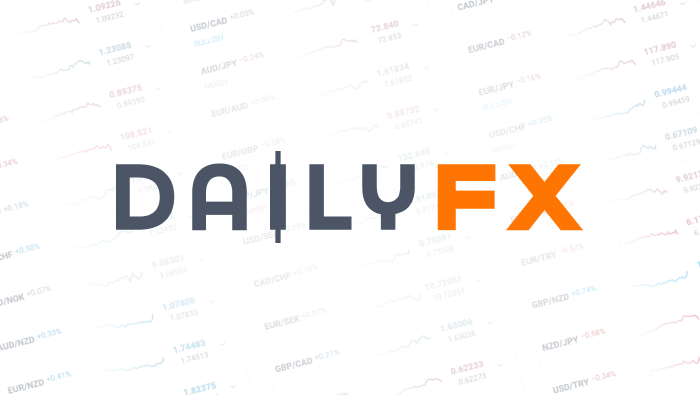 Pound Rallies, Dollar Drops, Dow and Gold Sustain Run All Without Reliable Drive
What's on this page
Trend Talking Points:
A preconcieved bullish bias keeps enthusiasm over US-Chinese negotiations buoyant but fears of auto tariffs speak to realities

The Dollar was Tuesday's worst performing major, but thus far, the turn doesn't look predestined for momentum

Despite an unimpressive jobs report and unfavorable Brexit-related headlines, the

British Pound

still managed an impressive rally
What do the DailyFX Analysts top trades for 2019? Download our favorite opportunities, top lessons learned from 2018 and 1Q forecasts for the major currencies, indices and commodities fromthe DailyFX Trading Guides page.
Trade Wars Offer Hope for Redemption and Fear of Collapse for Markets
The US markets were back from an extended holiday Tuesday, but you wouldn't recognize the shift in liquidity through general market performance. American markets and traders coming back online didn't amplify the passive risk appetite bid carrying through from last week and into thinned Monday trade, but neither would it reverse the tides. With this tempo maintenance, there was clearly no significant change to some of the key fundamental currents that are keeping speculation unmoored from deep conviction - such as the outlook for collective monetary policy between a dovish shift and the implications in need for emergency settings or the growing concern over global economic expansion necessitating a response.
Another popular subject that wouldn't inspire a systemic change but which more than compensated through sheer media coverage was the state of trade wars. For the bulls, the continued negotiations between US and Chinese delegates caters to cautious enthusiasm for those 'looking for a fundamental reason' to exploit an existing trend. Senior officials (China's He and the United States' Lighthizer, Mnuchin, Ross) are due to meet again starting Thursday which will feed into expectations that a deal will be drafted for Presidents Xi and Trump to sign sooner rather than later. Removing one of the most prominent threats to growth and investment forecasts can inspire serious optimism, but there is limited practical pull it can provide in recharging global growth, rates of return or new investment opportunities.
Meanwhile, a far greater risk looms just in the periphery. The US Commerce Department issued its recommendations to the President on the security implications of auto imports Sunday, but those findings weren't made public. Trump has 90 days to decide what to do with those recommendations. That said, if the US-China standoff ends with a deal and the economic slowdown continues (spreading to the auto industry) it is more likely the Trump administration pursues a punitive approach. If that happens, the global ramifications would be far more significant than what we have seen - or would see – between the US and China.
Chart of S&P 500 and CNH/USD Overlaid in Red (Daily)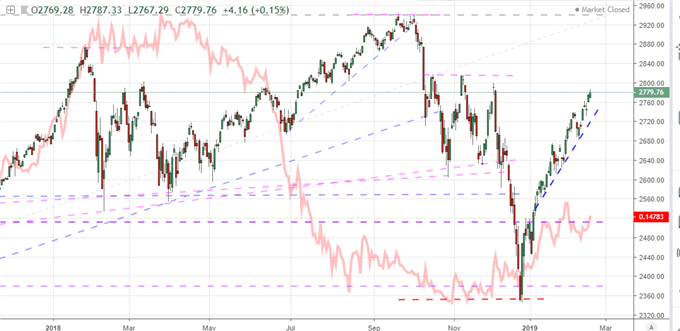 Dollar the Day's Worst Performing Major, Pound is Its Best
Since the systemic themes would not alter or accelerate course, it was worth taking stock of different regions' performances to see what fundamental cues were actually generating traction to open this trading week. What we find as best and worst performer is likely to signal that follow through with momentum will be difficult to sustain even into Wednesday trade. At the top of the majors' list this past session was the British Pound. Gains were registered with nearly all liquid crosses and an equally-weighted Sterling index shows that the move was not just broad but also fairly intense. Looking for blunt technical, historical reference, we quickly find that strong rallies from the currency recently have not translated into very productive follow through.
Perhaps if we had a particularly impressive fundamental catalyst to charge the move, we could overcome the lack of inertia; but there was little on the docket or in the headlines to truly rally the bulls. The employment statistics for the past month showed a record number of employed, but the change statistics people typically follow offered relatively little development from last month. Brexit headlines offered no new hope of impending breakthrough, and this is the area that is most influential for foreign investment into the UK. With Prime Minister May due to return to Brussels today, attention is on high alert, but there is certainly nothing to hang true confidence on.
On the opposite end of the performance spectrum, the Dollar's drop Tuesday was notably strong and broad but just as unlikely to establish a reliable trend. While issues like trade wars and relative GDP are important fundamental factors for the Greenback, only relative monetary policy would register on the trading Richter scale this past session. One of the Fed's more hawkish members, Loretta Mester, warned that the reduction in the balance sheet produced upward pressure on longer term rates. The real ebb and flow to follow for the benchmark currency lately however is the collective strength or weakness for its primary counterparts (Euro, Pound and Yen) - which produced a notable drawdown via the first two of the three.
Chart of GBPUSD Net Speculative Retail Positioning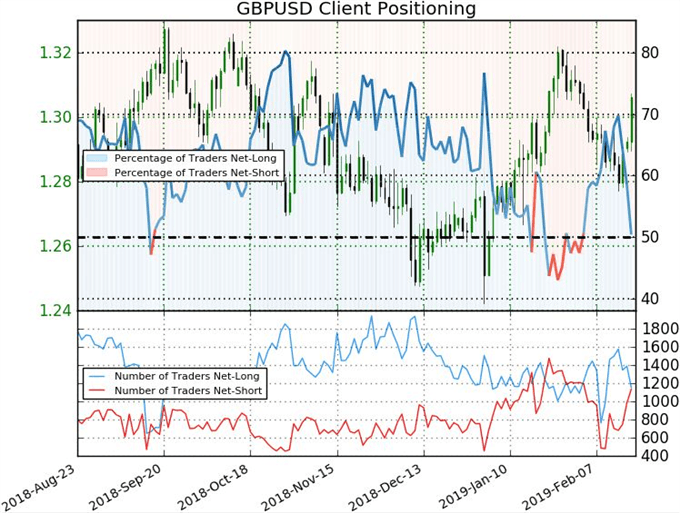 Fundamentals for Euro, Price Action for Gold and Oil
Looking for market-moving fundamental charge elsewhere in the market, the Euro would be a reasonable place to look for heavy seas given the event risk. On the docket this past session, we had updates via the traditional economic route. the Eurozone and German sentiment surveys were modest improvements over previous readings, but far from digging out of their deep holes. On monetary policy, the ECB's Guindos and Praet sounded a dovish signal that calls into question 2017 un-relinquished premiums. On the political side, we have the external risk of the US mulling auto tariffs and domestic flags raised via a poll ahead of EU Parliamentary elections which suggests a shift to the right - and away from an EU-supportive policy - is on the way.
The Euro in the meantime didn't experience a significant response to the data, but perhaps Thursday's PMIs and ECB minutes will change that disconnect. In contrast to the Euro disregarding an abundance of news, there is key price action without explicit headline fodder from commodities. Crude oil broke above a high profile range high and 38.2 percent Fibonacci retracement at $55.55 Monday - in a low activity day - but there was no follow through with the return of liquidity Tuesday. To stall a bullish run so explicitly after a break will quickly deflate potential. Keep an eye on systemic demand factors rather than easily-digestible supply-metrics like OPEC headlines and regular inventory figures.
The more impressive move in the commodity space would come from gold. The precious metal charged higher Tuesday, but that isn't particularly impressive given the Dollar's weakness through this past session. What is far more impressive is Gold's charge when priced equally across the majors (Dollar, Euro, Pound, Yen) towards highs set in summer 2016 and which can readily turn into heights not seen in six years. Watch this metal as it can signal far more than its own trade considerations. From gold, we are seeing the collective fall of fiat assets punctuated by questions over the health of underlying risk trends. We discuss all of this and more in today's Trading Video.
Chart of Equally-Weighted Gold Index (Weekly)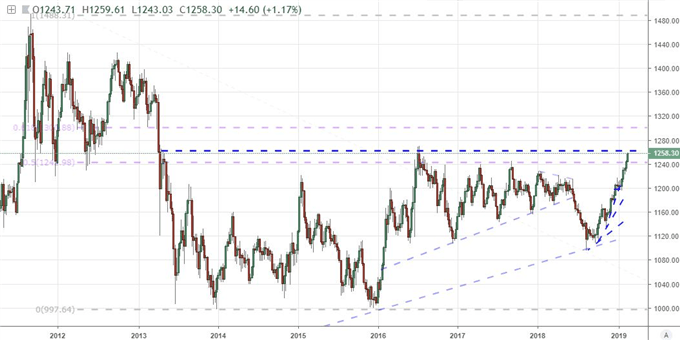 If you want to download my Manic-Crisis calendar, you can find the updated file here.
DailyFX provides forex news and technical analysis on the trends that influence the global currency markets.