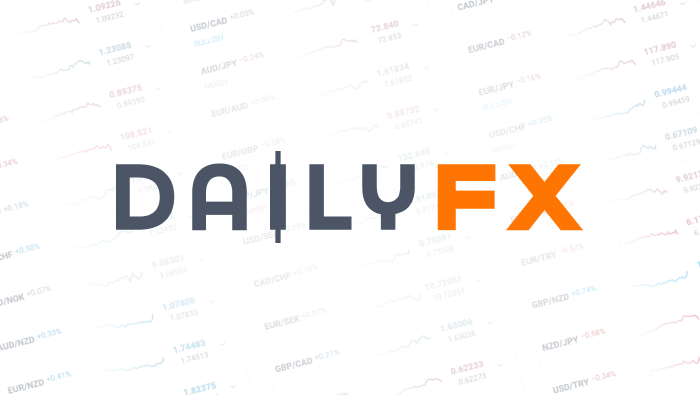 What to Expect from Trading Conditions Heading into the New Year
Talking Points:
The S&P 500 - a benchmark for speculative view - suffered its worst drop in the last full week of trade in modern market history

Holiday conditions are inevitable over the coming week, but restrained volatility and sentiment a habit the market may shirk

With overlapping systemic threats and the worst December since the Great Depression, don't presume a recovery effort to start 2019
What are the DailyFX analysts' top trading ideas for 2019 and key lessons to take away from 2018? Sign up for both on the DailyFX Trading Guides page.
An Unprecedented Pain During a Typically-Buoyant Period
Market conditions throughout 2018 have proven unusual. Relative to the years that preceded this past year, we have seen some extraordinary volatility - both in terms of the intensity of brief eruptions as well as the frequency in the cresting waves. Yet, as remarkable as the explosions in the financial system were in February and October, it all pales in comparison to what we have experienced through December. Though the month is not yet closed and there is time for relief to be clawed back, this typically-restrained period is facing its steepest loss for the S&P 500 this specific calendar month in over 80 years - nothing comparable to the Great Depression is good. Even more concentrated, is the past week's extreme pain. The final trading week of the year for the benchmark isn't guaranteed any measure of gains, but it is most often a period of restraint. Instead, the market shed an incredible 7 percent through the period alone. That is the worst week's loss since mid-2011 which earns the worst monthly performance since the Great Recession in 2008 and a technical breakdown that explicitly clears a major head-and-shoulders pattern that developed throughout 2018 with the risk of capsizing one of the longest bull runs on record.
Chart of the S&P 500 and 1-Week Rate of Change (Weekly)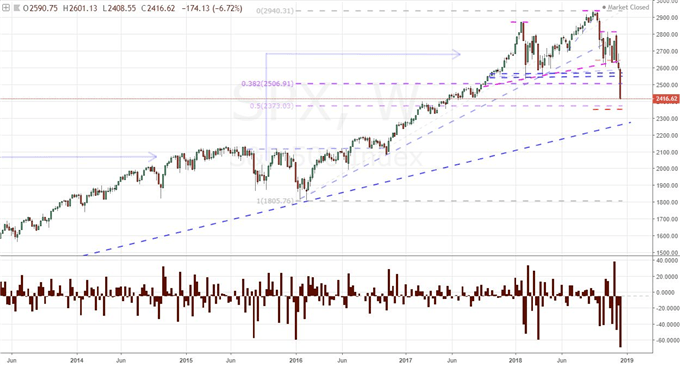 Don't Assume a Quiet Christmas Week
As exceptional as market activity was through the past week and months, it would be dangerous to simply assume that seasonal norms would kick in now that the official holiday week is upon us. There is little doubt that we will see a slump in liquidity associated to inevitable market closures. That said, there is plenty of active trade ahead that can encourage traders to run for the exit and/or amplify the vicious cycle of speculative flight. Tuesday will be an absolute drain on market depth and intent. While there are some small regions around the world that will be open for trade, there is so little activity that any reading (bullish or bearish) would not be seen as an indicative signal of global sentiment. The Monday that precedes this absolute drain is typically extremely quiet for similar reasons. That said, if markets are prompted to extend the unwind that unfolded throughout December thus far, it would almost certainly signal a full rout will continue through the remainder of the year and into early 2019. If fear overrides illiquidity, it is more likely a sign of panic and desperation to de-risk. In the event that we don't completely succumb to our baser instincts of self-preservation at the start of the coming week, the Wednesday through Friday period is more likely to offer respite for wary investors. Yet, that shouldn't give any more conviction about the longer-term outlook that we will return to when liquidity starts to fill out for the new year.
Chart of the S&P 500's Performance Over Final Full Week of Each Year Back to 1972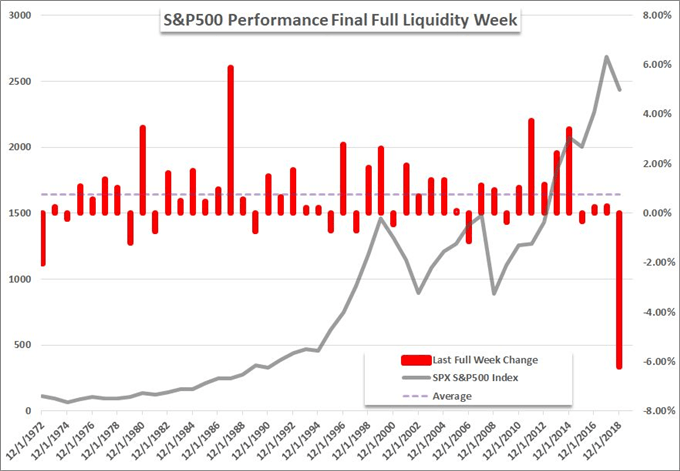 The Worst December in Decades Is Unlikely to Prompt a Full Reversal in January
The technical case whereby a strong tumble into a liquidity slump is followed by an inevitable recovery is a common one. A forced pause can invite reflection which can prevent emotions from boiling over out of control and rouse speculative interest for buying the dip. There is further precedence of a year-end holiday conditions seeing a shedding of exposure for tax and portfolio balancing purposes followed by a move into the new year aimed first at reapplying the sidelined capital. That is very unlikely to take place this year. The extreme intensity and the incredible breadth of the market's selloff this year has shifted the underlying current in speculative interests. Rather than treating positive and negative headlines equally (much less offering preference to the positive), we find the markets much more often succumbing to disappointing headlines. That is in part due to the fact that there are far more systemic risk plaguing the system from downgraded growth forecasts, monetary policy efforts cut adrift, trade wars showing little progress and political tensions building among other troubles. It is possible that the first hours and days (perhaps even week) open with some measure of relief. However, when referring to a benchmark like the S&P 500, there is not a severe discount to be found. It is still expensive relative to underlying value and clearly high historical. That will exert considerable pressure on any intentions of the bulls that aren't backed by a remarkable round of breakthroughs on a host of these threatening themes. While the tempo can follow different routes, the likely volatility and drive to unwind risk will most likely prevail heading into 2019. Mind your risk and look for opportunities that can arise from panic. We discuss trading conditions over the coming weeks into the open of 2019 in this final Trading Video of the year.
Twitter Poll on S&P 500 Path in 2019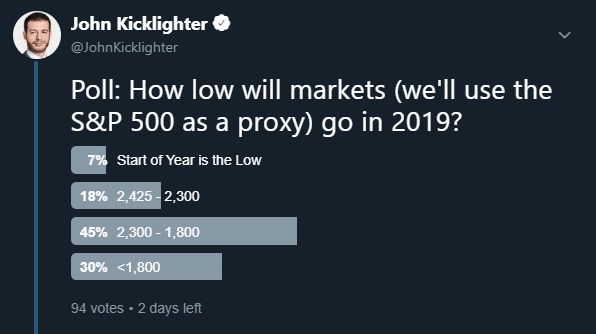 If you want to download my Manic-Crisis calendar, you can find the updated file here.
DailyFX provides forex news and technical analysis on the trends that influence the global currency markets.