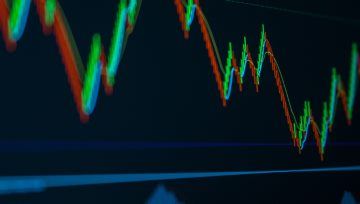 How Will the Swedish Krona and Norwegian Krone Perform in 2019?
TALKING POINTS – NORDIC ECONOMIES, SWEDISH KRONA, NORWEGIAN KRONE, OBX, OMX30, CRUDE OIL PRICES
Swedish Krona, Norwegian Krone may decline in 2019 alongside OMX and OBX equity indices

Slowdown in economic activity and political turmoil in EU may weigh on the Nordic economies

Uncertainty surrounding future of international trade and global demand to impact NOK, SEK
See our free guide to learn how to use economic news in your trading strategy !
Forecasts for slower global growth and weakened demand for oil along with dismal outlooks for European politics suggests that the Swedish Krona and Norwegian Krone will likely suffer in 2019. To substantiate this forecast, however, it is essential to understand the political and economic dynamic between the EU and its Nordic partners, as well as Norway and Sweden's economic character.
HOW ARE SWEDEN, NORWAY AFFECTED BY EU POLITICAL ECONOMY?
A strategic way to contextualize EU-Nordic relations can be best explained by a node-perimeter framework. The economic activity of the core – that is, the EU – functions as a regional powerhouse that other perimeter countries use to fuel their own respective growth.
Norway and Sweden are both export-driven economies that mostly ship to the EU and are therefore sensitive to any changes in the European economic and political landscape. The political unity underlying the bloc has recently been strained as a wave of nationalism has crashed over the region and created unprecedented political fragmentation.
Growth forecasts for the EU are looking grim, and the ECB trimmed its inflation outlook from 1.7% to 1.6%. The anticipated slower growth will negatively impact Norway and Sweden's economies and may cause investors to dump Nordic currencies. This comes on top of Norway and Sweden's own dilemmas.
WHAT IS THE OUTLOOK FOR SWEDEN'S ECONOMY AND SEK?
Sweden has been wrestling with an unprecedented political gridlock since the inconclusive election on September 9. As the political standoff slowly began to morph into a crisis, investors and domestic policymakers began to worry about the potential long-term impact it would have on the economy.
The governor of the Riksbank – Sweden's central bank – commented on the issue stating that the future health of Sweden's economy now revolves around resolving the crisis. This came shortly after the Riksbank raised rates for the first time in seven years on December 20. The Riksbank intends on raising rates once in the latter half of this year and indicated a gradualist approach to future rate decisions.
Sweden's economy has been notably slowing down – particularly in October – with some data characterized as 'gloomy'. The most recent data saw the Krona fall against all its major counterparts after disappointing PMI data was released. Furthermore, the local benchmark OMXS30 equity index has fallen over 15% since the start of Q3. Other Nordic equity indices have followed along a similar path.
OMXS30, OMXH25, OMXC20 – Daily Chart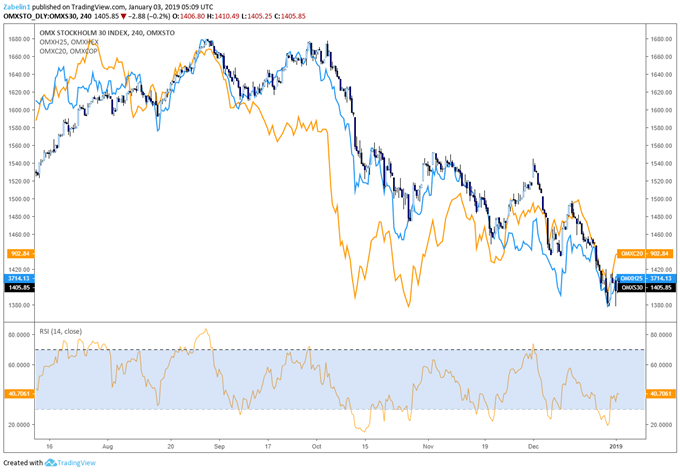 The Krona is expected to decline throughout 2019 but may see a small boost due to the recently passed center-right budget that will likely entail a fiscal stimulus. This may encourage the Riksbank to continue along its policy path without any dovish revisions. However, the boost will not likely provide substantial gains Krona bulls are hoping for.
WHAT IS THE OUTLOOK FOR NORWAY'S ECONOMY AND NOK?
Norway's OBX equity index broke a two-year support line in Q3 and has since lost over 11%. This comes amid the global selloff in equities – particularly in October – and the fall in crude oil prices. Norway's economy is built on the petroleum industry. The sector provides approximately 9% of jobs, 12% of GDP, 13% of the state's revenue, and 37% of exports.
It therefore comes to no surprise that the movement in crude oil prices is almost perfectly mirrored in the fluctuations of Norway's benchmark equity index. The fall in crude oil may continue into next year as global risk aversion will likely continue to permeate the market with possibly greater severity than it did in the last quarter of 2018.
OBX, Crude Oil Prices – Daily Chart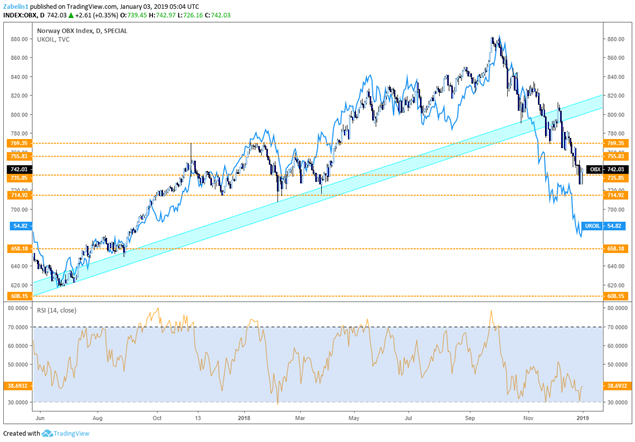 The Norges Bank – Norway's central bank – will likely raise rates only one-time next year. While this may provide a small-boost to the Krone, the effect will likely not be long-lasting given the outlook for 2019. The US-China trade war dispute has yet to be resolved, the EU parliamentary elections will show the depth of Europe's political fissure and Fed will raise rates twice next year, effectively raising the cost of borrowing globally.
This by itself has caused tremendous angst for investors in 2018, particularly those with exposure to emerging markets that have their debt denominated in the USD. This comes on top of elections in emerging markets that will likely add to the global uncertainty, and demand for oil will likely fall against this backdrop, adding further downward pressure on the Krone.
USD/SEK & USD/NOK TRADING RESOURCES
--- Written by Dimitri Zabelin, Jr Currency Analyst for DailyFX.com
To contact Dimitri, use the comments section below or @ZabelinDimitri on Twitter
DailyFX provides forex news and technical analysis on the trends that influence the global currency markets.