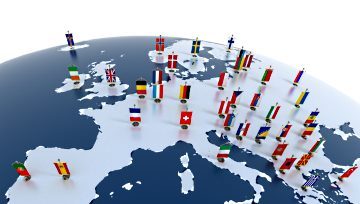 Why Do Swedish Elections Matter for the Euro, Krona, and the EU?
What's on this page
Talking Points – SWEDISH ELECTIONS, KRONA, EURO, EU
Populist

nationalism rising

across most of Europe

Eurosceptic Swedish Democrats gaining popularity

K

rona,

Euro

may drop on Sweden election outcome
POPULIST Nationalism GROWS in Europe
The recent emergence of populist nationalism across Europe has shaken the world's perception of European unity and stability. Many eurosceptic parties and movements have rejected the idea of a unified European identity. Instead, nationalists are generally focused on preserving their own nation's ethnic character and economic sovereignty.
A key factor driving European nationalism has been the issue of immigration. In 2015, the European migrant crisis strained the economies of EU member states when over 1 million refugees came to seek asylum. Despite the EU's effort to implement a uniform asylum policy in 2005, the uneven infrastructural development across Europe's economic terrain prevented it.
This comes on top of growing discontent with the EU's structural and institutional shortcomings. Many EU member states are expressing frustration with EU policymakers that they believe are instituting laws compromising their nation's economic and social cohesion. More policy independence on border controls has been one of the biggest grievances.
Amid the discontent, nationalist parties began to emerge and rise in popularity. Their platforms favoring tighter borders and steeped in eurosceptic rhetoric became a lightning rod for populists. The upcoming Swedish elections and the rise of the nationalist Sweden Democrats (SD) party is part of this broader trend.
SWEDISH ELECTION THREATENS MARKETS
Swedes are due at the polls on September 9th. The current government is run by the Social Democrats, the largest and most popular party in Sweden for well over five decades. However, their appeal has waned in recent years amid the turmoil of Europe's migrant crisis.
Polling ahead of the vote suggests the right-wing SD will become the country's second-largest party. Its chairman, Jimmie Akesson, has campaigned on a platform advocating limiting immigration and strengthening border controls. Perhaps most ominously, he has also called for a referendum on Sweden's membership in the EU.
Other parties and coalitions in parliament opposed to this eurosceptic and nationalist message are saying they will refuse to work with Akesson's bloc. However, a strong SD showing that gives the party a substantial number of seats in parliament may translate into considerable influence on policy.
Preliminary projections see the election resulting in a hung parliament, with no party being able to achieve an absolute majority. If the SD holds enough sway to reject the formation of a new coalition government, it is likely to leverage this power to demand control of a ministry as a vehicle for its anti-immigration stance.
The rejection of a governing coalition may push Sweden into a constitutional crisis. That this occurred at the hands of euroscpetics would seem all the more worrying for investors and would almost certainly cause market panic, echoing similar turmoil in Italy earlier in the year.
If elements of eurosceptic nationalism were to find a voice in the new cabinet, Sweden's relationship with Brussels might weaken. Even if Mr Akesson does not emerge as kingmaker however, his party's growing popularity and greater institutional representation may be read as a worrying sign of deteriorarting European solidarity.
KRONA, EURO MAY FALL WITH STOCKS IN RISK-OFF TRADE
The appearance of yet another fissure within the EU is likely to weigh on the Swedish Krona as capital flows flee political turmoil. The Euro may also suffer by extension. This may metastasize into broader risk aversion, weighing on stocks, emerging market assets and pro-cyclical currencies like the Australian and New Zealand Dollars.
In fact, this may become an ongoing concern beyond a kneejerk selloff. Italy offers a compelling parallel: initial volatility subsided after a new government was finally formed but the respite proved to be temporary as the government pursued a fiscal agenda at odds with EU norms, spooking markets once again.
Impact of political uncertainty on pro-risk currencies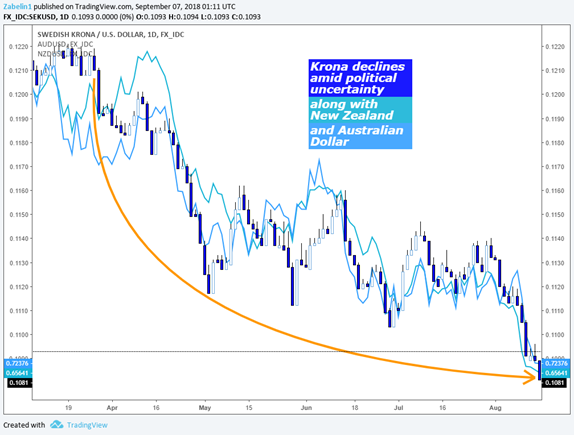 Regional alternatives such as the Swiss Franc and Pound Sterling may appreciate along with anti-risk assets such as the Japanese Yen and US Dollar. Bonds issued by low-risk lenders like the United States may also see a rise in price as investors turn toward capital preservation.
Rise of anti-risk assets as market sentiment turns sour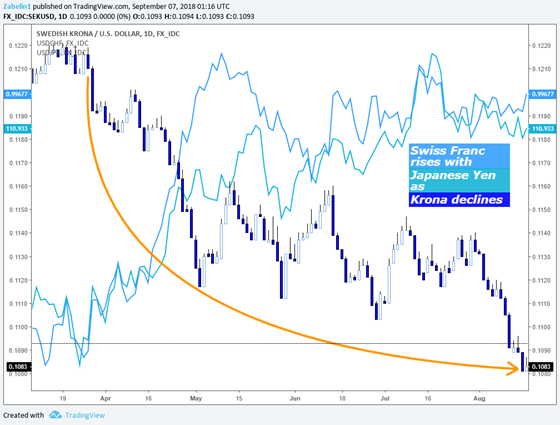 FX TRADING RESOURCES
--- Written by Dimitri Zabelin, Jr Currency Analyst
To contact Dimitri, use the comments section below or @ZabelinDimitri on Twitter
DailyFX provides forex news and technical analysis on the trends that influence the global currency markets.