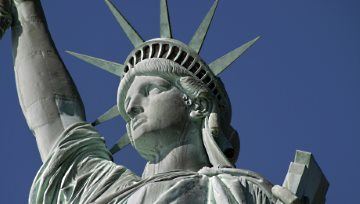 Whistleblower Says to SEC that VIX is a Target of Manipulation
Talking Points:
The

VIX

volatility index came under manipulation allegations by a whistleblower

Open interest in VIX futures has increased dramatically since the 2007-08 crisis

A loss in confidence in the VIX might lead to a market selloff,

USD

could benefit
What will drive longer-term FX market trends? See our forecasts here.
The VIX volatility index has gained much attention lately. Last week, it surged to a more than 2-year high as aggressive risk aversion at one point led the S&P 500 to correct more than 10 percent. Now, there popped up more news about the market's favorite "uncertainty index", and this time it wasn't related to price action.
An anonymous whistleblower submitted a letter to the SEC alleging that CBOE's VIX is a target of a "manipulation scheme". This person claimed that a "flaw allows trading firms…to move the VIX…by simply posting quotes on S&P options and without needing to physically engage in any trading or deploying any capital". In addition, it was professed that last week's market turmoil was partially driven by this scheme.
Lawyers have said that the whistleblower held senior positions at some of the largest investment firms in the world. The Chicago Board of Options Exchange dismissed the claims saying that "This letter is replete with inaccurate statements…including a fundamental misunderstanding of the relationship between the VIX Index, VIX futures."
This is not the first time the index has come under scrutiny. In 2017, a paper published by University of Texas professor John Griffin and Amin Shams hypothesized that the VIX is vulnerable to manipulation. If the SEC were to dig into the recent allegations and find something that proves the argument, the credibility of the volatility index might be placed into jeopardy.
This could have broader market implications. Starting with the most relevant side of things, there are a wide range of VIX-related derivatives including futures, exchange traded funds (ETFs), and exchange traded notes (ETNs). As a proxy, we will look at VIX futures to gauge how popular they are. Market exposure here has been increasing since the Global Financial Crisis of 2008. Since then, open interest gained over 7,000% from 34k to 250 million (see chart below).
A sudden loss of confidence in the VIX, which the aforementioned products are derived from, could produce a mass selloff for those holding said tools for fear that they could become worthless. The nearest place of safety for investors to park their cash would end up being the most liquid of financial instruments. Most likely, these are the US Dollar and US Treasury bonds.
A trading environment that was similar to what was just outlined occurred during the 2007-08 crisis. During this time, the US Dollar soared as local bond yields fell amidst wide panic and risk aversion. Anti-risk assets like the Japanese Yen also scored gains while more pro-sentiment currencies like the Australian Dollar tumbled.
The severity of a market selloff that happens due to a loss of confidence in the VIX depends on aggregate exposure to risk. While it is difficult to count it given the plethora of instruments available, we can get a gauge of how it is like by using VIX futures as a proxy. Needless to say, open interest growth here has been nothing short of impressive. This hints that a mass selloff of VIX-based assets can carry severe consequences for financial markets as a whole.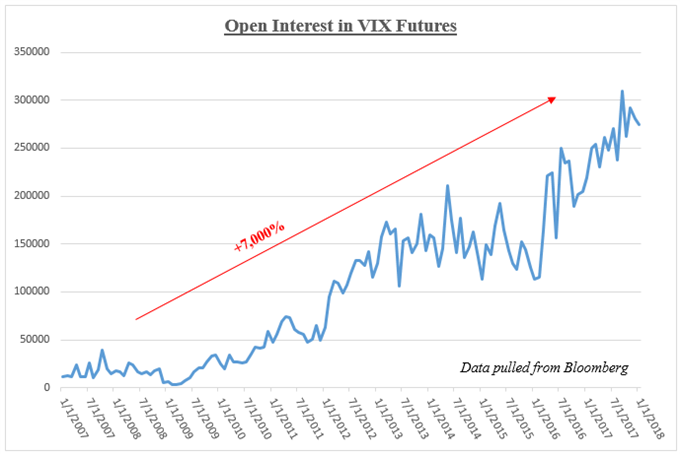 DailyFX provides forex news and technical analysis on the trends that influence the global currency markets.