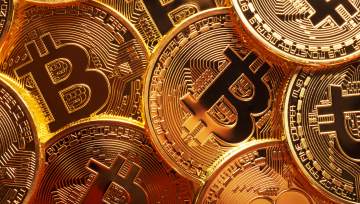 Bitcoin and Ethereum Push Higher, Republic of Estonia Mulls ICO
Talking Points
- Digital heavyweights Bitcoin and Ethereum push back towards record and recent highs respectively, while Ripple (XRP) gives back some of its recent gains.
- The Republic of Estonia could be the first country with an Initial Coin Offering.
The DailyFX Bitcoin Glossary is designed to provide traders with a reference for important terms and concepts essential for understanding the emerging cryptocurrency universe.
Bitcoin (BTC) and Ethereum (ETH) Continue Their Push Higher
The two digital market heavyweights are continuing to forge ahead in the last three days and are close to making fresh highs. The steady uptick has seen BTC move to within $150 of its all-time high of $4472, while Ethereum is just $15 off levels last seen in late-June. Both tokens have shrugged off Tuesday's drops and the lack of any negative news has helped push their valuations higher.
Chart: Bitcoin (BTC) Price: DailyTimeframe (May 1 - August 25, 2017)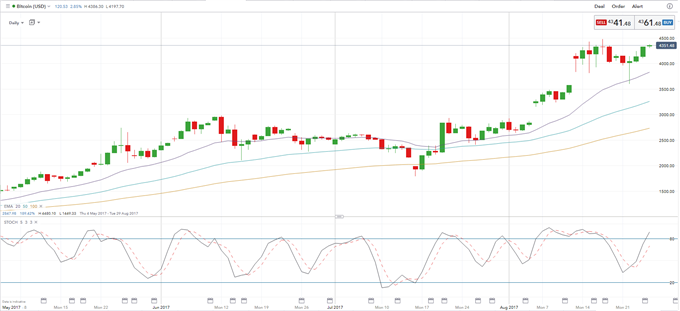 Chart by IG
Chart: Ethereum (ETH) Price: Daily Timeframe (May 1 – August 25, 2017)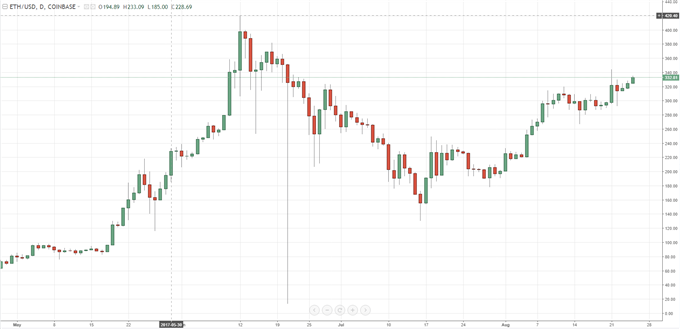 Ripple (XRP) Succumbs to Profit Taking After Korean Volume Surge
Altcoin Ripple has given back around half of its recent gains with profit-taking in Korea the likely driver. Recall that earlier in the week, XRP nearly doubled in value as turnover in Korea dramatically increased. The company recently announced that it would be bring together "leaders in banking and blockchain who are committed to changing the way the world moves money today."Among the speakers at its upcoming "Swell; The Future is Here" event in Toronto from October 16-18, will be Dr. Ben Bernanke, Fed chairman (2006 -2014) and Sir Tim Berners-Lee, inventor of the World Wide Web.
Chart: Ripple (XRP) Price: Daily Timeframe (May 1 – August 25, 2017)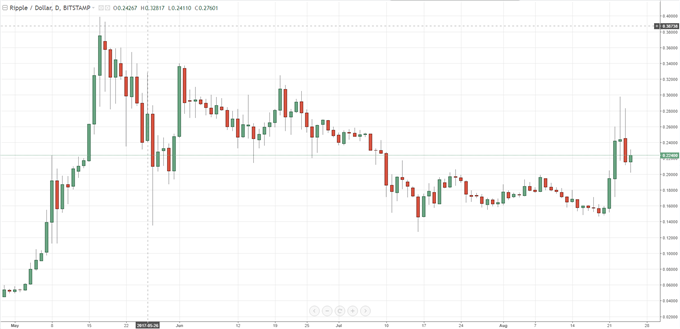 Republic of Estonia Eyes Initial Coin Offering
After having already launchedan e-Residency program, a government-issued digital ID available to anyone the world, The Republic of Estonia announced this week that it could offer 'estcoins' via an ICO to e-Residents. According to a blog post, by Kaspar Korjus, director at e-Residency,
"An ICO within the e-Residency ecosystem would create a strong incentive alignment between e-residents and this fund, and beyond the economic aspect makes the e-residents feel like more of a community since there are more things they can do together…Additionally if these estcoins are issued on top of a blockchain (they could possibly be issued in multiple formats at the same time, nothing wrong with this) then it would become easy and convenient to use them inside of smart contracts and other applications."
Market Moves/Top 8 Capitalizations – August 25, 2017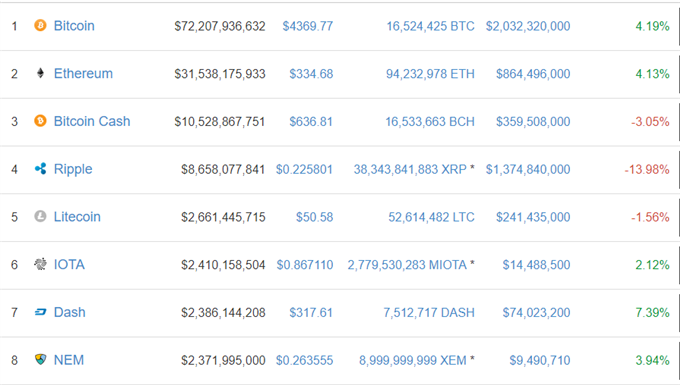 I will be discussing Bitcoin and Ethereum Trading and Strategy every Wednesday at 12:00 pm – if you would like to join me, please click here.
If you are interested in trading digital pairs and would like to practice trading either BTC or ETH, you can create a Quick and Free Demo Account Here
--- Written by Nick Cawley, Analyst.
To contact Nick, email him at nicholas.cawley@ig.com
Follow Nick on Twitter @nickcawley1
DailyFX provides forex news and technical analysis on the trends that influence the global currency markets.