The Definitive Guide to Scalping, Part7: Scalping Breakouts
Talking Points
Breakout traders should first find support & resistance
Entries can be set as close as 1 pip above these values
Support and resistance can also be used for managing a position
Scalpers have a variety of choices when it comes to an execution strategy. This decision should be decided after carefully evaluating current market conditions for the currency pair of their choosing.
Today we will continue the Definitive Guide to Scalping as we focus on scalping breakouts.
Learn Forex – GBP/CAD Early Morning Breakout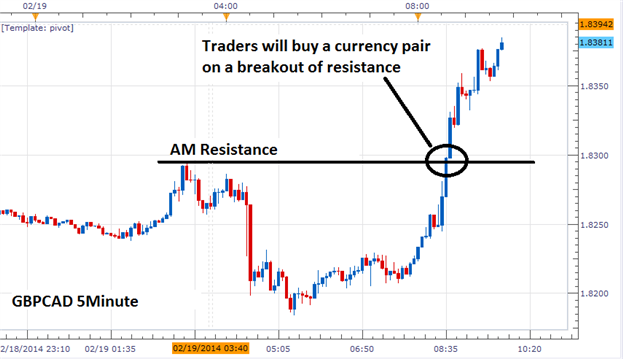 (Chart Prepared by Walker England)
Trading a Breakout
The first key to scalping breakouts is to identify key levels of support and resistance. This can be done through a variety of methods mentioned in the 4th installment of the Definitive Guide to Forex Scalping. Once found, setting up a breakout trade is a straight forward process. In the event of a level of resistance breaking, traders will look to buy. An example of this is depicted above using todays GBP/CAD price action. Conversely, traders will look to sell when a key level of support falls.
The big question is always where to enter into the market in the event of a breakout. Theoretically a breakout occurs if a level of support or resistance is breached by even 1 pip! This allows aggressive scalpers to get into the market as soon as possible. Some traders may flock to this methodology as it lets traders maximize their profits when a trade moves in their favor. However, getting into the market first also will expose you to be the first trader stopped out in the event of a false breakout. Traders that need further confirmation can wait for a 30 minute candle close and then make a decision whether to enter the market.
As with any strategy, there are risks when trading breakouts. Let's now look at managing an open position.
Learn Forex – GBP/JPY False Breakout with Stop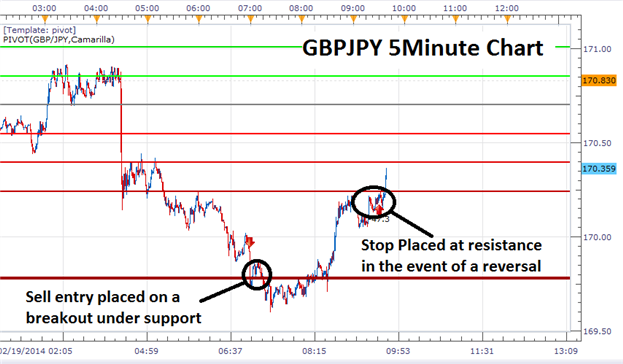 (Chart Prepared by Walker England)
Risk and Breakouts
The first question I inevitably get regarding breakout trading, is how to prevent false breakouts. While I understand that no one intends to take a loss, it will happen at some point regardless of the strategy that you use. With that being said, there is NO way to prevent false breakouts. All we can do is to manage our risk when price moves back against a breakout.
Above is an example of a false breakout this morning on the GBP/JPY. Notice how price broke cleanly through support, and then abruptly changed directions. Even though at one time the trade might have been profitable, when the market moves back above the designated breakout area, traders should have a plan for exiting the market. When selling a breakout of support, stops can be placed above this value which becomes new resistance.
Learn Forex –GBP/CAD with Risk:Reward levels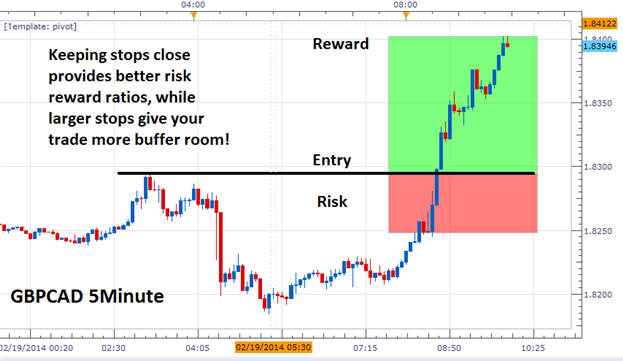 (Chart Prepared by Walker England)
Risk VS Reward
Overall, trading breakouts is an exciting way to approach scalping. It should be noted since breakouts occur during times of market volatility it is imperative to maximize your profits when the market breaks in your favor! This can be done byusing a positive risk reward ratio. This means traders should look to make more in profit, relative to what is being risked through the placement of a stop order.
Highlighted above is a 1-2 Risk:Reward ratio with traders looking to make 2x the amount of profit on a breakout relative to the amount risked. This ratio can be improved by either reducing the amount risked or increasing the amount of pips in profit targeted on a position.
This concludes the 7th installment of The Definitive Guide to Scalping. Next week we will conclude the Definitive Guide to scalping, with a closer look at managing risk. If you have missed any of the previous editions of this scalping guide, you can catch up on all the action with the previous articles linked below.
The Definitive Guide to Scalping, Part 1: Market Conditions
The Definitive Guide to Scalping, Part2: Currency Pairs
The Definitive Guide to Scalping, Part 3: Time Frames
The Definitive Guide to Scalping, Part4: Support & Resistance
The Definitive Guide to Scalping, Part5: Scalping Ranges
The Definitive Guide to Scalping, Part6: Scalping Retracements
The Definitive Guide to Scalping, Part7: Scalping Breakouts
DailyFX provides forex news and technical analysis on the trends that influence the global currency markets.