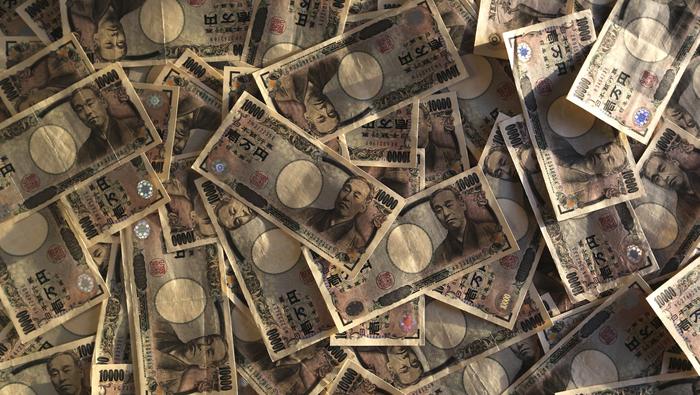 Japanese Yen Fundamental Q1 Forecast: Will USD/JPY Continue its Drop in Q1?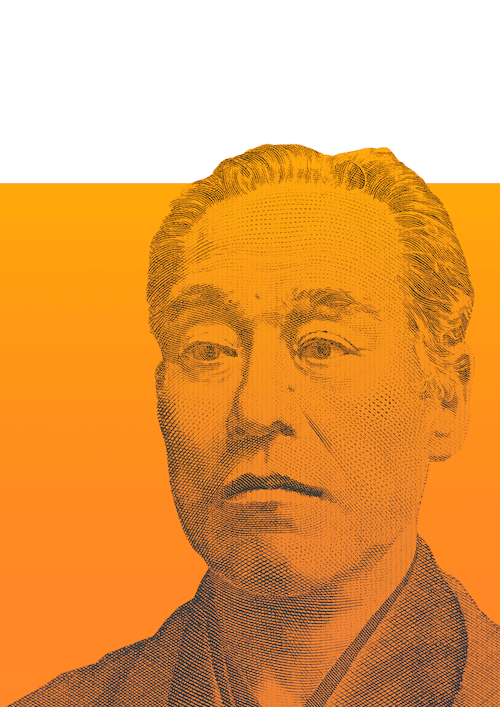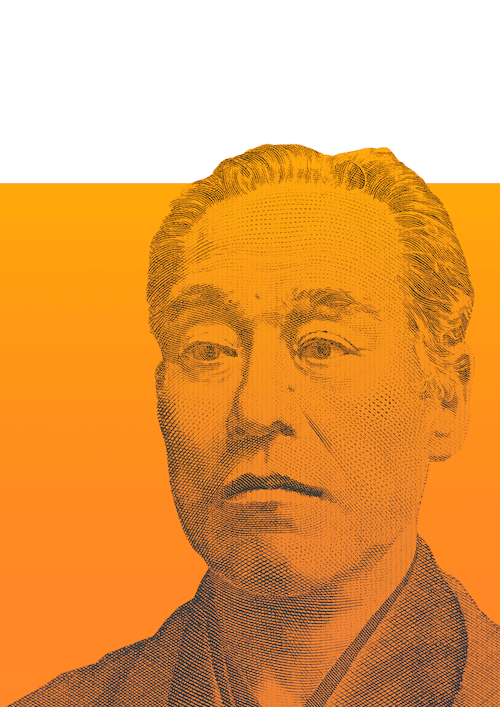 Recommended by Daniel Dubrovsky
Get Your Free JPY Forecast
Japanese Yen Fourth Quarter Recap
The Japanese Yen embarked on a comeback against the US Dollar during the fourth quarter of 2022. By mid-December, USD/JPY was down about 6.5%, marking the worst 3-month period since April 2016. Treasury yields took a turn lower, especially longer-term debt. That increasingly reflected rising recession concerns as markets priced in a less-hawkish Federal Reserve while the Bank of Japan continued to stand aside. Is there more for Yen's comeback heading into the next few months?
Chart of USDJPY and US 10-Year Treasury Yield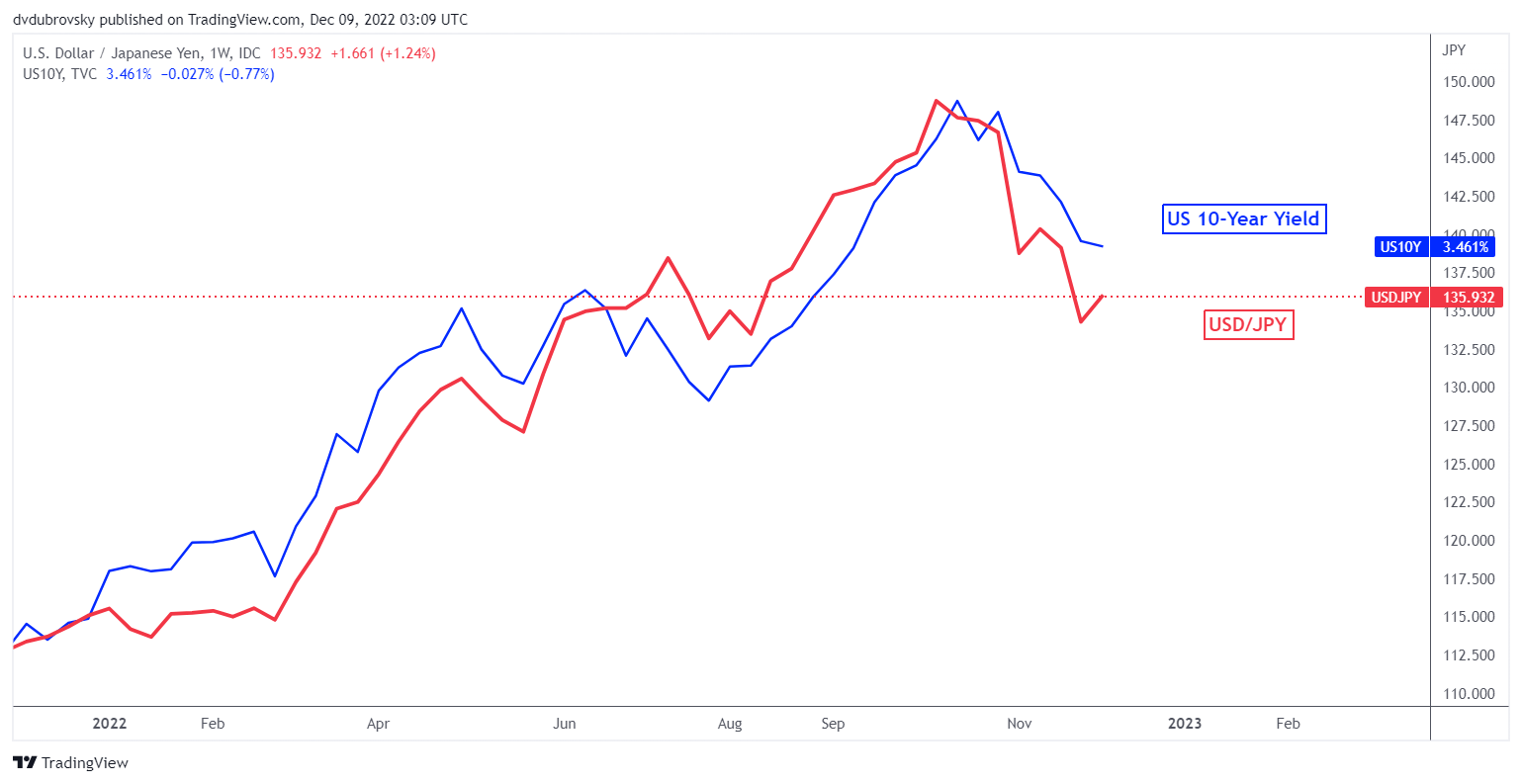 Source: TradingView
Crafting a Japanese Yen Model
A multiple linear regression model was crafted to try and isolate how certain variables have been impacting USD/JPY quarterly since 2007. These include US CPI, US real GDP, the Fed's balance sheet and the 10-year Treasury yield.
Furthermore, to improve the statistical significance of certain variables, a handful of data points were dropped based on the 95th and 5th percentile of the real GDP data. This means that the model ignored the second, third and fourth quarters of 2021, as well as a handful of other outliers between 2007 and now. This was also done to help to gauge the underlying trend that was thrown off by the global pandemic.
In the chart below, the model can be seen trying to estimate USD/JPY y/y since 2007 (dark black line). The grey line is the actual exchange rate performance. Overall, the model has a goodness of fit at 0.52. In other words, about 52% of the variations in USD/JPY could be explained by the variables. Using this model, we can plug in economic estimates polled by Bloomberg for the coming quarters and see how USD/JPY could respond.
USD/JPY Model Since 2007, Removing Outliers Based on US GDP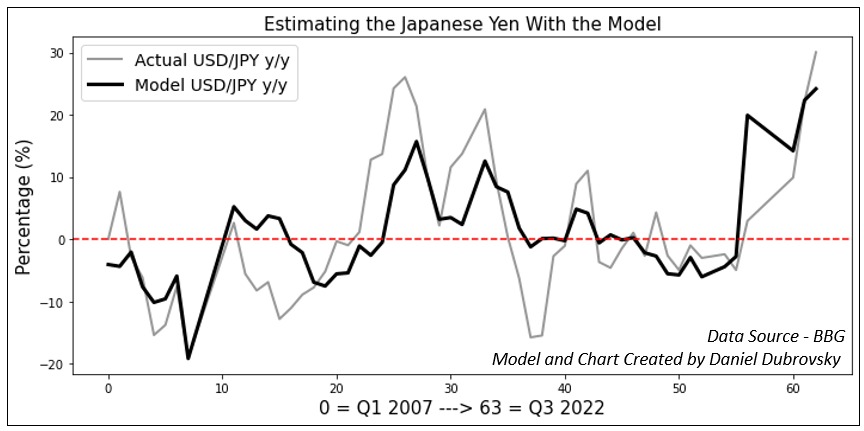 Data Source: Bloomberg, Chart and Model Created by Daniel Dubrovsky
USD/JPY Could be Heading Lower in the Months Ahead
In the coming quarters, US CPI, real GDP and the 10-year Treasury yield are seen declining. On top of this, we can estimate the trajectory of the Fed balance sheet using the central bank's projections. The model has USD/JPY rising about 15% y/y in Q4 2022, which was compared to 17.61% actual on December 14th.
In the chart below, things take a turn for the worse. The model projects USD/JPY falling 0.2% y/y and 8.7% y/y in Q1 and Q2 2023, respectively. We can also create an area of uncertainty that represents +/- 1 standard deviation for each quarter. In Q1, this represents +7.54% y/y and -8.59% y/y, respectively. For the second quarter, the equivalent values are -0.03% and -16.15% y/y, respectively.
That translates into a zone of (130.58 – 110.86) in the first quarter followed by (135.22 – 113.68) in the second. In other words, USD/JPY could be in for a rough first quarter before leveling off in the second. Since the model's data since 2007 mostly fits under a standard normal distribution, or roughly bell-shaped curve, about 68% of potential outcomes may fall within these error zones.
Rather than focusing on the specific levels, the data seems to suggest that USD/JPY could continue its downward trajectory in the coming months. This would align with what is expected to be softening US inflation that pushes the Fed to slow tightening. Since the Bank of Japan is unlikely to change course, the focus will once again likely remain on developments abroad.
USDJPY Projection Based on Economic Model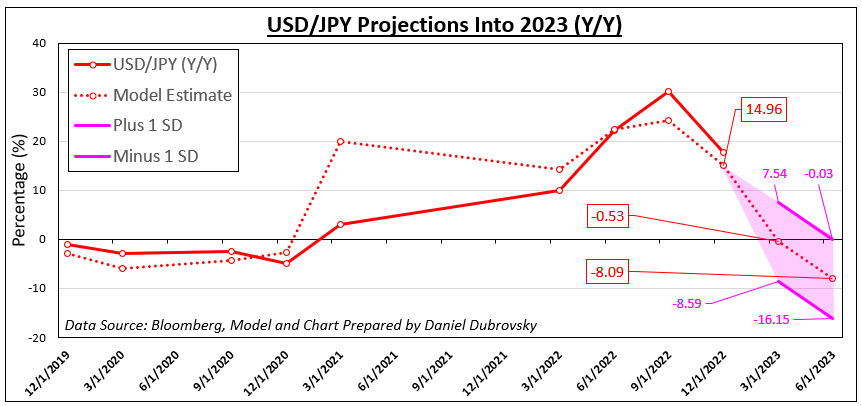 Data Source: Bloomberg, Chart and Model Created by Daniel Dubrovsky
DailyFX provides forex news and technical analysis on the trends that influence the global currency markets.