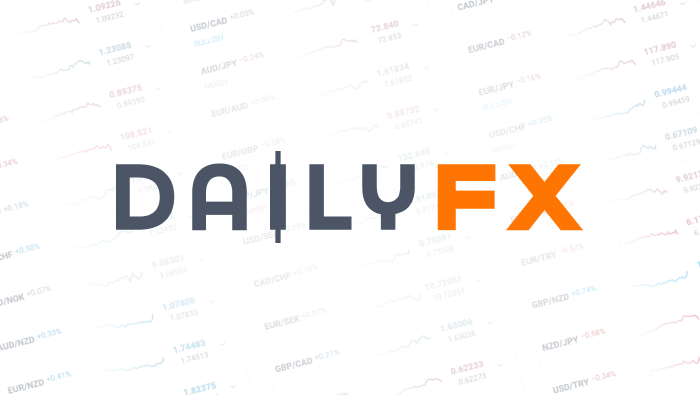 Is Oil's Longest Tumble in 4 Years Ready to Reverse?
What's on this page
Talking Points:
The US-standard WTI

crude oil

contract has dropped to its lowest level in 8 months through Thursday's close

Now down over 20 percent from its October peak and closing a three-decade matching 9-day slide, bears are firmly in control

How long will

oil

defy other capital markets that have turned trends, and should we be looking for a reversal?
Net speculative futures positioning in US crude oil has been dropping aggressively from the record, net-long exposure from the beginning of the year. How are shorter-term retail CFD traders positioning in the commodity with this dramatic 20 percent tumble? See how they are positioned in WTI and Brent crude oil on the sentiment page.
Crude's Bear Wave is Nothing Short of Extraordinary
There is no mistaking how remarkable crude oil's tumble has been. After tracking out a steady but choppy bull trend for over two-and-a-half years, the market has taken an abrupt turn of fortune. As of this past session's close, the standard WTI (West Texas Intermediate) contract has dropped to its lowest level in eight months. That is a dramatic change of fortunate for a market that was pushing a four-year high just six weeks ago. In that time, oil has dropped over 21 percent tipping it into an official 'bear market'. Furthermore, the most recent thrust of this retreat is a nine-day tumble that has accounted for over 10 percent loss itself. Not only is that a productive counter-trend move, but it also represents the longest series of consecutive daily losses since August 2014. In fact, there have been approximately six other such declines of this magnitude since the last time we have seen a bear run of a greater magnitude. The last 10-day tumble was all the way back in August 1984. This is an impressive move that naturally raises speculation of a true bearish reversal. Yet, reversing the course of such a well-established trend is no easy feat. If this was just a flush of speculation, it is already a remarkable move that can draw speculators out of their bunkers. The defining measure for new and lasting trend or the end of a temporary segue depends on what the motivation for market participants moving forward.
Chart of US Crude Oil and Consecutive Advance/Declines (Daily)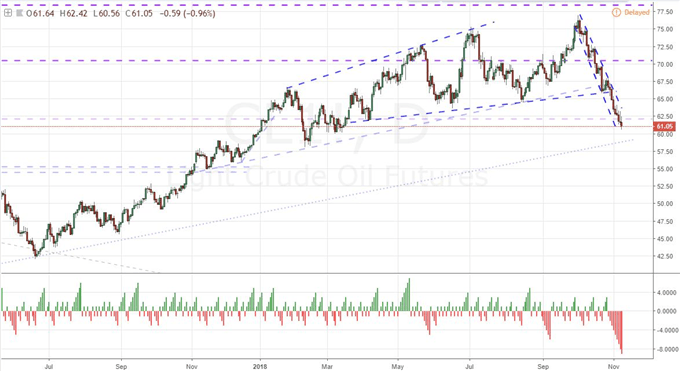 Find the Motivation, Establish the Trend
What has caused oil to take such a spectacular dive from its otherwise impressive bull trend? Few would question this change of tack as it seems to match so many other speculative benchmarks across the financial system. A general tumble in risk trends seems to represent the culmination of speculative excess reaching critical mass, a buildup of systemic financial risks (trade wars, monetary policy normalization, etc) and complacency giving way to committed correlation. As all-consuming as risk trends can be, it is presumptuous to assume its committed reversal when we are still so shallow at turning a trend nearly a decade old. If we were to look into crude's own fundamental mix, motivation would register as a mixed bag. Just recently, US President Donald Trump commented that the slide in energy prices ("costs") was his doing. However, his influence to the pricing structure of late was to revive sanctions on Iran and to disrupt supply by one of the world's largest producers. That is a measure that would normally lead to a climb in prices as international supplies contract. Perhaps, we could look into the nuance and say the degree of sanctions were as severe as thought or there are enough loopholes to significantly reduce the negative impact. Meanwhile, the constant and record output by the United States and a downgrade on global growth could present another moderating factor.
Chart of US Crude Oil (Daily)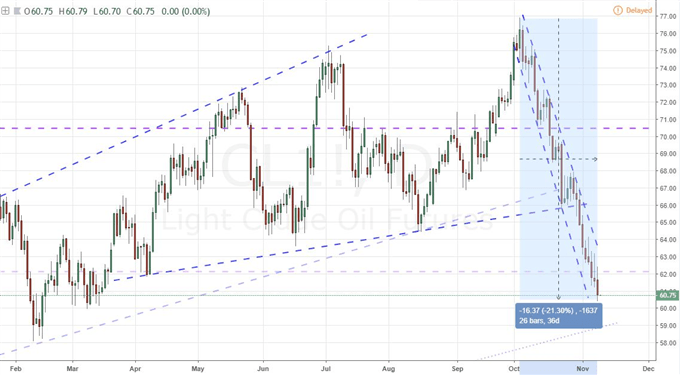 A Comparison to US Equities and the Risk of Assuming 'This Market Is Different'
One of the most compelling explanations for oil's drop is that it is a largely speculatively driven. Looking to net speculative futures positioning to start the year, long interest behind the market has surged to an unprecedented record high. Exposure had far outpaced the progress on the market's price itself. In turn, a rebalance seemed a natural occurrence, and there is plenty of fuel to burn in the meantime. We are still a long way from the net speculative positioning returning to levels more in line with just a few years ago, and that can be used as evidence that there is a more substantial drop in price to come. That said, true and committed trends are few and far between nowadays. Bullish or risk-on moves are more familiar but they carry very little conviction or momentum. There are tentative losses to be found in US and global equities, emerging market assets and many other risk benchmarks. Yet it would still be premature to label these sure course. To assume crude can drum up conviction when so many other assets are struggling is impractical. At the very least, a break in this bearish fever is highly likely on a purely statistical basis. That does not mean the lift would usher in a bullish response with the same degree of momentum, but it could very well play as a crucial factor. To commit to the bearish trend would be jumping into a winded trade - not to be taken lightly either. We focus in on crude oil in today's Quick Take Video.
Chart of US Crude Oil and Net Speculative Futures Positioning
DailyFX provides forex news and technical analysis on the trends that influence the global currency markets.