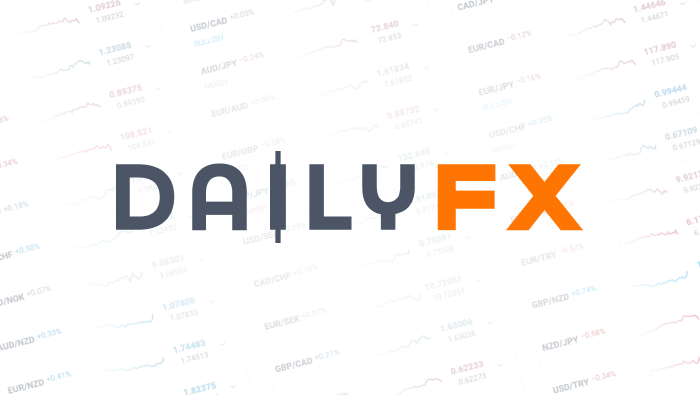 Identifying the Top Fundamental Drivers for Dollar, Pound, Gold and Treasuries
What's on this page
Talking Points:
Key to successfully incorporating fundamentals into trading is first establishing what can most effectively move a market

Establishing a primary theme makes fundamental analysis much easier to manage and reduces false signals
See what live coverage is scheduled to cover key event risk for the FX and capital markets on the DailyFX Webinar Calendar.
'I Rather Be Lucky than Talented'
I find that many technical-exclusive traders feel that all the relevant information about the market and the trades they intend to take can be 'found in the price'. That is certainly true for the settling of so many different, competing fundamental opinions which ultimately result in the realized course our asset or market weaves. However, there is rather little in the way of intent that we garner from the prevailing price alone. We attempt to extrapolate the future from some combination of patterns from history that combine price and time in a familiar way. However, repeating a previous pattern in the present is dependent on far more. When someone depends on technicals alone, it brings to mind the saying "I'd rather be lucky than talented". That glib saying is reasonable when there is a single need for a favorable outcome. Yet, it is a terrible mantra when we require a pattern of favorable outcomes over time. Luck is not something for which we can spin in our favor over a larger sample size. To better measure conviction and trend, fundamentals are exceptionally important. Typically, to build a trend, there needs to be a fundamental pull that continues to draw in new interest to continually bid an advancing market at richer prices or drive to unwind an exposure amid retreat (or add to a speulative short) despite its preceding decline. There are few more effective motivations than a swelling fundamental theme.
Gold a Unique Haven and Pound Fully Brexit Focused
Fundamentals can be intimidating for the uninitiated. There are seemingly countless factors that go into evaluating value. That said, it is rarely that convoluted. While there are as many fundamental influences in a market as there are market participants, there is often an underlying thread that motivates a wide swatch of the investing community that eventually leads to a trend. Finding that theme is very important to boiling down fundamentals to more manageable terms and to better ensure we remain on the proper path of what is most important for evaluating conviction and bearing. Gold is a good example of this need to isolate the most important elements behind the market. The commodity is considered a safe haven, but that has not offered much in the way of clear guidance to the metal as of late. Where the EEM Emerging Market ETF has led many risk assets into retreat these past months, the presumed haven metal has dropped itself in tandem. There is also the appeal for the commodity as an inflation hedge, but the slow but steady rise in price pressures earning actions towards normalizing from extreme easing hasn't spun a bullish retrenchment. What truly motivates gold is its absolute haven qualities and its ability to offer alternative to traditional assets that can be knocked off course owing to distortion as with excessive central bank stimulus programs. From the Pound, the distraction this week is clear: Thursday's Bank of England (BoE) rate division is highlighted on most FX traders' calendars. While no doubt an important event, the next in the slow series of hikes from the UK bank registers materially lower on the totem than Brexit. Not at all convenient for timing and volatile politicians, it nevertheless represents the primary driver for GBP.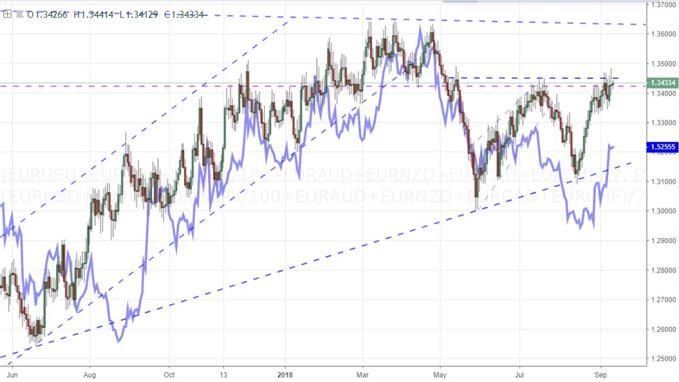 Treasuries and Dollar Who Are Not Currently Set as Havens
Venturing into the realm of US Treasuries, we have another - this time systemically important - benchmark that has defied a number of presumed roles. Typically, US government bonds are considering a proxy for risk trends as it is one of the last stop resorts for fleeing capital. Yet, aligning the US rate to a standard risk measure offers little corollary to the debt's performance. In contrast, there has been a far better connection between Treasury yields and Fed Funds futures. Risk appetite and rate forecasts rise in tandem officially, but the implied yield through Mid-2019 (2.61 percent implied by futures) has charged to a new decade-plus high. As with gold, those monitoring Treasuries (or trading its derivatives) should keep close tabs on exception risk moves as well as the collective blowback from pursuing so many fronts on a global trade war. Finally, one of the lightening rods of speculation, we have the US Dollar. Is this a safe haven or perhaps a prevailing carry currency. Are interest rates still important in pricing or should we refer to extreme levels of sentiment? The other consideration punching above all other themes for the US currency is its steady retreat in prominence for global financial stability. We discuss key themes in today's Quick Take Video.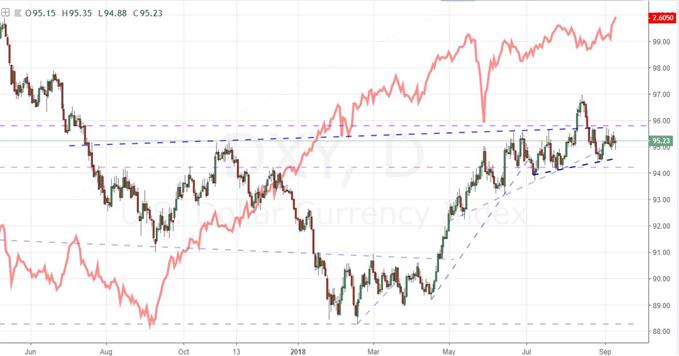 DailyFX provides forex news and technical analysis on the trends that influence the global currency markets.