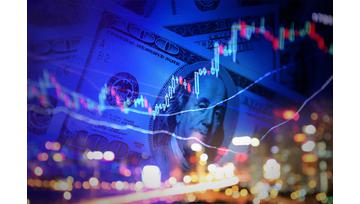 Dollar and S&P 500 Correlation Returns, But Not On Risk Trends
Talking Points:
The US Dollar and US benchmark equity indexes (like the S&P) have a correlation that waxes and wanes with circumstance

Traditionally, the currency and index are presumed to hold a negative relationship as one is a haven and other 'risk' asset

A positive relationship arose these past three years - and has during previous periods - as risk views aligned or ignored
Do you want to learn how to trade event risk? Download the strategy guide on for trading news events on the DailyFX Trading Guides page.
One of the most familiar cross-market correlations has realigned recently. The S&P 500 (as a representative of US equities) and US Dollar are once again moving in opposition to each other. On a 26-week (6-month) rolling correlation, the two show a coefficient of approximately -0.85 - that means they tend to move in opposite directions at very close to the same pace. For those that have been around for a while and/or have a passing interest in FX that borrows heavily from adages rather than empirical observation, this would seem natural. On the risk spectrum the two are traditionally placed at the opposite extremes. That is no doubt still true today, but speculative sentiment isn't the overwhelming financial sector motivation today or recently. Complacency still dominates with a lackluster promotion of further speculation. So, if risk trends aren't driving traders decisions on these two key assets, what is and what does it say of the market we are currently facing?
For some, the S&P 500's slow but persistent advance and the Greenback's 2017 tumble would be clear evidence that the relationship to sentiment between these two is in play; but that is a dubious claim. I am particularly skeptical of the conviction driving US equities and other risk-oriented assets to the highs they have recently found themselves at. However, there is a more profound argument to be made against this correlation: the Dollar isn't engaged in risk aversion. The Greenback is better aligned as a risk-oriented currency itself, due to advance when speculative appetite climbs. The Fed's change in tack well in advance of its counterparts has established the US currency as an unlikely carry currency - both with a median benchmark rate of 1.125 percent and a tempo that has far outpaced its counterparts.
If investor sentiment were to push to an extreme, the two benchmarks' alignment to their respective speculative ancestry would return. That said, the stretched speculative position across the world and asset type wouldn't carry much potential to foster further chase for higher return and therefore would pose a struggle for reviving momentum. That said, a one-sided market would find a responsive community to full scale risk aversion. Yet, until fear descends on the market and reconstitutes a more traditional connection between the leads in the equity and FX markets, what is taking responsibility for the realignment between the Dollar and US equities? For the S&P 500, sheer complacency is in place. A lack of motivation promotes the blind consistency that has prevailed for years. It is the currency that is doing to remarkable work in the relationship. With its major counterparts gaining substantial fundamental ground under speculation that the other major central banks on contemplating moves to tighten extraordinarily lose policy settings of their own, a retreat in premium is a limited engagement fuel. We discuss the relationship between the Dollar and S&P 500, along with its motivation, market assumptions and trade opportunities in today's Strategy Video.
To receive John's analysis directly via email, please SIGN UP HERE
DailyFX provides forex news and technical analysis on the trends that influence the global currency markets.