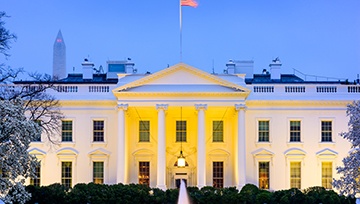 Dow, Dollar and Oil Reaction to President Trump's Tuesday Iran Announcement
Talking Points:
The White House signaled President Trump would announce his decision on the Iran nuclear deal Tuesday at 18:00 GMT

Despite wind behind risk trends in the European session, the Dow and S&P 500's bullish conviction fizzled out early Monday

Dollar's slow climb continues without an explicit fundamental threat, but risks can rise with little warning
Monitor volatility or watch trade potential unfold with important event risk like the BoE rate decision next week. Join DailyFX analysts as they cover that rate decision and other key events live. Sign up on the DailyFX Webinar Calendar.
US Equities Carry Over Little Strength from Friday's Strong Bounce
We ended the past week with a healthy level of speculative enthusiasm. US equity indices jump from technical support formed on three months of volatile congestion to offer a technical buffer and hope for momentum to carry over to Monday. Yet, this charge seemed to arise from an uneven April labor report - a data series that seems to be generating less and less traction for investors - and registers more like a gasp for drowning speculative conviction. The Dow and S&P 500 paid homage to its Friday move and the robust European market performance with its first bullish gap on the open in five trading session. That was the extent of the enthusiasm however as the markets beat a quick retreat from their early highs. Moving closer to the symbolic center of attention in the tech sector, the FAANG (Facebook, Apple, Amazon, Netflix, Google) group managed to hold on to most of its gains and slowly make up for the previous three weeks where strong earnings were more or less ignored. Yet, even if the pace-setting tech sector attempts to rally optimism, there is heavy technical and fundamental headwind to fight moving forward. And, one of those risks is political risk.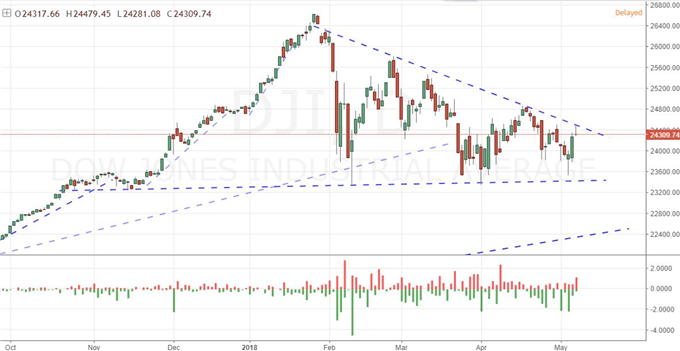 Is President Trump's Early Iran Deal Decision a 'Good' or 'Bad' Sign
There are many fronts to global political risk, but an inordinate number of these points of conflict seem to trace bank to the United States. Local scandal and trade deals aside for the time being, attention has increased recently around the United States' threats to withdrawal from the Iran nuclear deal. The lifting of sanctions on Iran with the country's agreement to halt uranium enrichment for possible nuclear weapons was seen as path towards greatest stability and economic strength in the Middle East. Yet, the Trump administration is is quick to call out what it percieves to be unfair deals has threatened to scrap the previous administration's agreement. Technically, the US and Iran had until Saturday, May 12 to work out a workable solution. Yet, Monday, the White House announced President Trump would announce his decision Tuesday at 18:00 GMT. In standard diplomacy regimes, this would be an encouraging sign that the previous deal would be accepted or that a functional agreement for both sides had been met with new terms. Yet, there have been too many substantial changes with short notice that break from convention over the past year that caution is far more prominent. Neither US equities nor Dollar would give a clear indication of their confidence in their speculation, but oil retreated from the midpoint of its 2011-2016 range as if assuming a status quo outcome.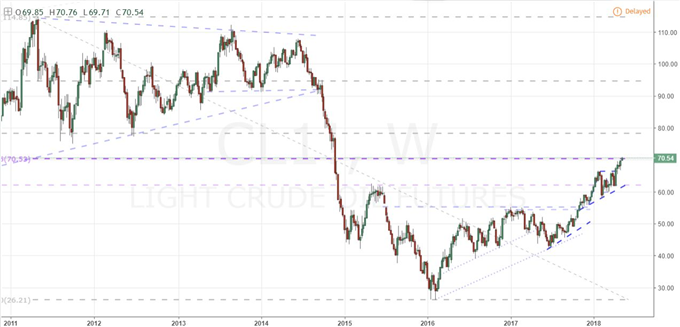 The Euro May Prove the Dollar's Best Lever
The Dollar was unmoved by the President's faster time table and the uneven bearing on risk trends Monday. Instead, the DXY Index continued its slow but steady climb from three-plus year low. Having reversed the Greenback from a long-term head-and-shoulders breakdown towards the beginning of the year, the running technical assumption would be for speculative momentum to provide a strong bout of enthusiasm and more quickly retrace 2017's painful slide. The pacing we have seen instead suggests there is a lack of genuine conviction amid the United States' protectionist shift and a discounted hawkish monetary policy advantage. Without something material to leverage the Dollar to a faster tempo, the responsibility rests withe currency's major counterparts. We have seen the Pound and Yen offer an interesting mix - the former sliding on renewed Brexit concerns and latter tracking out an unusual 'risk' mix - but the real driver is the Euro. Looking to an equally-weighted Euro index, we find that the currency is consolidating near five year highs with its 20-day ATR (a basic measure of activity over the past month) has dropped to levels only comparable during the drought through the summer of 2014. If this is an extreme measure of inactivity, it will inevitably revert to a level of normal. How will that resolve itself in directional terms: bullish or bearish?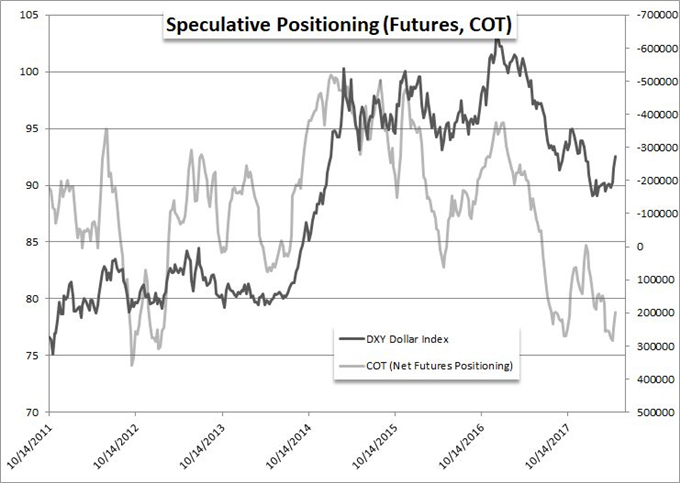 Keeping Tabs on the Aussie Dollar, Kiwi Dollar and Chinese Yuan
Top event risk - aside from the US President's decision on the Iran deal - is the scheduled release of the Chinese trade balance. While it is due for Tuesday release, there is no definitive time attached to this release. Nevertheless, this indicator holds critical meaning both for China's economic health as well as the state of global financial health. Given this release will evaluate the health of trade for the world's largest exporter during the height of tariff threats issued by the United States in April, there is much to draw from this release. Making it significantly more complicated, this is also a data series where the accuracy is under serious question. The USD/CNH has held remarkably steady when the Dollar has otherwise gained remarkable ground against emerging market currencies - this is not likely coincidence. Elsewhere, the New Zealand and Australian Dollars continue to offer remarkable technical pictures from standards like AUD/USD and NZD/USD to atypical crosses like GBP/AUD and NZD/CAD. There is data on tap for both, but ensuring impact is not a certainty. We discuss all of this and more in today's Trading Video.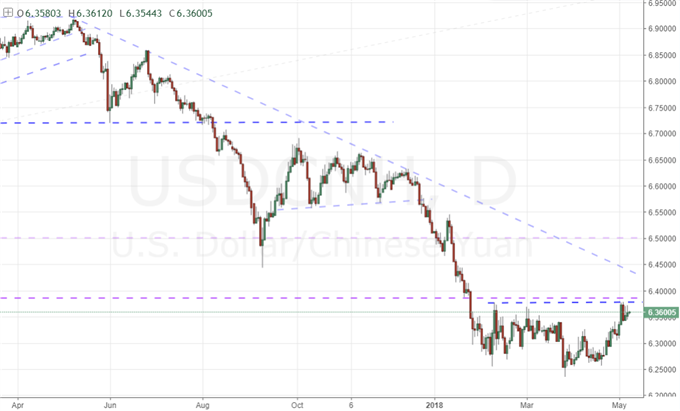 To receive John's analysis directly via email, please SIGN UP HERE
DailyFX provides forex news and technical analysis on the trends that influence the global currency markets.