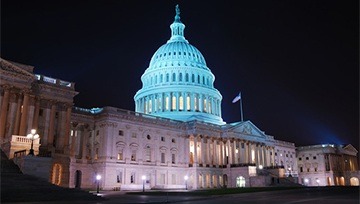 Trump Takes Aim at Harley Davidson for Trade War Production Plans
Talking Points:
The US motorcycle manufacturer has faced criticism from consumers and the President alike

Shares of Harley Davidson have lost 25% since the beginning of the Trump administration

The 'Hog'-producer is one of many US companies that have faced criticism over plans to move production
Stay up to date with important economic data with our Economic Calendar.
The United States' import duty on steel and aluminum have been in effect against the European Union, Mexico, and Canada for nearly a month. In turn, the retalitory tarriffs from the EU have been in place long enough (June 22) to begin showing a tangible impact on at least one widely known US brand. Harley Davidson announced plans to shift production abroad after registering it would feel the impact from the trade wars due to the EU's actions. In response, President Donad Trump took to Twitter to dissuade the company to change its course, or else. The motorcyle maker is one of many US corporations that have faced criticism from the President over their proposed plans.
Harley Davidson
A staple of American culture, the motorcycle's shares have been in steady decline since President Trump took office – a notable contrast to the performance of broader indices. With sales slipping and domestic interest waning, the company has developed a plan to produce 50% of revenue outside of the United States. Currently, international revenue rests near 40% with the EU contributing 16%, the largest chunk of international sales. As the EU imposes retaliatory tariffs against the US, Harley now faces a 31% duty on bikes imported from the US, up from 6% before the trade war began. In an effort to skirt these tariffs, Harley has announced plans to shift some production to a plant in Thailand which it announced plans for in late 2017. The plant was originally planned to help Asian production while avoiding the 60% tariff on motorcycles imported to Thailand from the US. In response to Harley's announcement, President Trump vollied threats of increased taxes on the company, aiming to curb the relocation.
Harley has since responded to threats from the President outlining that the US consumer would not face higher costs despite the incremental cost of a bike increasing by $2,200 due to tarriffs. The tariffs decrease their 2018 profits by 5%-8% costing them $90-100M over the course of the year, 15% of annual profits. On the day of the announcement, Harley saw its stock fall 5.7%. Since then, it has rebound slightly but still faces some public backlash. With President Trump's rhetoric and concern over trade, Harley Davidson is not the first US corporation to face criticism after announcing plans to move production.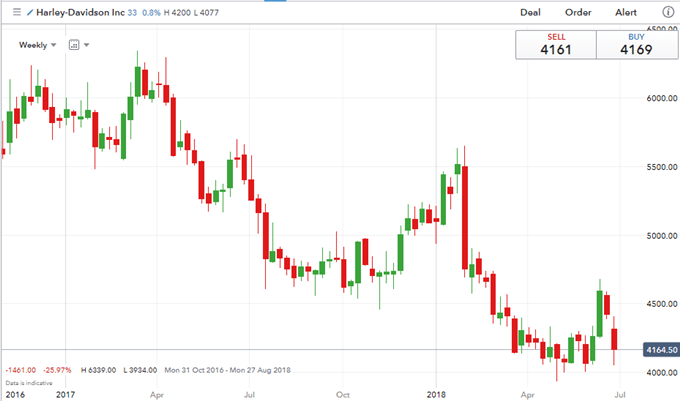 Charts Created Using IG Charts
Ford
In 2017, Ford announced plans to invest $1.6 billion in a Mexican plant, increasing production in the bordering nation. Facing pressure from President Trump and his allies, Ford announced plans to halt investment in Mexico and instead moved to invest $900 million in an already-established plant in Michigan. Although the decision received praise from the President, Ford again changed plans and continued investment in Mexico, although smaller than the initial promise.
Carrier/United Technologies, Rexnord, Cardone, Leviton
United Technologies (parent company of Carrier), Rexnord, Cardone, and Leviton have all faced some form of criticism from President Trump after announcing plans to move production abroad. In all of these cases, the plans were in place well before any tariffs materialized. For example, Leviton began moving to Mexico in 2008 but was still in progress in 2016. As for Carrier, their announcement came in 2017. Although the corporations are all in different industries, they all faced similar criticism from the President for their plans. In the case of Carrier, Twitter comments seemingly resulted in their decision to stay in the United States on the promise of tax cuts. As for the other companies, criticism was not enough to curb their relocation and they have since transferred some production abroad.
Gain insight on market moving events from our Live Webinars and learn to trade more effectively with our Free Trading Guides.
As the trade war continues to progress, corporations will increasingly face difficult decisions in an effort to reduce costs. In some cases, comments from the President have been enough to sway plans. Despite threats and promises, other companies have continued with their plan to move abroad, a decision that may become increasingly common if the trade war continues to affect international sales for US corporations.
DailyFX provides forex news and technical analysis on the trends that influence the global currency markets.