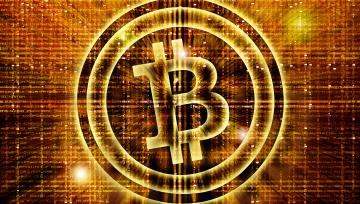 Bitcoin, Cryptocurrency Market Crash on Fears of Demand Drawdown
Talking Points
- Bitcoin (BTCUSD) is more than -40% off of its all-time set last month at 19666 and has erased all of its gains since December 6.
- The fear of heavy-handed regulation out of Asia – which would drawdown aggregate demand – is the single most important factor driving Bitcoin prices lower.
- Read the DailyFX cryptocurrency glossary to review the basics of Bitcoin.
The arrival of Bitcoin futures marked the beginning of a new era for cryptocurrencies. Between December 11 and December 18, the CBOE and CME debuted their Bitcoin futures contracts, marking the beginning of a new price discovery phase for the nascent digital assets. A number of important observations have been made since futures trading came online.
In our Bitcoin futures market outlook, we suggested that, "As a result of the process of price discovery with the new futures contracts, the dampened volatility may ultimately provoke a positive feedback loop that sees confidence in Bitcoin's stability grow. In turn, this should result in greater institutional flows into the cryptocurrency space."
Indeed, DailyFX's ultimate parent company, IG Group, has jumped into the futures market head first to hedge off its risk exposure to Bitcoin trading, accounting for 20% of all open interest. IG Group may be one of the first major brokerages to hedge its risk in said manner, but it certainly won't be the last, particularly as capital flows into the cryptocurrency space continue to grow.
Chart 1: Bitcoin (BTCUSD) 2-hour Timeframe (December 1, 2017 to January 16, 2018)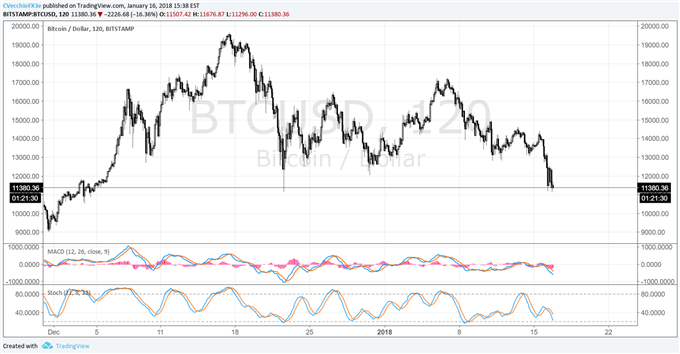 So while the cryptocurrency market is indeed maturing properly with institutional players getting involved, there have been other developments that have been worrying. To no surprise, the fervor over cryptocurrency trading has attracted a great deal of government scrutiny from all corners of the globe. It can't be dismissed that Bitcoin's price peaked the day that the CME futures started trading, which just so happened to be the same time the Chinese government announced it was clamping down on mining operations in the country.
Even in the past 24-hours there have been worrying developments, as my colleague Nick Cawley pointed out this morning. To wit, "The South Korean Fin Min said on a radio interview today that the shutdown of virtual currency exchanges 'is still an option' and while negative it adds little to Monday's news that before South Korean authorities make a decision, they said they would need "sufficient consultation and coordination of options…According to unconfirmed reports, China is looking to ban companies offering market making, settlement and clearing services for centralized trading."
If you recall our initial analysis of Bitcoin and the cryptocurrency market when futures trading came online, we suggested that one of three scenarios was likely to play out, with scenario number two being "If volatility falls but price falls with it, then implicitly this would also be evidence of a bubble as the underlying fundamentals ultimately proved relatively disappointing prior to price discovery."
Given the news out of Asia in recent weeks, it would seem that scenario two is winning out. The threat of a ban in trading in cryptocurrency markets in China and South Korea poses a legitimate, almost existential risk to Bitcoin in the short-term as aggregate demand would take an enormous hit: depending upon the metric used, estimates point to China, Japan, and South Korea as accounting for up to 60% of global trading volume in Bitcoin in 2017.
Chart 2: Bitcoin (BTCUSD) Daily Timeframe (May 2017 to January 2018)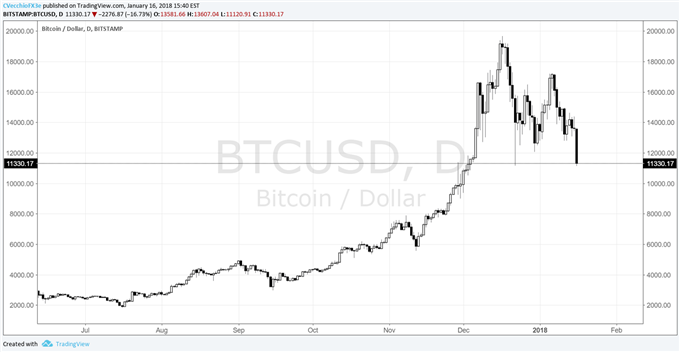 All of which begs the question: if Bitcoin has really been in a bubble that is now due to deflate thanks to a government-induced drawdown in aggregate demand – which the closing of exchanges would effectively be – how mature is this bubble? Chart 2 above, when compared to chart 3 below, speaks for itself: if this is a bubble, we're now entering the "fear" stage.
Chart 3: The Stages of a Classic Financial Bubble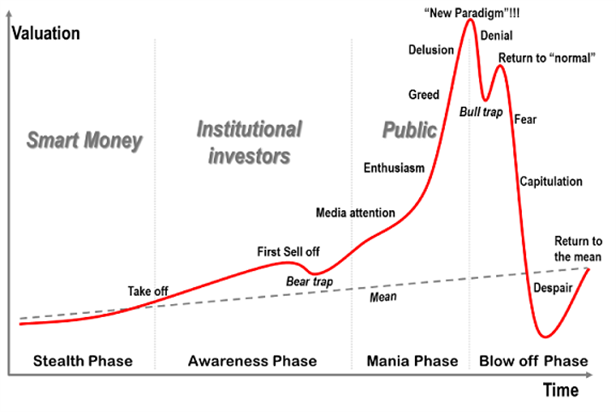 Read more: Futures Market Heralds a New Era of Trading for Bitcoin and Cryptocurrencies
This note was originally published on January 16, 2017.
--- Written by Christopher Vecchio, CFA, Senior Currency Strategist
To contact Christopher Vecchio, e-mail cvecchio@dailyfx.com
Follow him on Twitter at @CVecchioFX
To be added to Christopher's e-mail distribution list, please fill out this form
DailyFX provides forex news and technical analysis on the trends that influence the global currency markets.