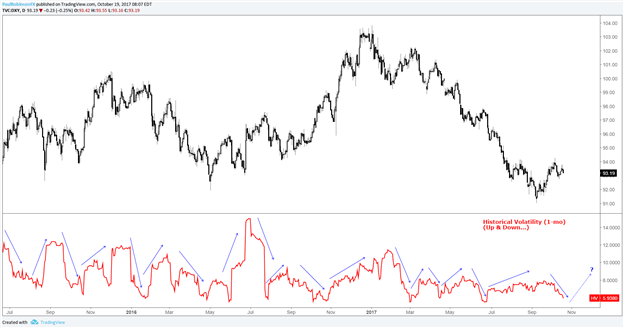 Becoming a Better Trader: Frustrated by Low Volatility? Don't Be
Enjoy the video? Join Paul Tuesday-Friday each week – for details, see the Webinar Calendar.
(The 'Related' links in the following text are recordings of prior webinars which were sent to attendees of today's webinar.)
Low volatility is a major source of frustration among many traders as the amount of opportunity to trade – or should I say, make 'good' trades – diminishes. Frustration generally only breeds one thing – more frustration. We can't control how the market behaves just as we can't control the outcome of our trades, but what we can control is how we react and conduct ourselves.
Volatility ebbs from low to high and back again, across all time-frames. In that statement lies the silver lining; when volatility is low, look at it like this – it will pick back up again (and maybe soon). But until it does we need to accept what the market is providing. It is imperative to lower expectations so as to protect both trading and mental capital (always want to keep your head as clear as possible). To combat uneasiness which can arise by the lack of opportunity, be mindful and think – For every loss I avoid, it's one less loss I have to make back when volatility or optimal trading conditions return…" And, again, volatility will return.
US Dollar Index (DXY): Daily w/Historical Volatility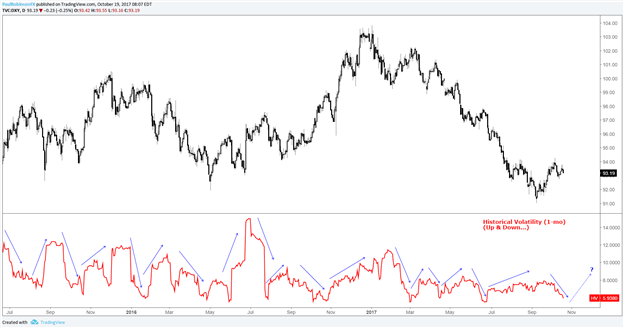 Confidence is paramount, check out this trading guide – Building Confidence in Trading.
In this webinar series we discuss weekly the importance of approaching the market with a 'process-oriented' mentality. With this approach you will likely find yourself trading far less (thus putting yourself at less risk) when volatility isn't conducive for big price swings. Conversely, you are likely to be trading more when 'things get good'.
Related: Focusing on the Process
We examined (again) the simple concept of using a checklist, whether it be a physical one (i.e. spreadsheet) or a mental one (which seasoned traders are likely to use). A checklist includes various criteria such as risk management parameters and criteria needed for a trade set-up. Like volatility, your trading activity and performance won't be evenly distributed; there will be times where set-ups appear frequently and other times when they don't.
When you use a systematic process like this, you will often find that during high volatility regimes you are able to check off the necessary boxes to qualify a trade as one acceptable to take within your trading plan. And during low volatility environments the number of boxes checked off will be incomplete, thus keeping you out of trades which according to plan you shouldn't be taking.
Related: Using a Checklist; Risk Management; Creating a Trading Plan
When the market is 'dull' there are things we can do to still be productive; study trade history/review journal entries, read books/websites, listen to and read what seasoned traders have to say, and even – relax! You have to trust that a good trade or better environment is around the corner. So, at the end of the day, if a proper mentality is adopted, one not need to become frustrated.
Other related webinars: Analysis, keeping it simple; Handling Drawdowns; 6 Mistakes Traders Make; How to Build Consistency
---Written by Paul Robinson, Market Analyst
You can receive Paul's analysis directly via email by signing up here.
You can follow Paul on Twitter at @PaulRobinonFX.
DailyFX provides forex news and technical analysis on the trends that influence the global currency markets.