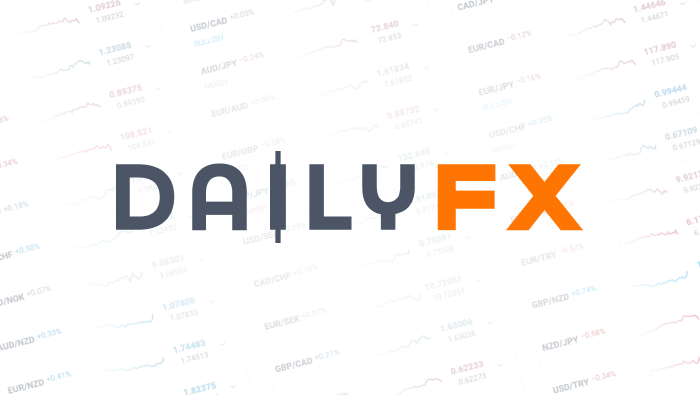 Trading Ichimoku on Smaller Time Frames
Article Summary: The popularity of Ichimoku is due in part to the Indicator's flexibility. In addition to helping you filter entries in the direction of the trend, Ichimoku gives you specific entries regardless of time frame. Here is a breakdown of using Ichimoku on smaller time frames which is a popular time horizon for many Forex traders.
Many traders across the world will identify their trading by their time horizon for holding a trade. One trader may be a day trader, whereas another is a position trader and still another focuses on catching the swing. The constant across all of these traders is that they're trading a style that suits their personality best.
Few indicators could suit all of these traders. However, Ichimoku fits the bill for all of these traders. All traders, regardless of time frame are working to identify a trend as early as possible and squeeze the most out of the trend before it turns.
Ichimoku Cloud Tells You What the Market Is Thinking Now
Few traders focus on what the market is thinking now, but they should. What the market is thinking now could be described as the consensus expressed in price on any instrument. Sadly (and due to immaturity of a risk management system), most traders focus on the money they have committed / risked on the trade more than the market's consensus.
Learn Forex: Different Time Frames Tell Different Stories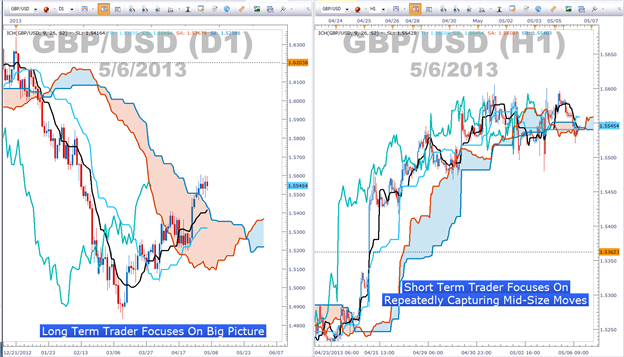 Chart Created by Tyler Yell, CMT
An important distinction should be made on the market consensus in that consensus varies across time frames. If you're trading off a daily chart, you'll likely be seeing a very different picture than a trader focusing on a 30 minute or multi-hour chart. Because the risk profile of both traders are likely night and day (in terms of #of pips risked vs. reward sought) it's best to find the time frame that is most comfortable for you and apply the indicator of your choice to that chart as opposed to finding out what time frame someone else is profitable with.
Regardless of Time Frame, Focus on The Cloud & Price Action
From the beginning of the Ichimoku reports, you've been told about the importance of the cloud. It's not that the cloud is respected by price (few indicators are respected by the market in full) or that it has any mystical power but rather the cloud is a powerful picture of the market's disposition. When you combine the cloud with a focus of price action you can employ Ichimoku on a minute chart on up.
When trading off price action, the two things you want to focus on are wicks and real body width. The wick is price action outside of the open and close price. The real body is the shadded part of the candle that encompases price between the open and the close alone.
Learn Forex: Wicks On The Chart Are Very Telling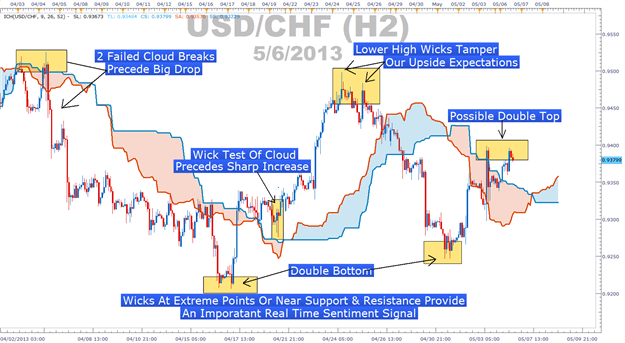 Chart Created by Tyler Yell, CMT
When there is a wick off of the cloud or there is a narrow real body candle showing you a doji near support or resistance, you can take note. The cloud on any time fram large or small gives you a bias to be long or short as price above the cloud is telling you that the market sees the base currency worth more than the counter currency now. As a trader, what the market thinks is the most imporant aspect of trading so we can use that to place a trade as a likely outcoude will continue in the direction of the trend.
Learn Forex: Price In Relation To The Cloud Tells You What The Market Thinks NOW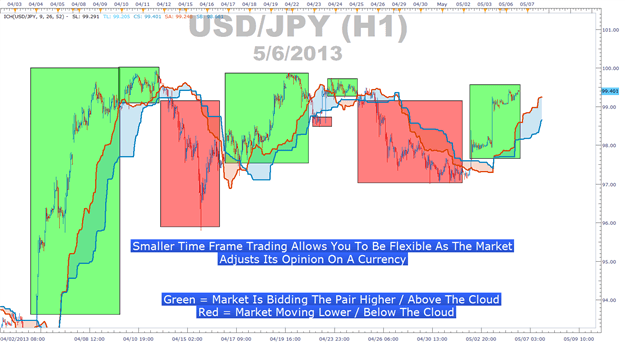 Chart Created by Tyler Yell, CMT
This article covered a lot regarding the combination of Ichimoku with price action on smaller time frames. Ichimoku can be used in full but it's also helpful to see how it can be used to suit the trader you are now. Trading price action and trends with Ichimoku as a trend filter can help you continue to grow as a trader.
Ichimoku Short Term Trade: Buy NZDUSD off Multiple Cloud Bounce to the Upside
Chart Created by Tyler Yell, CMT
Ichimoku Trade: Buy NZDUSD as all rules above are aligned on the chart
Stop: 0.8450 (bottom of the cloud and recent price action wick)
Limit: 0.8650 (as of current price, sets our limit at 2 times our risk in pips)
If this is your first reading of the Ichimoku report, here is a recap of the rules for a buy trade:
-Price is above the Kumo Cloud
-The trigger line (black line on my chart) is above the base line (baby blue line) or has crossed above
-Lagging line is above price action from 26 periods ago (not pictured above for clarity)
-Kumo ahead of price is bullish and rising (displayed as a blue cloud)
When utilizing Ichimoku on a smaller time frame, the biggest concern is price in relation to the cloud and the price action signals provided by wicks and the real body of the candlestick. We're noticing considerable price action near the rising cloud which gives us confidence (but never certainty) that good news could push this pair higher. The reason for entering near cloud bounces is that you can set your exit as close as reasonably possible to our stop at the bottom of the cloud.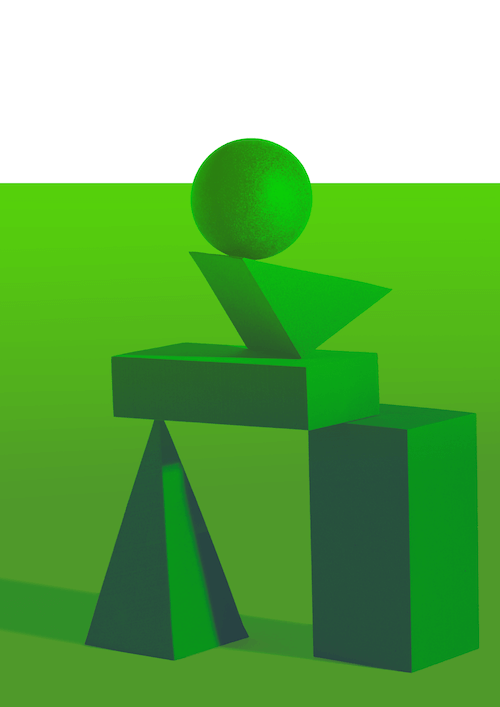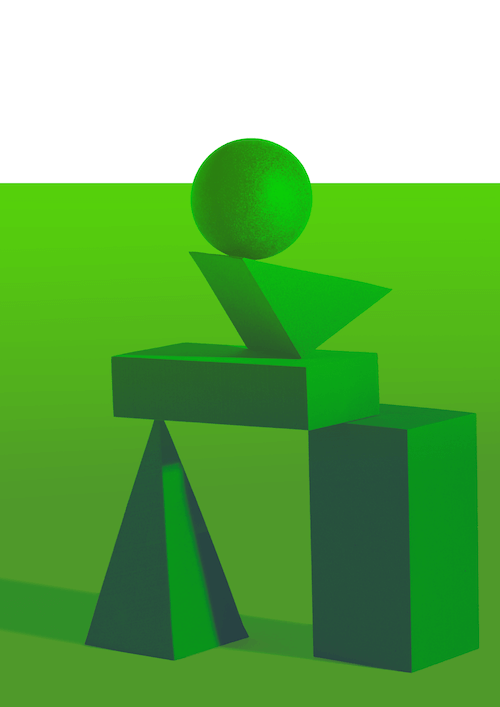 Recommended by Tyler Yell, CMT
Learn how to follow trends and spot reversals with Ichimoku
Frequently Asked Questions (FAQs)
What are the fundementals of Ichimoku, and where can I learn more?
Take a look at our webinar calendar whereby our market analysts will go through various technicals, analysis and news which includes trading using the Ichimoku indicator.
This is a heavy news week for NZD so keep an eye on the DailyFX economic calendar if you prefer to incorporate fundamentals with your trading.
Happy Trading!
Interested In Our Analyst's Best Views On Major Markets? Check Out Our Free Trading Guides Here
DailyFX provides forex news and technical analysis on the trends that influence the global currency markets.