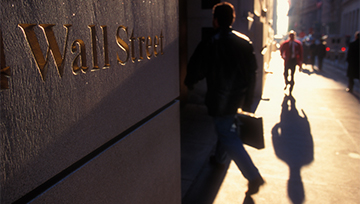 Adapting to Holiday Trade Ahead: S&P 500 Reversals or GBP/USD Ranges?
Prepare for holiday trading conditions ahead. Markets are already running at the unprecedentedly quiet levels, but the upcoming holiday week is due to further suppress liquidity and make trading difficult. How do we adjust for trading equities, Dollar pairs and more?
Talking Points:
Thanksgiving week may be specific to the US (and Japan), but the market implications are historically global

A seasonal liquidity drain will exacerbate structural complacency that will require a very clear trading approach adjustment

Short-term setups with clear technicals and event risk (like

GBP/USD

) are preferable, but be wary of surprises
Retail traders are more focused on short-term opportunities rather than long-term trends. See how retail traders are positioned in the most liquid Dollar based pairs such as EUR/USD, GBP/USD and USD/JPY on the DailyFX Sentiment Page.
We are heading into the Thanksgiving holiday period celebrated in the United States. While this particular market closure is generally unique to the US, the market implications are historically felt throughout the global financial system. The absence of the world's largest economy creates a sizable gap in the continuous liquidity global speculators rely on to build trends and even short-term momentum on. This is particularly problematic this year as there has been a particular deep level of complacency across the markets which has already rendered the lowest measures of volatility - from benchmarks like the VIX Index - on record. It is important to head into this truncated week with reasonable expectations on how to identify trade practical trade opportunities.
Looking at how the markets have unfolded during previous such holidays can give us good guidelines on setting expectations this year. While the drain of liquidity is not specific to a certain holiday, basing conditions on past Thanksgiving periods can give us the best circumstance for other seasonal aspects. We can use measures like the ATR to measure historical volatility, comparisons of short to medium-term duration ATRs to gauge deceleration and historical range measures for obvious purposes. We review all three for the S&P 500 over the past four years to assess how this period can impact a market whether active or not. During periods like the remarkable volatility seen in fall of 2014 and 2015, we saw a remarkable drop in activity levels for just for that period around the holiday. In an already quiet market, the implications are clear, it draws activity levels even lower.
To adapt to these realities, we shouldn't try to seek out the few assets that we believe may be able to overcome the global crush and produce surprise volatility. There are active markets and some noteworthy event risk for different assets on the docket, but we've seen periods of far greater activity grind to a halt. Instead, choosing trades that fit the context of our circumstances is better probability. Short duration setups (less than a few days) that targets a reasonably proximate target with ready stop fits reason. Further, looking for pairs and markets that has already resorted to congestion in technical patterns and/or has distinct event risk can improve movement expectations. Further, those markets that are beholden to risk trends or overwhelming themes like a driving monetary policy speculation will further be less encumbered.
All this being said, there is always the possibility that 'this time is different.' While there are few instances of extraordinary volatility and market development in holiday liquidity conditions, it is certainly not impossible. The degree of quiet we have experienced has come with a matching grade of skepticism. Further, we have a range of fundamental threats on the horizon that pose greater threat and don't come with clear bounds on timing - such as the tensions between the US and North Korea. There is very little potential to earn from risk on positions for the short period of liquidity drain but extreme risk of loss should thin trading exacerbate an unexpected panic. Little is lost to hedge or book significant risk-oriented exposure that is latter reestablished when conditions normalize. We discuss trading through holidays conditions in this weekend Strategy Video.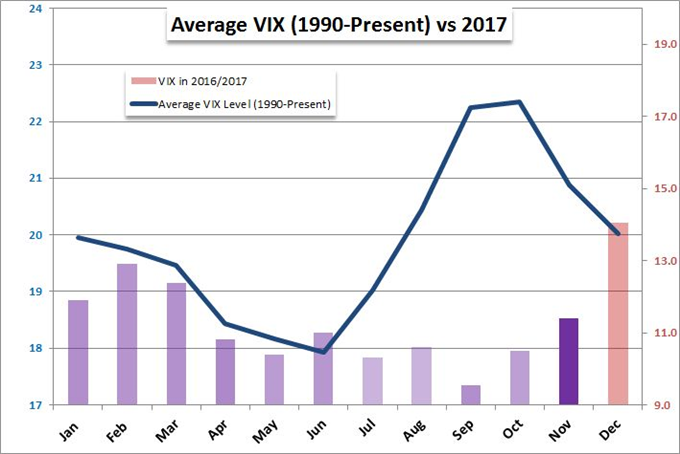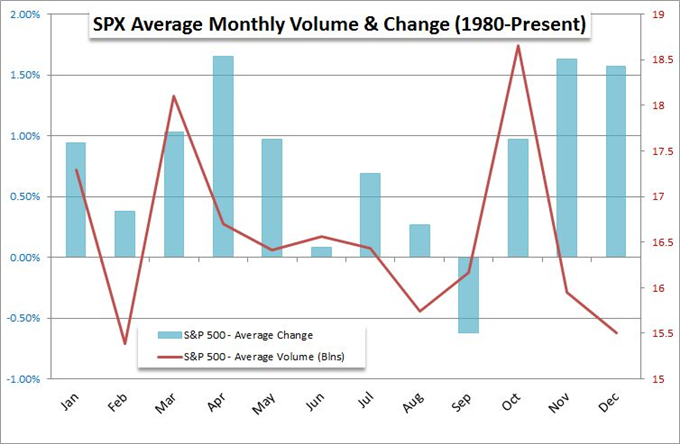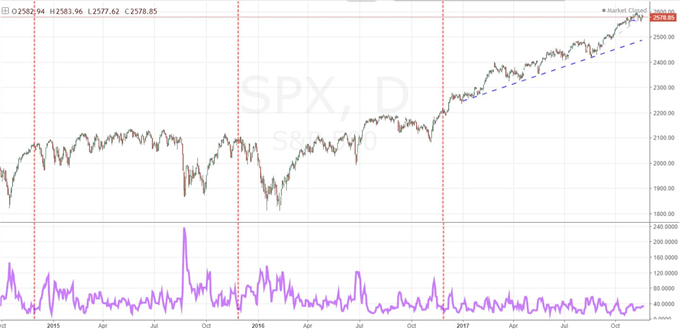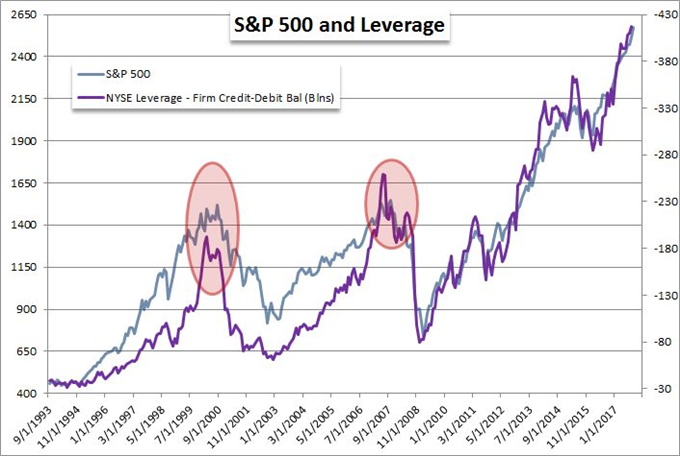 To receive John's analysis directly via email, please SIGN UP HERE
DailyFX provides forex news and technical analysis on the trends that influence the global currency markets.