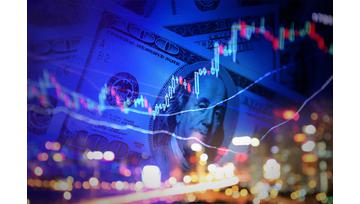 Assessing Opportunity After SPX Rally, Dollar Tumble Doesn't Bridge the Weekend
Talking Points:
A dramatic late-drive to push the S&P 500 to record highs and the Dollar to 10-month lows last week didn't carry to Monday

Speculative appetite can often charge its own momentum, but conviction continues to prove a hurdle to progress
Dollar is threatening a break of the midpoint to its three decade range while the S&P 500 is luring in bulls with close proximity to fresh record highs. Download our 3Q forecasts to see what the DailyFX analysts expect from these markets over the next 3 months.
Despite the impressive technical progress forged to close this past week, there was little evidence that technical breakouts were readily transitioning into profitable follow through Monday. There is plenty of evidence n many different areas of the financial system to suggest that we are seeing the early transition of a phase change - perhaps not with the risk bearing that we are currently leaning - but such systemic shifts do not frequently begin with a clear and uniform signal. The S&P 500's charge to lead global equities this past Friday yielded no ambition to carry the next leg of a long bull trend if Monday's restraint were any sign. Looking the span of risk trends, the restraint was clear. Where there was an equally impressive break from the Emerging Market ETF EEM; the speculative drive from global indexes, mature and en vogue carry currencies, and other measures of sentiment produced confirmation of that general sentiment. While picking tops on well-established trends is poor probability, looking for those assets that are risk aligned and still sporting a relative discount (perhaps the Dollar) or are most richly perched on the stretched sentiment theme (recent carry interests for AUD and NZD) may provide the best opportunity.
Having dropped to a 10-month low, the Dollar has found itself in an unfavorable position regardless of which direction the sentiment winds are blowing. That said, the Friday break of the midpoint to the DXY Index's 31-range has not charged unfettered momentum. While the index may have found itself losing momentum after the technical milestone was made, many of the crosses have seen the pause happen before the fuse was lit. EUR/USD as the most traded Dollar pair - and most liquid exchange rate across the market - is still being held up at 1.1500 resistance. Even if that ceiling is cleared, there is an range of overhead that needs to be cleared before confidence of an anti-Dollar trend is seeded. Meanwhile, GBP/USD has stalled its climb at its post-Brexit 38.2% Fib retracement, AUD/USD marked a dramatic run into a two-and-a-half year range high and NZD/USD hasn't hurdled its channel resistance. With the Fed still more than a week out (and unlikely to alter the global standings even when they do deliberate), the call on whether the Greenback mounts the bearish break or retreats likely rests with its major counterparts - cumulative the Euro, Yen and Pound.
The major currencies' and indexes' inability to carry a serious trend this past session should come as little surprise given we didn't feed critical themes or alleviate crucial restrictions to speculation. The Chinese 2Q GDP reading to start off this week was an important but shunted fundamental event. While it is the second largest economy in the world, China's growth comes with the express skepticism of global investors who have seen what is a dubiously consistent trend of statistics. This past quarter's update was no exception. An ideal, moderate but strong 6.9 percent rate of growth only fosters that quiet skepticism. Outright confidence or skepticism would not bloom from that update. While event risk is of lower intensity Tuesday, it is more evenly distributed. Inflation readings for the US, Eurozone, UK and New Zealand can trigger bigger concerns - especially between Fed and ECB focus this week. While the global implications for theme and trend are greater for the Dollar and Euro ahead, volatility may align to the Kiwi under the correct circumstances. We look at big picture focus and short-term opportunity in today's Trading Video.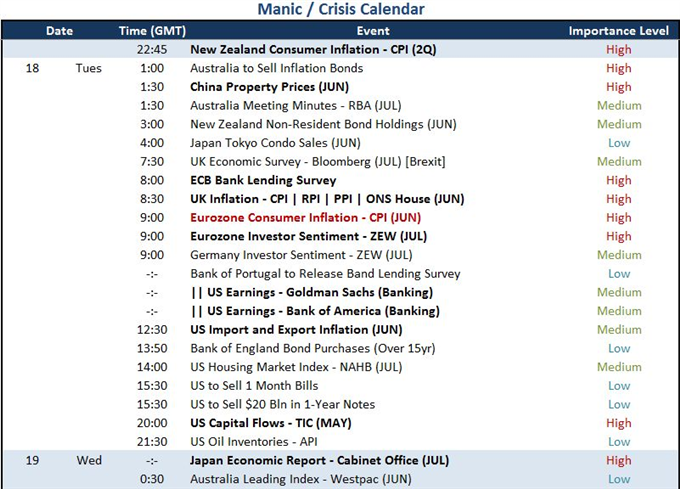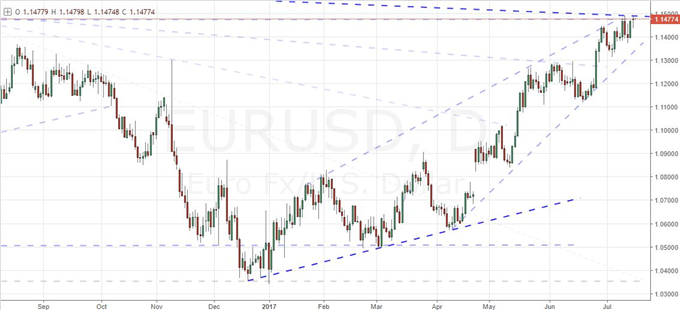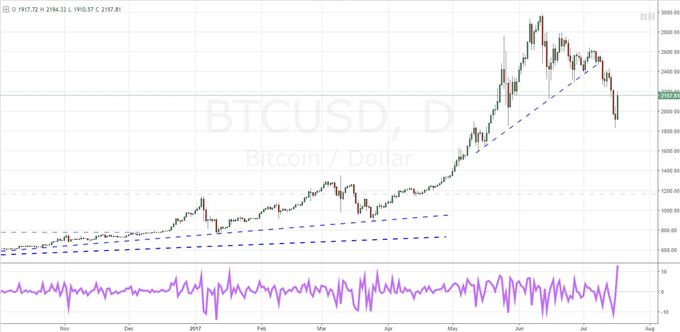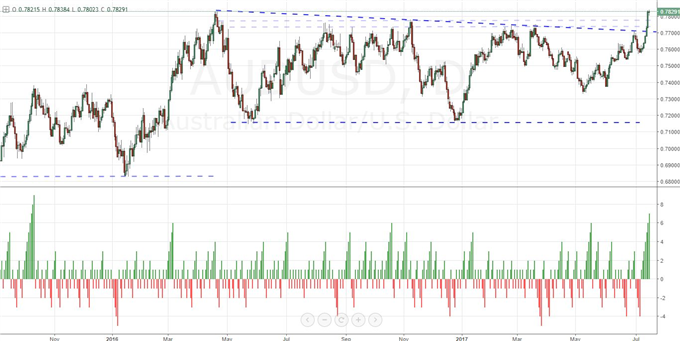 To receive John's analysis directly via email, please SIGN UP HERE
DailyFX provides forex news and technical analysis on the trends that influence the global currency markets.