Record Highs for SPX Not Risk, Dollar Break for AUD/USD Not EUR/USD
Talking Points:
The DXY Dollar ended the week by diving through the mid-point of its 30-year range and on to a 10-month low
Risk trends have charged higher with a S&P 500 record high and critical EEM breakout, but not all markets have climbed
Dollar is threatening a break of the midpoint to its three decade range while the S&P 500 is luring in bulls with close proximity to fresh record highs. Download our 3Q forecasts to see what the DailyFX analysts expect from these markets over the next 3 months.
In a week that was otherwise billed for limited fundamental excitement and held extremely low volatility throughout, traders enter the weekend with anticipation for what lies ahead. The transition comes on high profile moves from some of the favorite and most liquid speculative benchmarks to close Friday. A record high close from the S&P 500 is so familiar now that it doesn't even earn an assured place at the top market headlines on Google and other browsers. Drawing more attention was Dollar's tumble Friday - an extension of a measured but persistent bearish trend to 10 month lows. On a technical basis, this crossed a significant threshold in the mid-point (loosely referenced as the '50 percent Fib') of the DXY Dollar Index's past three-decade range. That is remarkable technical progress, but does it translate into a deeper conviction and momentum than what we have seen to this point?
Looking at the Dollar's performance in relief, we find the technical application of the bearishness uneven and the fundamental motivation far less convincing than what the chart milestones would suggest. First the motivation. The Greenback has dropped and has good reason to do so: its economic performance has moderated; the US has increasingly isolated itself from the global circulation of capital; and Fed-derived yield advantage has diminished. While the protectionist shift can pose serious issue for the currency and country into the future, it is as yet not a proactive selling point. The United States growth is not far off pace of the global average. The more prominent motivation is monetary policy.
Yet, this isn't an outright selling point as the Fed is not easing (lower rates and increasing the currency supply), rather it is just losing its unique and first mover status as other central banks shift towards a passive hawkish position. Against that fundamental backdrop, we consider the mixed picture of technical performance. AUD/USD and USD/CAD have each achieved remarkable technical breaks and are drawing trend speculation. Yet, the most important and liquid pairs capable of securing momentum have yet to throw in. EUR/USD is still facing the upper end of its range (1.15-1.17), GBP/USD is at a 10 month high but showing little drive and USD/JPY is deep in range.
The same gap between isolated but exceptional performance and true conviction persists for 'risk trends.' The S&P 500 has led US equities to yet another record high close. Offering some further weigh to sentiment, Emerging Markets have taken off this past week with the EEM ETF marking a critical series wedge breakout and many of the most liquid EM currencies advancing. Yet, global equities, carry and other sentiment-marked assets are more restrictive in their enthusiasm. We should mark these development and look for further depth and persistence for the deep opportunities such developments would bring. That said, we should remain flexible and focus on opportunities on time frames that offer high probabilities. Strong moves from the Australian, New Zealand and Canadian Dollars focus in on the movement. Event risk such as the BoJ and ECB rate decisions can offer isolated volatility or scale up to market-wide, trend-defining progress. We separate volatility from trend and opportunity from appetite in this weekend Trading Video.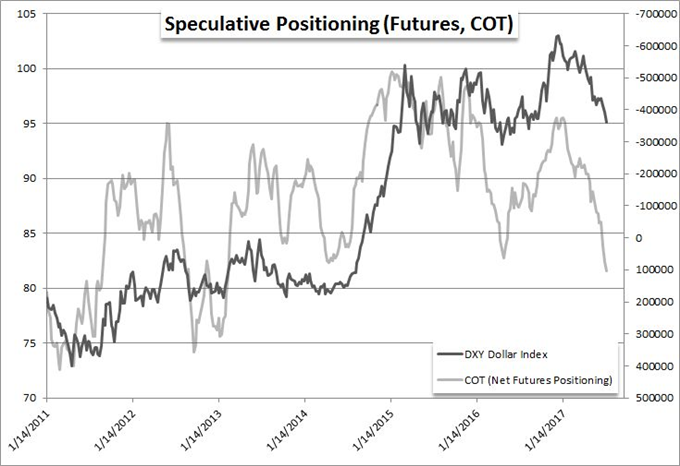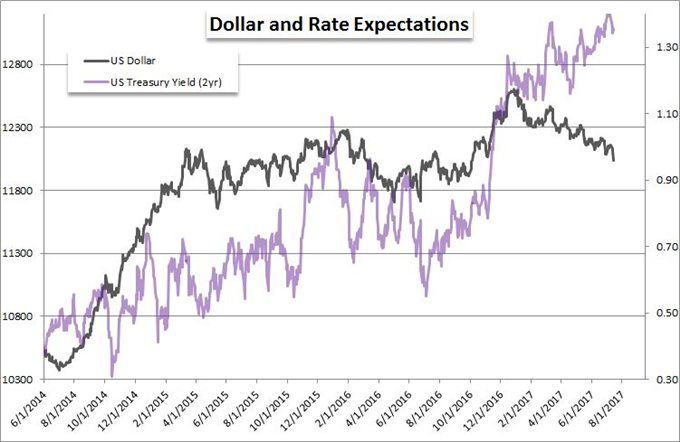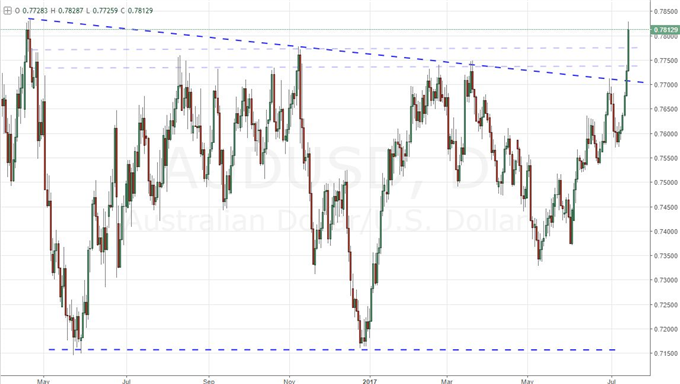 To receive John's analysis directly via email, please SIGN UP HERE
DailyFX provides forex news and technical analysis on the trends that influence the global currency markets.