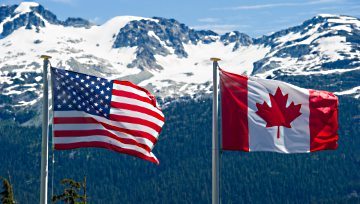 A NAFTA Deal Sends CAD Soaring, USD Less Jubilant
Talking Points:
NAFTA will be renamed to USMCA, or the 'United States, Mexico, and Canada' agreement

The conclusion of North American trade uncertainty will be a boon for the United States on other trade war fronts

USD/CAD

traded lower as the two currencies climbed versus other counterparts
After months of fiery rhetoric and negotiations, the North American Free Trade Agreement was finally cemented late Sunday evening. Rebranded to USMCA by President Trump, the deal was reached after Canada and the United States came to an agreement. Negotiations were bogged down for months by sticking points on dairy, autos, and metal tariffs.
The agreement between the two nations allowed Canada to join a bilateral deal between the United States and Mexico that was penned in August. The trilateral agreement will now have to be ratified by Congress and the corresponding government bodies in Mexico and Canada. As the governments work through the deal, it is unlikely to enter into effect until late 2019 at the earliest. Still, many officials from various industries expressed their happiness and relief that a deal was reached.
With the USMCA text published, we can now take a look at some of the more notable sticking points and their conclusions.
Catch up on the ongoing economic conflicts with A Brief History of Trade Wars.
Dairy
Canadian dairy protections were the subject of heated debate in September's negotiations. Prior to the deal the United States faced tariffs of more than 200% and import caps on Canada's dairy. In the text of the USMCA, Canada has pledged to curb protection for its dairy industry and work to dismantle 'class 7' dairy. The new deal will thus allow American farmers access to more of Canada's current dairy market while also allowing for more American dairy to reach Canada. The pledge is likely a last-minute concession as Canadian Prime Minister Justin Trudeau was adamant about standing up for Canada's dairy. The terms of the deal may impact Canadian politics but is a win for US dairy farmers.
Autos
The new trilateral agreement requires automakers to build a larger share of a car in North America with higher-wage workers to avoid duties on border crossings. The new rules would require at least two-fifths of a vehicle to be built by workers earning $16 an hour or more. Should those conditions be met, the vehicle would be eligible for duty-free trade in North America.
Further, President Trump said the agreement reached on September 30th would protect Canada and Mexico from auto tariffs moving forward if certain conditions were met. He went on to say auto imports were still an option for other countries should they not reach an accord on trade.
Metal Tariffs
The agreement will leave steel and aluminum tariffs in place after US negotiators insisted the tariffs be discussed separately from the continental trade deal. Enacted since June, the metal tariffs have garnered support from US steel producers because they allow for higher prices.
Dispute Resolution and Tariff Reviews
According to comments from negotiators, the United States wanted to dispose of a tariff arbitration system. In a victory for Canada, the tariff review board will remain in place. On the other hand, the Investor-State Dispute Settlement or ISDS has been reduced considerably. The ISDS is a system in which investors can sue countries for alleged discriminatory practices.
Exchange Rates
The text contained some language regarding foreign exchange rates and terms to safeguard against their manipulation. While the contents are unlikely to be used against any of the three signatories, they could serve as a precedent in other trade deals the Trump administration is negotiating.
Check out our economic calendar for important market events like trade negotiations and central bank rate decisions.
Sunset Clause
The USMCA agreement will end in sixteen years unless all three parties agree to renew it. With its renewal in mind, the United States, Mexico, and Canada will be required to meet every six years to negotiate an extension.
The United States was pushing for a clause that would terminate the agreement in five years unless all three parties agreed to renew. Mexico and Canada were strongly against such terms, arguing it would harm investment into their countries due to uncertainty.
USD/CAD Daily Price Chart, July – October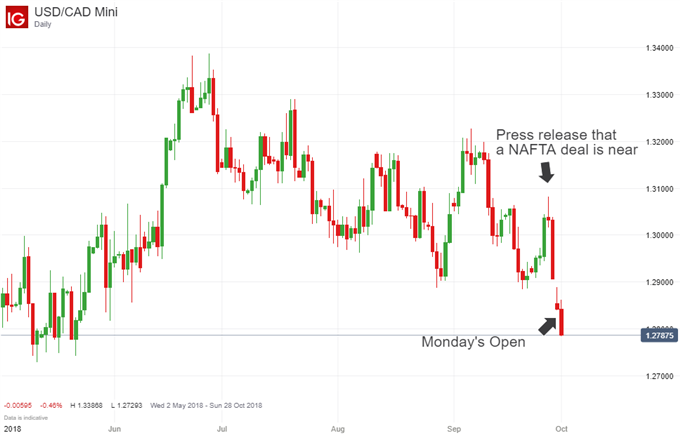 Unsurprisingly, such an agreement had a huge impact on markets. Months of tense negotiations swayed market sentiment for each of the country's currency and equity markets. Following the announcement, the Canadian Dollar soared as USD/CAD fell to a four-month low.
See how retail traders are positioned on various assets and currencies with IG's Client Sentiment Page.
US Dollar Basket Hourly Price Chart, September 26th – October 1st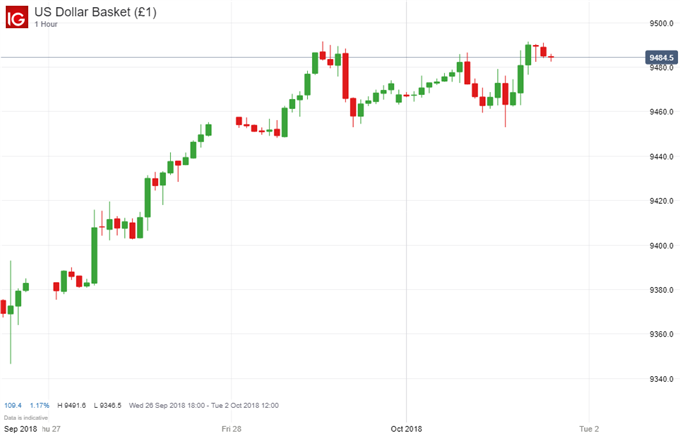 Although the US Dollar fell versus its Canadian counterpart, the uncertainty removed from North American trade, coupled with a strong ISM manufacturing figure, sent the Dollar basket higher Monday.
USD/MXN Hourly Price Chart, September 25th – October 1st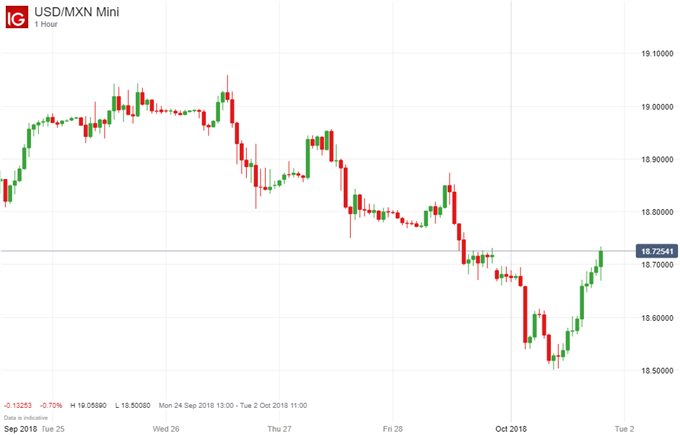 The Mexican Peso was the currency least affected by the pact, already strengthened by the bilateral agreement with the United States. Despite surrendering some ground on Monday, the Peso is one of the best performing currencies in the world this year and the new USMCA should promote that strength moving forward.
Other Trade War Fronts
With the resolution of NAFTA the United States and the Trump administration can now look to focus on other fronts in the trade war. Progress with China has seemingly stalled, as officials on both sides have expressed their unwillingness to negotiate anytime soon. With that in mind, the EU and Japan will likely be the next targets for trade agreements. The successful conclusion of NAFTA can thus be used as a template for other trade talks and may help to guide officials to mutually beneficial conclusion.
--Written by Peter Hanks, Junior Analyst for DailyFX.com
Contact and follow Peter on Twitter @PeterHanksFX
Other Top Stories:
USD/JPY: November High on Radar as Bullish Momentum Gathers Pace – By David Song, Currency Analyst
CAD Soars on New NAFTA Deal, GBP Leaps on Brexit Report - US Market Open – By Justin McQueen, Analyst
Weekly CoT Update for USD/JPY, Crude Oil & Other Major Contracts – By Paul Robinson, Market Analyst
DailyFX forecasts on a variety of currencies such as the US Dollar or the Euro are available from the DailyFX Trading Guides page. If you're looking to improve your trading approach, check out Traits of Successful Traders. And if you're looking for an introductory primer to the Forex market, check out our New to FX Guide.
DailyFX provides forex news and technical analysis on the trends that influence the global currency markets.