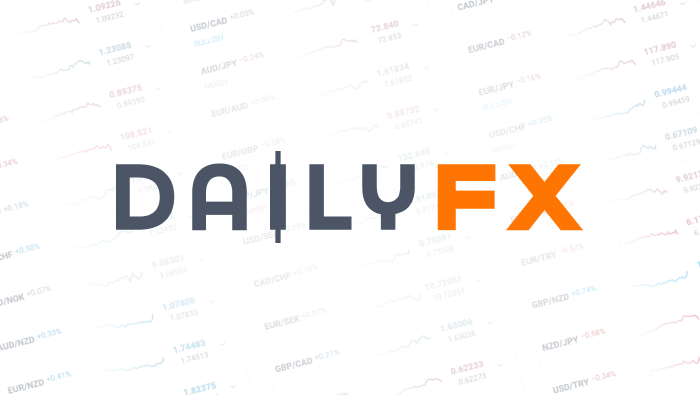 Fed's Favorite Inflation Indicator Hits 2% Target for the First Time in 6 Years
Talking Points:
A number of inflation indicators have reached or surpassed the Fed's 2 percent target

Fed Chairman Powell has said he would not be surprised to see inflation move above 2 percent for a period

In May, personal income rose 0.4 percent after gaining 0.2 percent in the prior month.
Stay up to date with important economic data with our Economic Calendar.
The US saw its consumer prices accelerate year-over-year in May, with both core and headline readings reaching the 2 percent target set by the Fed. Consumer prices as measured by the personal consumption expenditures (PCE) price index rosemonth-over-month by 0.2 percent after a similar gain in April, the Commerce Department said on Friday. In the 12 months through May, the comprehensive PCE price index grew 2.3 percent. The climb was the fastest since March 2012 and followed a 2 percent rise in April. The PCE index excluding food and energy (often referred to as 'core') rose 0.2 percent for the sixth straight month. That steadfast price increase has in turn lead to year-over-year PCE core measure to reach 2 percent for the first time in approximately six years.
In May, personal income rose 0.4 percent after gaining 0.2 percent in April. Wages in turn saw a 0.3 percent increase, a sign that wage stagnation may slowly be overcome. With this in mind, consumers will have more to spend in the coming months, contributing further to inflation figures. The Federal Reserve has already raised the Fed Funds Rate twice this year, most recently on June 13th with another 25 basis point increase to 1.75-2.00 percent. At present, the Fed is expected to raise rates two more times in 2018, resulting in a Fed Funds top end rate of 2.50 percent at year end. In the Fed's most recent rate decision, Chairman Powell disclosed he would not be surprised if inflation rose above 2 percent for some time. He also expressed such an increase would be manageable and not likely to change the frequency of rate increases.
Trade War Articles:
Harley Davidson Announces Trade War Plans
As we look to the markets, domestic indices are staging a rather robust rally with the S&P 500 up 0.87 percent at the time of this article. Similarly, the Dow Jones Industrial Average has posted a 1.13 percent gain and the tech-heavy NASDAQ lags slightly with its own 0.75 percent advance. These gains can not fully be contributed to the inflation and income/spending figures as trade war fears continue to recede after injecting fear into markets recently, having pulled the Dow down over 1,400 points from the peak high on June 11 to yesterday's low.
Chart 1: S&P 500, 15 Mintute June 29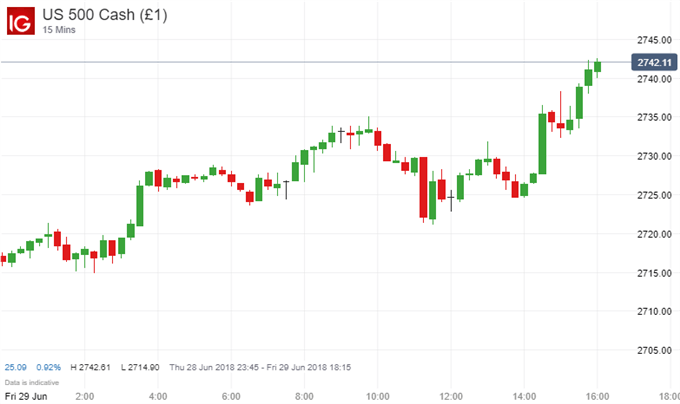 Chart 2: Dow Jones, 15 Minute June 29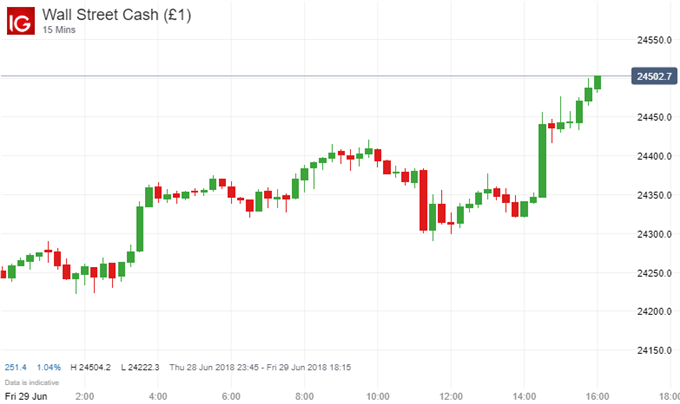 Chart 3: NASDAQ, 15 Minute June 29
DailyFX provides forex news and technical analysis on the trends that influence the global currency markets.