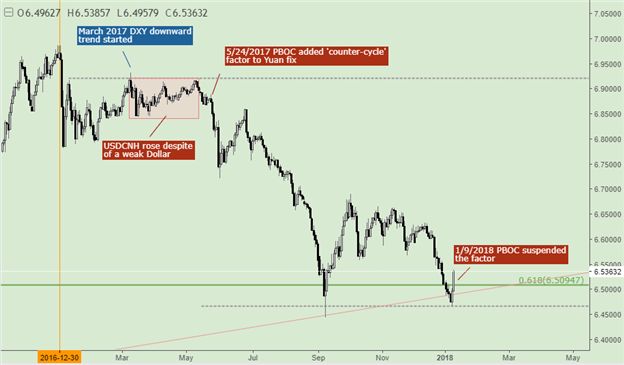 Yuan Plunges After PBOC Changes Managed Regime, What to Expect Next?
Talking points:
- The PBOC suspended proactively adjusting the Yuan fixing after implemented it for 7 months.
- The Chinese Yuan plunged over -0.6% against its U.S. counterpart following PBOC's move.
- The regulator sees Yuan to float in a range and reserves the possibility of reusing the factor.
China's Central Bank hints to have suspended proactive adjustments in the Yuan fixing, a daily reference rate that it issued to the market. On January 9th, the PBOC told that commercial banks, which provide quotes for the Central Bank to calculate the daily fixing, will decide by themselves whether to include the "counter-cyclical factor" in their quotes. This means that the regulator may have suspended efforts in countering against sentiment-driven volatility in Yuan rates. Following the move, Yuan jumped against the U.S. Dollar, down -0.62% as of 4:30pm ET.
USD/CNH 1-Day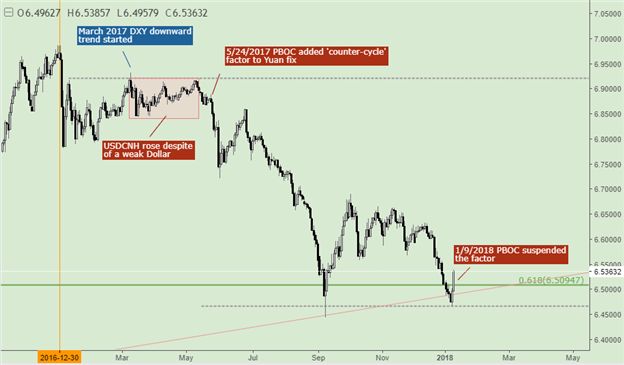 Prepared by Renee Mu.
Behind this move, there is a reason. In March 2017, the Dollar Index (DXY) started its downward trend. Despite of a weak Dollar, the Yuan failed to gain against its U.S. counterpart and headed lower. In order to fix the mechanism, the Chinese regulator adjusted the calculation of the Yuan fixing, so the daily reference rate could be stronger than it was in the old formula. Although PBOC's announcement on adding the new factor was made on May 24th, there were reports that the regulator had begun to use the new formula since early May and contributed to the pickup seen in the Yuan around that time.
Today's announcement indicates two things: A) the regulator sees the Yuan floating in a range. Extremes in either direction is not favorable. There may not be specific cut-off points for the range. Yet, when the USD/CNH rises above 6.90 or drop below 6.50, investors would want to look for confirmation from the regulator before make further decisions. And B) the counter-cyclical factor was suspended, not removed. This means that the regulator could resume proactive adjustments when necessary.
Chinese regulators have been closely watch Dollar Trend. Find out DXY Outlook in Q1 2018.
USD/CNH 4-hour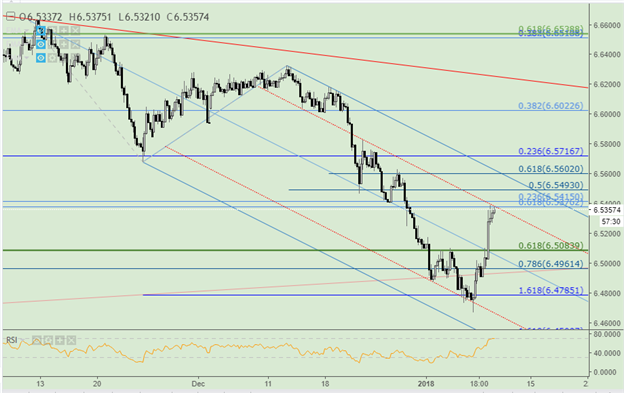 From a technical point of view, the USD/CNH held its long-term support (2014 trend line), which can be seen in the 1-day chart. In the 4-hour chart, following PBOC's announcement, the pair bounced back to 6.5084, 61.8% retracement of the rise after the de-pegging in 2015. It is currently testing 6.5376. The next levels to watch are 6.5493 and 6.5602.
DailyFX provides forex news and technical analysis on the trends that influence the global currency markets.