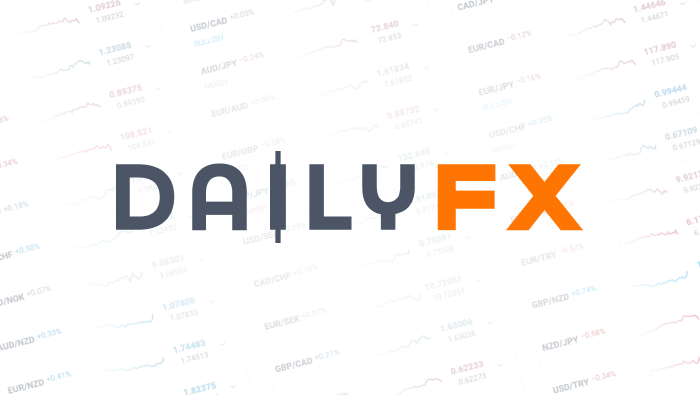 Learn Forex: Using the Elliot Wave Oscillator to Predict Forex Moves
Article Summary: Elliot Wave gives you access into probable future moves. The Elliott Wave Oscillator (EWO) allows you to count waves as they are developing so you have an edge in seeing the next move.
Markets are fractal. Fractal markets mean that markets are identified by changes in behavior. That is where trading opportunities best lie. One of the ways to forecast changes in behavior based on past behavior and price is the Elliot Wave Theory.
Should You Trade Elliot Wave?
Elliot wave theory states that prices move in "waves" which are nothing more than the direction in which a price is heading. This tool allows you to categorize move into 3 with trends or impulse moves and two corrective moves or retracements before price likely changes its underlying structure.
Here is a non-specific chart on what Elliot Wave looks like: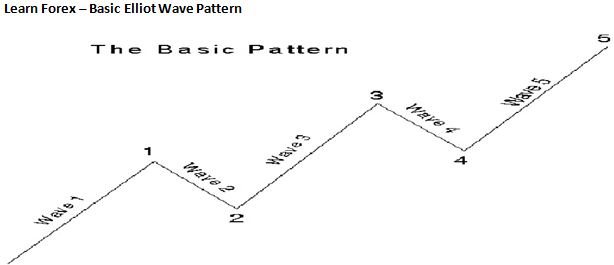 Waves or impulses are where trends occur. As a trader, trends are your friend. However, identifying trends worth trading is a different manner all together. Identification in real time is where most traders get frustrated and give up the process of using Elliot Wave. We encourage you not to stop digging when you're three feet from gold and rather learn ways to identify wave patterns that work best for you.
The Elliott Wave Oscillator (EWO) is a specific tool to help you identify the trend and the overall market pattern to assist in finding future trading opportunities.
Elliot Wave Guiding Principles
Before we go on to identify and learn how to use the EWO indicator to help you trade with Elliot Wave, I'd like to go on to share with you three Elliot Wave principles all 5 wave impulses follow:
Wave 2 does not fall below the starting point of Wave 1. If that happened you'd still be in the prior trend.
Wave 3 is not the shortest wave in terms of price as compared to wave 1 or 5.
Wave 4 does not overlap the range of Wave 2.
With the principles in mind, let's apply the Elliot Wave Oscillator keeping the default parameters.
Learn Forex – Adding the Elliot Wave Oscillator
Once applied, here is how it will appear on your chart.
Learn Forex –Elliot Wave Oscillator on a USDCHF, Daily Chart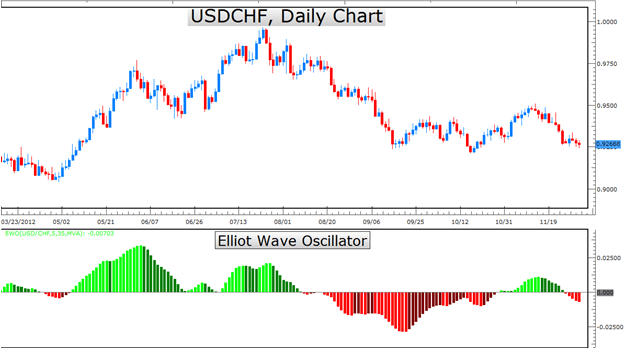 This oscillator produces a strong correlation with patterns of the Elliot wave. The key take away when using the EWO is that the strongest readings will show you where the 3rd wave lands on the chart. The EWO will work in all time frames but it is recommended you have a large enough sample of price for the oscillator to work effectively.
You can decide to label the chart yourself but you'll begin to see the waves without the labels through practice.
Learn Forex –Elliot Wave Oscillator on a USDCHF, Daily Chart with Wave Labels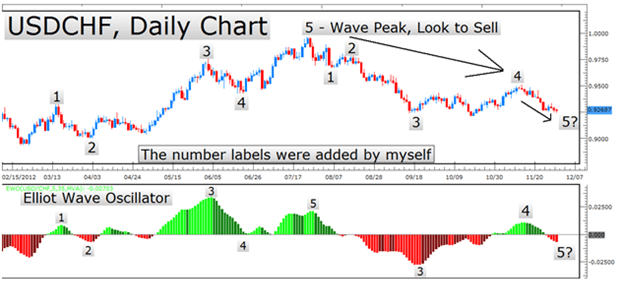 If you know where you are in the Elliot Wave process, you will often find yourself trading in the direction of the underlying market force. This feels like swimming with the tide which is close to paradise for a trader.
How to read the EWO
New waves will often begin with a divergence in the indicator and price. Strategies to play this divergence are explained below. For now, please note that trend reversals are where we often find wave 1.
Markets ebb and flow. There will be a correction to the reversal or wave 1 which is wave 2. The market will not reach a new extreme but most likely cover a percentage of wave 1. When a correction takes place along with the EWO, you will find wave 2 and 4 which are correction waves. The opportunity is limited here and you should proceed with caution.
Corrective waves are where traders combine Elliot Wave with Fibonacci retracements.
After the retracement has finished, you will begin to see the strongest price move which is wave 3. The market and indicator will reach new highs or lows depending on the direction of wave 1.
It's best to set a profit target as 100% - 161% of the price movement of wave 1 as the EWO doesn't provide exit points.
Markets will often make a new high in wave 5 but the oscillator will not top the wave 3. This will bring about divergence.A divergence between the EWO and price will precede a reversal which is also helpful.
When you have found yourself with a new low in price but the EWO is showing divergence in price and hasn't set a new low, you have probably found the beginning of wave 1 as per Elliot Wave Analysis.
Learn Forex –Elliot Wave Oscillator Showing Divergence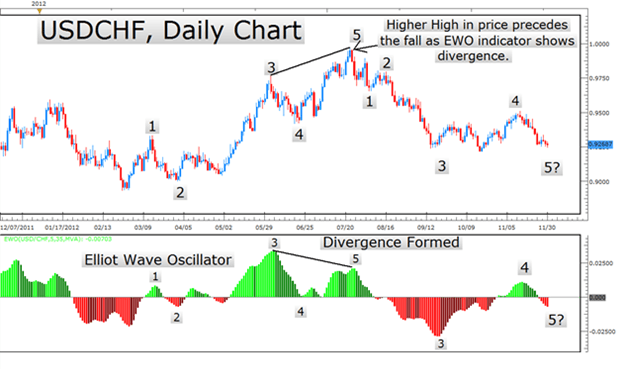 This finding could have you at the beginning of a new price move. If you decide to trade this move or wave, please proceed carefully as it is a high risk move.
You may note that if you add and adjust the MACD settings to 5, 35, 5, it will mirror the EWO. This is shared in case you are more comfortable with that oscillator which provides cross overs to trade. You will still be able to see the wave via extremes and divergence patterns.
Learn Forex –Elliot Wave Oscillator Compared to Adjusted MACD for Entry Signals
Elliot Wave theory can be a monster of a subject. Take your time and get comfortable with the set-ups of trading impulse waves. Once the charts show you a high probability entry, make sure you enter with strong risk management.
Happy Trading!
---Written by Tyler Yell, Trading Instructor
Interested In Our Analyst's Best Views On Major Markets? Check Out Our Free Trading Guides Here
DailyFX provides forex news and technical analysis on the trends that influence the global currency markets.