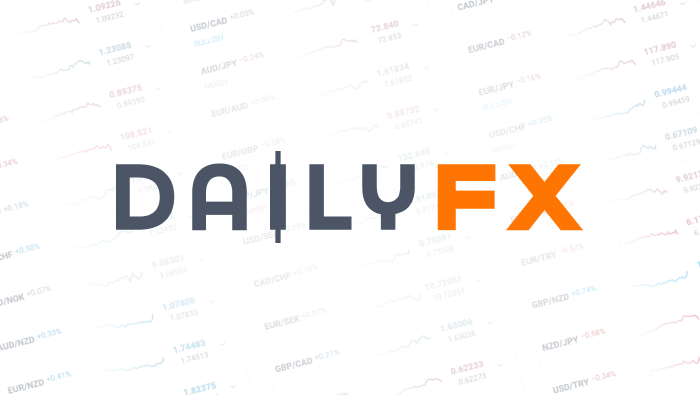 An Underappreciated Technical and Fundamental Appeal of EURAUD
What's on this page
Talking Points:
On a technical basis,

EURAUD

is in a general bull trend approaching support; but the picture of the

Euro

and Aussie is even better

Though the

Australian Dollar

faces waning risk (carry) appetite, China and housing; its previous selloff has yet to be reignited

Euro in contrast is still holding on to much of 2017's gains with little ECB acceleration potential and despite Italy's risks
What makes for a 'great' trader? Strategy is important but there are many ways we can analyze to good trades. The most important limitations and advances are found in our own psychology. Download the DailyFX Building Confidence in Trading and Traits of Successful Traders guides to learn how to set your course from the beginning.
The Technical Appeal of EURAUD Versus the Euro and Aussie
We should always be convinced in an opportunity that we come across in the market if we intend to place a trade on the idea. Our individual threshold for conviction of course differs from person to person; but generally the more rigorous our evaluation, the better the probabilities should be in our favor. When evaluating any asset or exchange rate, I look for the confluence of appealing technicals, fundamentals and market conditions. The first two of those techniques are familiar to most, but the third (market conditions) is perhaps unusual. Often wrapped into one of the other methods, considerations such as the depth of the market, the general setting on the bearing (range, trend, volatility) and other systemic aspect deserve their own field. When we relegate such aspects to an afterthought amid chart patterns or event risk, we underestimate its importance for establishing genuine movement. Furthermore, when I am evaluating fundamentals, the emphasis is more heavily attributed to unresolved themes rather than discrete event risk with limited volatility charge. As for technicals, the basic techniques are presently my preferred approach; but it is also worth running an analysis on the individual currencies in relief to give better context to what the pair may indicate.
EURAUD Chart (Daily)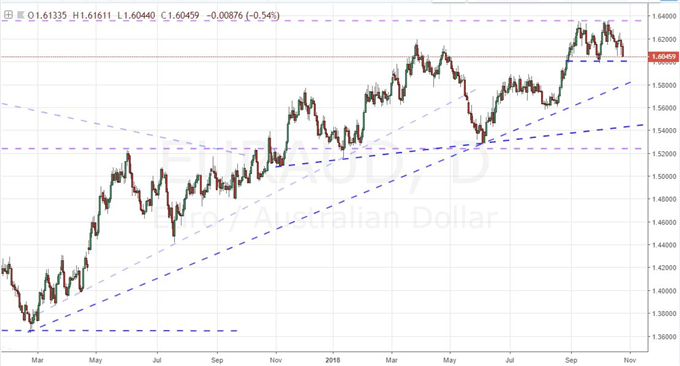 Euro Is Still Plying on its 2017 ECB Gains
In the chart of the EURAUD, we see a general bearing that has favored the bulls over time. With some moderate level support in proximity, there is certainly something to take into consideration from that angle of analysis. However, such an evaluation alone would do little to spike my interest. When we look to the Euro itself, the picture becomes substantially more interesting. On a technical basis, an equally-weighted Euro index comprised of all of its major crosses shows the currency is still in the upper quartile of its 2017 bull run and a broad wedge support is closing in with support immediately at hand. We see more prominent technical pressure from the likes of EURUSD and EURJPY, but liquidity for the Euro runs far deeper on these pairs than EURAUD itself. That said, if the top two liquid pairs drop key technical levels, EURAUD would certainly tumble - whether or not it comes with clear chart lines or seems to occur out of thin air. On the fundamental side of things, we have the more explicit mile markers to work with. The ECB decision this past session left us with a steady course setting towards an extremely gradual pace of monetary policy normalization that can easily be knocked off course by any near-term trouble. There is still a considerable amount of premium afforded to the currency for this distant hope of the first rate hike that levitated the Euro last year against even the US Dollar where the Fed was hiking. There is growing concern that the market may have gotten ahead of itself, a fear that is being cemented by systemic financial risks. Italy is viable threat to Euro-area stability should it not find common ground in its budget plans and the EU's requirements. The language and actions on display up through this past session offer little confidence of a peaceful resolution. And that is a major risk to the Euro's unlikely buoyancy.
Equally-Weighted Euro Index Chart (Daily)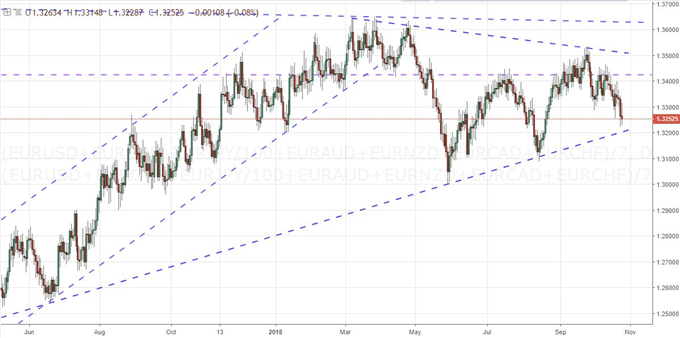 An Aussie Dollar Increasingly Disconnected from Carry
The Australian Dollar has been treated more and more as the innocuous counterpart. It is a carry currency that has lost its way and could be considered inoffensive until risk aversion calls it to task once again. Yet, that picture is changing; and we are even seeing it in price action. The Australian Dollar is one of the more troubled majors over the past few years with a significant slide in value from AUDUSD on down. At or near multi-year lows with most of its crosses, the currency is seemingly just waiting for its next reason to take another spill. However, the fundamental/technical balance perhaps doesn't present a simple path forward. Sure, this is a currency that is included in the majors in large part owing to its interest rate. That said, the benchmark rate is at a record low and risk appetite is wavering beneath the carry trade. However, we had a sharp drop in risk trends these past weeks, yet an equally-weighted measure of the AUD offers no material loss of altitude. The US-China trade war fallout is arguably more important in the currency's fundamental equation, but the discount it already sports may help skew the market moving potential. I am a fan of AUDUSD, but the Dollar is more unpredictable. The Euro is more overt in its fundamental focus. And, to make things even more interesting, it seems that the possibility of reversals is gaining far more substance across the financial system. We focus on the EURAUD in today's Quick Take Video.
Equally-Weighted Australian Dollar Index Chart (Daily)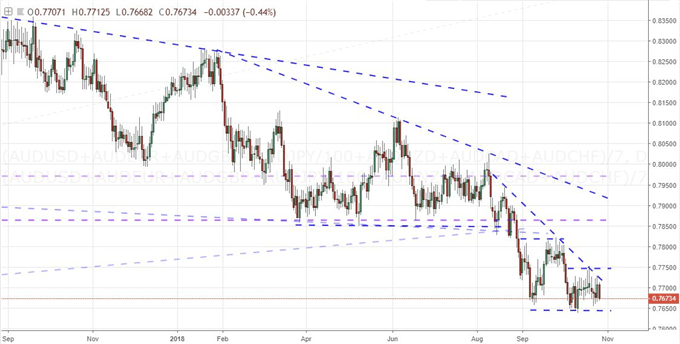 DailyFX provides forex news and technical analysis on the trends that influence the global currency markets.