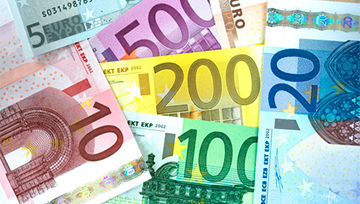 S&P Changes Greece's Outlook to Positive, Keeps Junk Credit Rating
Talking Points:
S&P revised Greece's outlook to positive from stable, but held credit rating at B-

The agency gave a 1 in 3 chance of a rating upgrade over the next 12 months

A government debt to GDP ratio target of 158 percent by 2020 was locked in
Have a question about the data's impact on the Euro or ECB? Join a Q&A webinar and ask it live!
Global credit rating agency Standard & Poor's affirmed their short and long term foreign and local currency sovereign credit rating for Greece at B-/B, but revised the outlook to 'positive' from 'stable'. This improved forecast from S&P denotes a one in three chance that they might raise the country's rating over the next 12 months. Such an outcome will push the nation closer to escaping its 'junk' status.
However, qualifying for this upgrade requires Greece has to meet a number of goals. The agency set a general government debt-to-GDP ratio target of 158% by 2020. As it stands, the country's current figure is around 179% in 2016. To get there, S&P forecasted average nominal GDP growth of 2.8 percent in 2017 through 2020. They also see the country recording a primary budget surpluses of about 3% of GDP for the same period.
These hard estimates are accompanied by beliefs of recovering economic growth alongside fiscal reforms and further debt relief from the Eurogroup.Further, S&P said that support from the Eurogroup for Greece via cash buffers is likely to pave way for the country to reenter the sovereign bond markets this year.
The ratings agency expects Greece to exit the current European Stability Mechanism (ESM) program next year, but its policymakers have legislative measures (pension cuts, income tax allowance and structural reforms) until 2020 to try and keep the situation under control.
There are some obstacles down the road for Greece. S&P noted that they could change the outlook if legislated reforms are reversed and growth outcomes are significantly weaker than expectations. While the banking sector was mentioned to be impaired, they do not view it as an imminent risk. All in all, the ratings are constrained by the government's high general public debt – the 2nd highest debt-to-GDP ratio aside from Japan.
On a side note, the International Monetary Fund (IMF) approved a $1.8 billion conditional loan to Greece late in Thursday's session. IMF's Director Christine Lagarde said that the deal gives space for more structural reforms but it is only effective if it makes debt sustainable. A mishandling of this deal might bode-ill for chances of improving their credit rating.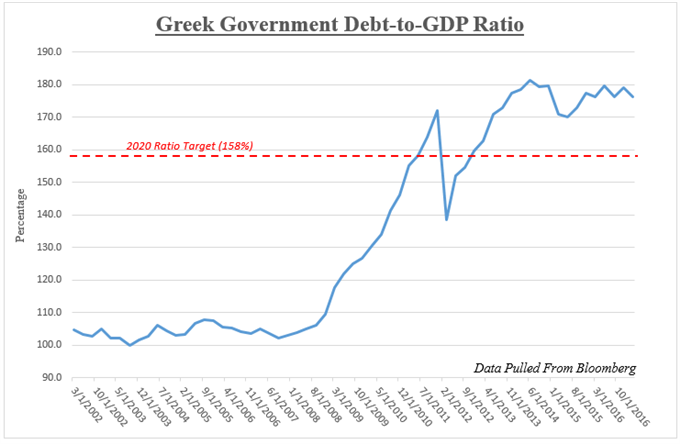 DailyFX provides forex news and technical analysis on the trends that influence the global currency markets.