Yuan May Lose on Weak Exports, Gain on Warmer China-Japan Relations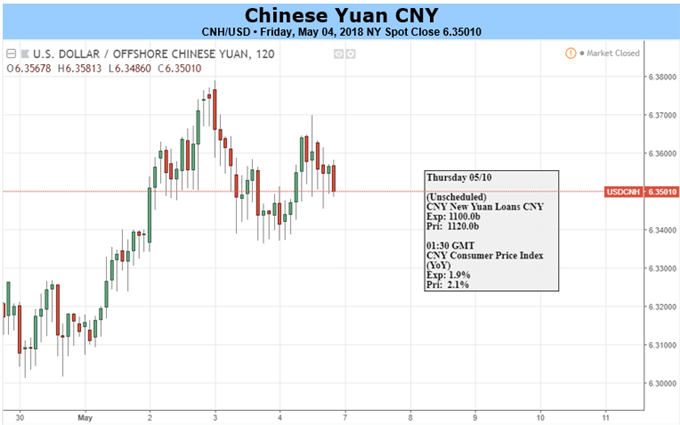 Fundamental Forecast for CNH: Neutral
The US and China still hold "big differences" in trade despite of the high-level meetings.
China may have less incentive to support the Yuan while exports and trade balance worsen.
Warmer China-Japan relations may ease investors' concerns in holding Yuan assets.
How to trade news? Learn with DailyFX Free Trading Guides!
The Chinese Yuan lost against the U.S. Dollar for the third consecutive week, largely driven by the strong Dollar reversal; China's economy itself provided better-than-expected support, with both Caixin and official manufacturing PMI prints for April beating forecasts. Looking forward, the development in China's relationship with major partners, economic event risks and the Dollar strength will continue to weigh on the Yuan.
US-China trade dialogues has made limited progress so far; the cloud of uncertainty surrounding trade remains. On Thursday and Friday, China's Vice Premier Liu He and US Treasury Secretary Steven Mnuchin led the bilateral meetings in Beijing. The two parties "reached agreement in some aspects", but "differences are still big", according to China's statement.
There is not a lot of time left before US's 60-day window for public comment on proposed tariffs over Chinese products. China has warned that it will fight back once US tariffs enter effect. Next weeks, look for more clues from the US side on the negotiations with China, as they could reveal the likelihood and timing of the two parties resuming the tit-for-tat penalties.
Next week, China will release the April exports and imports report. The on-going disputes have inevitably hurt China's trade condition. According to the Bloomberg estimate, China's exports will shrink by -2.7% in April from the month prior; the trade balance will drop to the negative territory over the past month, to -$4.98 billion from +$27.50 billion. China said that it will not devaluate the Yuan to make up for the losses caused by US tariffs; while, it will neither have much incentive to promote a stronger Yuan within such content.
China-Japan relations may see some development next week. China's Premier Li Keqiang will visit Japan and attend the China-Japan-South Korea triparty meeting. In 2012, China's relationship with Japan hit a low point amid the island disputes and the legacy of Japan's invasion in World War II; senior-level communications were mostly cut off. Over the following years, there were seldom contacts and it was until 2017 that the reset in ties began to escalate.
Three weeks ago, China's Foreign Minister Wang Yi paid a trip to Tokyo for the highest-level bilateral economic panel, which was suspended for eight years. This sets a foundation for the Premier's visit. For investors who hold Yuan-denominated assets, eased regional tensions would be more preferable to see. Then, it will help to add confidence in the Yuan.
DailyFX provides forex news and technical analysis on the trends that influence the global currency markets.