Yuan May Extend Gains on New Policies, China-France Summit Adds Uncertainties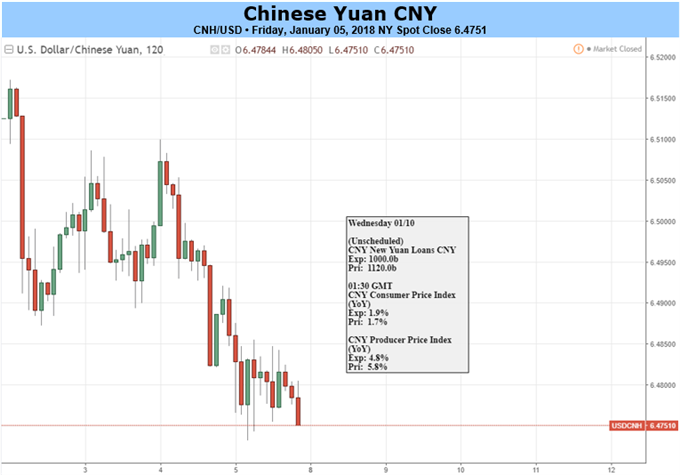 Fundamental Forecast for CNH: Bullish
Chinese regulators' recent policy moves may support Yuan rates.

China-France President summit could bring mixed impact to the Yuan.

The risk of price bubbles could elevate and further constrain monetary easing.
What is the #1 mistake that trades make, and how can you fix it? Find out here!
The offshore Chinese Yuan (CNH) closed at a one-and-half year high level against the U.S. Dollar on Friday; this is also the fourth consecutive week that the Yuan advanced against its U.S. counterpart. Compared to other G10 currencies, the Yuan ranked in the middle, beating Yen, Pound, Swiss Franc and Euro. Looking forward, Chinese regulators' recent policy moves could enlarge Yuan's gains. Also, French President Emmanuel Macron will pay his first official visit to China next week. In addition, a heavy Chinese calendar, dotted with foreign reserves, inflation, money supply and trade gauges, could elevate volatility in Yuan rates as well.
Chinese regulators have further tightened oversight on cross-border transactions. On December 30, 2017, SAFE, the FX regulator announced to set daily and annually limits on individuals' overseas withdrawals using Chinese bank cards. This is a strengthened rule compared to the measure launched a year ago, which only required banks to report cross-border transactions with a mount above certain levels. On January 7, China will release December foreign reserves print, a measure that could impact regulators' tolerance of capital flows. The gauge is expected to increase for the eleventh straight month, to $3.127 trillion; yet, even if this is the case, the print is still distant from its peak level of nearly $4 trillion in the middle of 2014.
At the same time, regulators continued to promote the use of the Yuan as a currency of settlement. Last October, Yuan slipped to the seventh most used currency in global payments; it regained the sixth position in November, but still inferior to its best record of ranking the fourth two years ago. On January 5, China's Central Bank launched guidelines to further promote Yuan settlement. From regulators' perspective, a relative stable or an even strong Yuan (when the Dollar is weak) could help achieve the above goals.
From January 8 to 10, French President Emmanuel Macron will visit China and meet Chinese President Xi Jinping. This summit is important to both parties: for China, it is the first meeting with a major European leader after the election of Communist Party leaders; for France, it is its new President's first visit to the second-largest economy in the world. Trade issues are expected to be a major topic at this summit. Macron, who may have talked in a less aggressive way than Trump did on trade practise with China, in fact shares a similar stand as the U.S. This is to cut the trade deficits against China. Besides discussions in disagreements, the two parties are likely to reach a lot of agreements on business deals: a group of over 50 French company executives will travel with Macron.
Among the economic indicators to be released next week, China's New Yuan Loans and Aggregate Financing in December are top ones to watch. These are key gauges that the PBOC monitors regarding financial risks. In the last week of 2017, property sales in first-tier (largest) cities saw picking up again. If the amount of home loans and its proportion in New Yuan Loans rise as well, it will likely increase regulators' concerns on the price bubble risk. If that is the case, it would further reduce the likelihood of the PBOC to loosen monetary policy.
DailyFX provides forex news and technical analysis on the trends that influence the global currency markets.